Galland's Eagles
Part 1 - Messerschmitt Bf 109E
by David Turner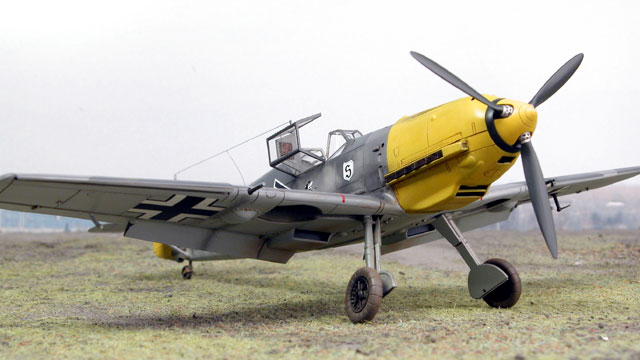 Messerschmitt Bf 109E-7/Z, W.Nr 5819
images by Brett Green


Tamiya's 1/48 scale Messerschmitt Bf 109E-3 is available online from Squadron.com
Here are the first three models in a series of eight aircraft flown by General Adolf Galland.
Future instalments will include three Messerschmitt Bf 109Fs followed by his Henschel Hs 123 and Messerschmitt Me 262.
These first three Messerschmitt Bf 109s have been built using Tamiya kits, specifically the Bf 109E-3 and Bf 109E-4/7.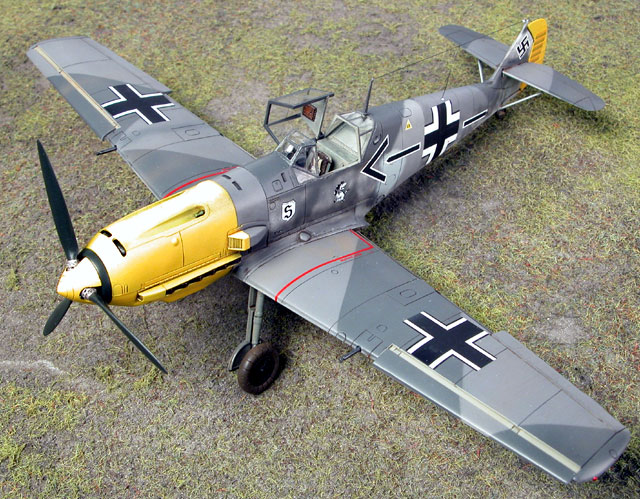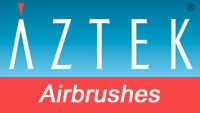 All the models were completed using Gunze paints, shot through a Tan tip-equipped Aztek airbrush.
Exhausts were finished using Testor's ModelMaster Metalizers.
Weathering was with pastels and Gunze weathering colours.
Minor paint blemishes were acheived with a silver artists pencil.



Messerschmitt Bf 109E-3, III/JG26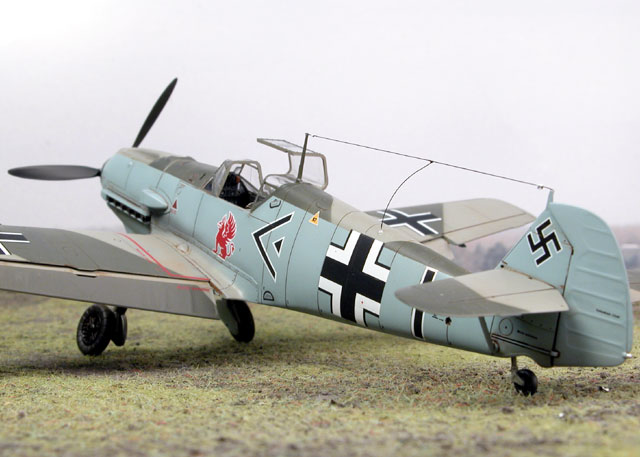 The first model represents a Messerschmitt Bf 109E-3. This kit was built almost straight from the box, including decals for III/JG26, but has the Cutting Edge Bf-109E Seat with Moulded Harness and Ultracast Exhausts.
Click on the thumbnails below to view larger images:
---

Messerschmitt Bf 109E-3, W.Nr 5398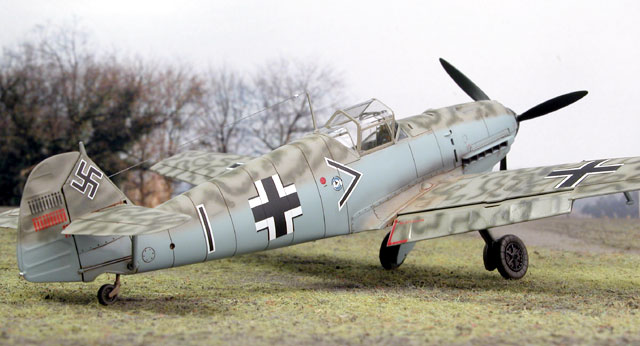 The second Messerschmitt Bf 109E-3 is also built straight from the box, this time using the decals from the Aeromaster "Kommodore Adolf Galland" set (PAF48-01). It is W.Nr 5398 and is depicted in an experimental camouflage scheme of mottled RLM 71 over 02 with undersurfaces in RLM 65. The scheme is as depicted on pages 13 and 14 of the Mushroom publication.
Click on the thumbnails below to view larger images:
---

Messerschmitt Bf 109E-7/Z, W.Nr 5819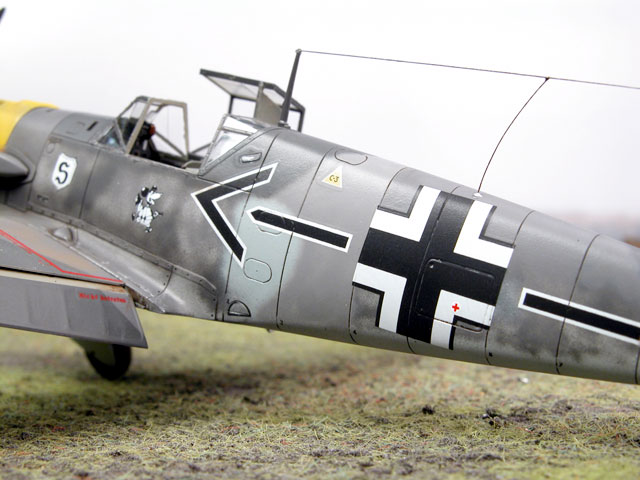 Finally, the E-4/7 is built as W.Nr 5819 and is modified to represent the aircraft after its conversion to E-7/Z status. Once again, I have used a Cutting Edge seat and Ultracast exhausts.
Decals are from the Aeromaster set. The camo scheme is painted as per page 72 of the Schiffer publication.
Click on the thumbnails below to view larger images:
Primary references were:
"Adolf Galland" by Robert Michulec and Donald Caldwell. (Mushroom Model Publications 2003)

"Fighter General - The life of Adolf Galland" by Col. Raymond Toliver and Trevor Constable. (Schiffer Publishing Ltd 1999)


---
Model and Text Copyright © 2003 by SQNLDR David Turner
Model Images Copyright © 2003 by Brett Green
Page Created 15 December, 2003
Last Updated 17 March, 2004
Back to HyperScale Main Page