Harrier GR.7
by Piero De Santis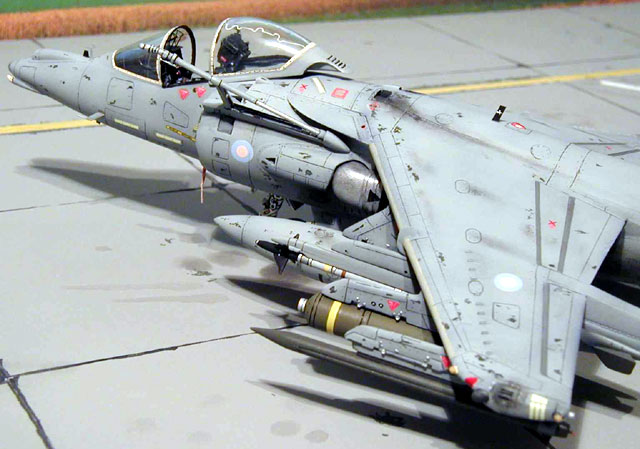 Harrier GR.7
Two years ago, the company "Amraam Line" produced a series of conversion and detail sets for Monogram AV-8B kit, and one of those was a welcomed option for who want to realize a RAF Harrier GR.7 in 1/48th.

When I started this project, it was my intention to build a couple of RAF Harrier GR.7s involved in "Allied Force" operation over Kosovo in 1999. Specifically. I wanted to build two GR.7s - one as a 65% LERX fitted aircraft and one as a 100% LERX fitted aircraft too.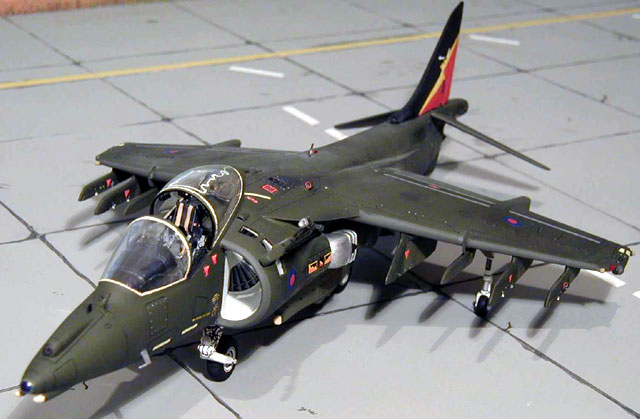 However, the wait for a new-decent-decal sheet in 1/48 for RAF Harrier GR.7s takes too long time for those models… so I chose to finish both using what "is available" on the decal market.

So, what's a Harrier GR.7?
Well… "basically" is the British version of the American AV-8B "Night Attack" variant… as is usually reported on aviation books, magazines and websites.

I prefer to say that "MAGIC", as GR.7 is nicknamed in the RAF, is the "RAF second generation Harrier".
From an airframe point of view, the most notable difference is the new profile nose, but as most of the avionics, electronics and weapons installed are different from package installed in the AV-8Bs, there are also other minor but important and visible differences.]
Nose homing FLIR, ARBS and ZEUS systems

Tail cone homing anti-missile active warning system

Chaff & flares dispenser under the fuselage

RWR/ECM receivers/transmitters on the wingtips and on the rear ventral spine.

Empty-cannons pods under the fuselage

Dedicated extra wing pylons for self-defence missiles

Martin Baker Mk.12 ejection seat

"Small" or "Big" LERX

Dedicated ventral pylon option for TIALD fitting.
The GR.7s aircraft are either newly produced or converted GR.5 (GR.5A are modified GR.5 in the airframe ready to receive the GR.7 "package" when available).

The GR.7 version is currently used only by RAF.
In RAF service the GR.7s is proved in "Operation Warden" combat patrols over the North of Iraq, in "Deliberate Force" over Bosnia and "Allied Force" over Kosovo for attack missions.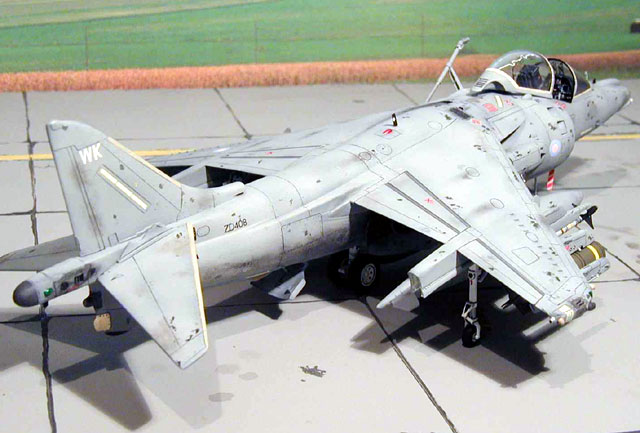 As I said for my already featured AV-8B "Plus", in 1/48 scale there is ONLY one kit at the moment: Monogram/Revell's AV-8B.

This year could became a "golden year" for Harrier fans, because Hasegawa has announced a new-tool AV-8B "Plus" in 1/48th, and Trumpter announced a 1/32 AV-8B. Maybe, has is usual for this subject, more variants could arrive later.


Back to the Monogram/Revell "basic" AV-8B, is overall good for shape and size, nice detailed for cockpit and undercarriages… but, as tradition, has raised panel lines sometimes wrong in shape and/or position.

For the GR.7 version there is also another "basic" resin conversion set produced by "Maintrack" but include only a new nose and a pair of extra wing pylons… a "little bit" compared to the contents of "Amraam Line" conversion set: GR.7 and GR.5 noses, extra wing pylons, Aden cannon pods, MK.12 seat, 2MFD cockpit panel, extended tail cone, ventral chaff&flare, enlarged retractable dam, RWR/ECM ventral spine bulbs, TIALD pylon, extended IFRP, 100% LERX, extra air scoops, front undercarriage doors and a pair of outriggers wheels.

To complete the "correction" of the Monogram's AV-8B kit, "Amraam Line" produce also a pair of "correct-size" fuel tanks.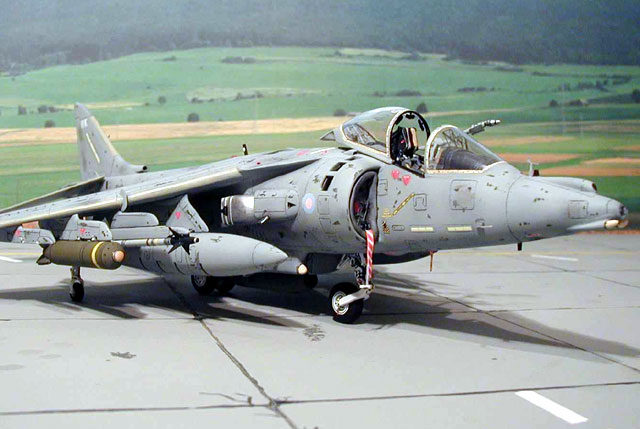 British weapons as LGB CPU-123/B, BOL launcher and TIALD pod complete the range of sets offers from "Amraam Line" to fulfil the RAF Harrier GR.7, Jaguar GR.1/3 and Tornado GR.1/4 models .

Another good set, this time for detailing, came from "Black Box"… giving a complete cockpit to replace the one of the kit.

AV-8B's etched details were produced by "Eduard"… but are unfortunately, is out-of-production now.
As about the building phase, I rescribed the all the kit parts before starting any assembling.
The construction phases are similar what is already described in my earlier article for the "Plus".
Other modification related this variant that are required on the kit are:
I followed the instruction guide included in the set, that is clear.

I replace the cockpit of the kit with the one from "Black Box", apart for the instrument panel that came from the "Amraam Line" set because much more correct in size.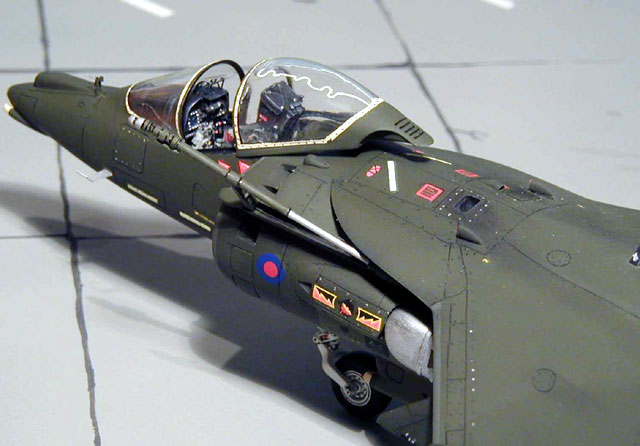 Some "precision" cut are required to the front undercarriage bay to fit the cockpit tub.

The whole cockpit is coloured in medium sea grey 36270 (Humbrol 165), with black instrument dials/screen and white/light grey switches. The ejection seat is black with dark green cushion and brownish headrest straps. Straps are grey and emergency handles are yellow-black stripped.

Drybrush here is a must.

The main problems building this kit are:
fitting the wing to the fuselage

fitting the speed airbrake vane

fitting the main engine air intakes
A lot of dry-fit test and epoxy putty are required to obtain a good result.

I used the extended in-flight-refuelling-probe (IFRP) form the "Amraam Line" set.

I made the blow-in doors of the main air intakes using plasticard sheet. The inside of the main air intakes is white.

For all the Harriers, when the canopy is open (as on my model) the inboard ladder is "down": I scratch build it and placed under the right main air intake.

As I said before, one model (tow-tone-green) is fitted with the 100% LERX resin part replacing the 65% LERX version provided in the kit.


When the main kit parts are assembled, I start the paint duty:
Harrier GR.7 "Operation Warden": overall ARTF Grey, similar to Medium Sea Grey 36270 (Humbrol 165). This colour is a "temporary acrylic paint" over the original two-tone-green camouflage. Under the weather effect can change of shades and chips of paint jump off form the removable panels and airflow critical areas.

Harrier GR.7 "Lightining tail": upper surface are in NATO Green, similar to Dark Green 34096/34079 (Humbrol 116) and under surface are in Lichen Green, similar to Medium Green 34098 (Humbrol 159). Tail is black/red with a yellow lightning in the middle.
Both the GR.7s received pre-shading and black ink was used to pick up the panel lines and rivets.
Real "Operation Warden" GR.7s had wings and tail planes leading edge "covered" with a yellowing tape: I reproduced it with a mix of Humbrol 168, green and satin varnish.
Real "two-tone-green" GR.7s had intakes lips, wings and tail planes leading edge painted with a darker green colour: I reproduced it with Humbrol 108.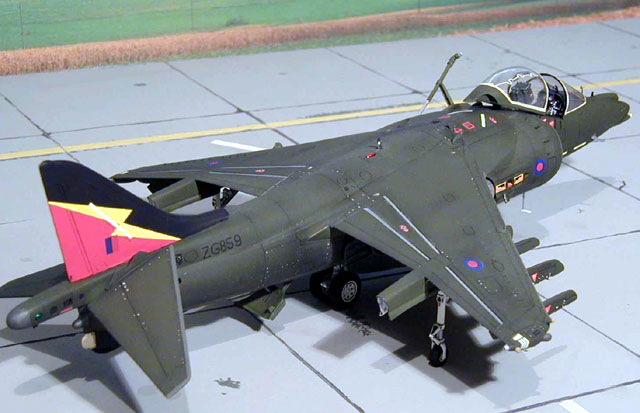 Undercarriages legs wheel hubs are white (Humbrol 130).

A cote of "Future" to prepare the model for decaling.

I choose the "ZD408/WK" aircraft of RAF 3° squadron, at that time based at "Incirlik AFB", Turkey for "Operation Warden". This aircraft has small black serial numbers on fuselage and white letter code on tail. Pale pink & blue roundels and no squadron insignias. Few stencils are repainted over the ARTF Grey.

I choose the "ZG859" aircraft of RAF 4° squadron with black/red tail and yellow lightning, at that time based at RAF "Laarbruch", Germany. This aircraft was also used during "Air Warriors" exercise in USA.
Serial numbers and stencils are mostly black. Standard red &blue roundels and fin flash with squadron insignias.

All those markings and stencils came from "old" or "incorrect" decal sheets… Superscale, Xtradecals, Skymodels, Fineline… sorry, but at the moment I can't say "this is THE 1/48th decal sheet for RAF Harrier GR.5/7".

Very soon should be available a sheet from "Model Alliance" in 1/48th & 1/72th for "RAF Harrier GR.7s from 1992 to 2002". This will be the "right" option for whom want to built one.

"Future" acrylic serve as base for decals. "Microscale" Set/Sol were used to apply decals. Again a cote of "Future" and then a matt cote "Humbrol" to finish.

I opted for a "clear" parked configuration on the 4° squadron GR.7 as showed on the "Lotniczych" magazine.

"Operation Warden" GR.7 were typically loaded for armed-recce sortie with a pair of fuel tanks (from "Amraam Line"), a pair of AIM-9M missiles (from "Hasegawa" weapons set), a pair of CBU-87 cluster bombs (from an "Italeri" F-16), a Phimat chaff pod (from "P.P. Aeroparts") and an "old" Vinten recce pod (scratch build) as was used on the Harrier GR.3s. A couple of scratch build "inflatable FOD guards" are placed inside the intakes. "Remove Before Flight" tags came from "P.P. Aeroparts".
P.S.: The picture above shows also my 1/48th RAF 3° squadron "two-tone-green" GR.7… build 8 years ago… Have I improved my skills or not?
References and Acknowledgements
I used "Aeroguide" N°26 together with "World Air Power Journal" N°32 for references.

Books that can be recommended include:
"Harrier - the Vertical Reality",

"The Harrier Story",

"Harrier- Crowood series",

"Lotniczych n.20 Harrier"…
and many, many aviation magazines issues from "Air Force Monthly", "Aircraft Illustrated" and "Royal Air force Yearbook" .

A special thanks for support and references go to the "Harrier Special Interest Group" commanded by Mr. Nick Greenall and to all the "VSTOLling" fellows of the group.

Click on the thumbnails below to view larger images:
---
Model, Images and Text Copyright © 2003 by Piero De Santis
Page Created 08 February, 2003
Last Updated 17 March, 2004
Back to HyperScale Main Page