Polikarpov I-16
Early Type-5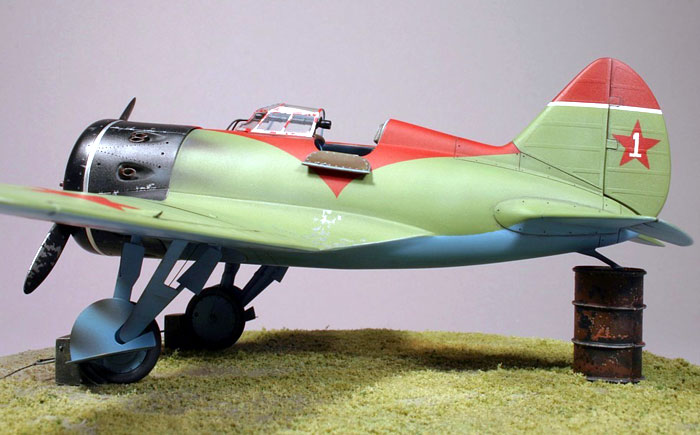 Polikarpov I-16 Early Type-5
by Aleksandar Šekularac

Hobbycraft's 1/48 scale I-16 Type 18 is a
vailable online from Squadron.com
The I-16 was the last operational fighter from one of the most successful Russian design bureaus of the golden age of aviation.
Often misunderstood in the west, and derided by names such as "Rat", or "The Fly", this small plane was truly a revolution in aircraft design. When it entered service in 1934, it was world's most advanced fighter aircraft. It marked the shift of seasons in aerial combat tactics, from tight-turning dogfights, to high-powered manoeuvres in the vertical plane.
Introduction of I-16 to service was nothing if not controversial. A series of accidents due to inexperience of the pilots, very sensitive controls, poor visibility compared to open cockpit biplanes, landing gear that one needed to manually lower before landing, and high approach speeds, plagued its first year in service. Some pilots simply refused to fly it. The test pilot team involved in the development program had to organize a series of demonstration aerobatic flights at different airfields, to show a true potential of this new aircraft to the units. Only after this tour de force did perceptions started to change, and with time I-16 turned from a most hated to a most loved piece of equipment.
From Spain, over the Far East, and back to Mother Russia, this aircraft spent most of its days with warm gun-barrels. It evolved through series of variants, none of which changed the overall appearance of agility and ruggedness of this little plane. At the end of its career it looked pretty much the same as at the beginning, with just a few scoops and hatches added.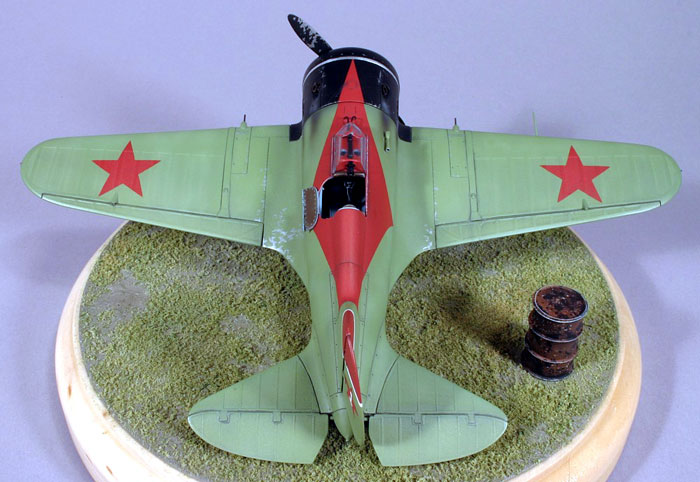 The true test of will came with Operation Barbarossa, and commencement of the Great Patriotic War. The I-16 was the most numerous frontline fighter in Russian service at that time. No longer capable of matching the speed of the newest Messerschmitts, I-16 had only its superior maneuverability to its advantage. Ironically, velocity fighter was no longer fast enough. Yet, I-16 fought on.
Early confrontations produced some high scoring I-16 pilots. This was also the time of epic battles in most dire conditions, with aviators running out of ammunition, and ramming their machines into enemies in desperation. Despite great difficulties I-16 continued to fly in many roles, and only in the last year of the conflict faded out of the airfields. Its service spans across ten years - the same ten years in which aviation made its journey from string-bags to jets. An amazing fact.
---
I-16 Type-5
The first series (although small) of I-16 to see production was called Type-4. This was due to the simple fact that Zavod-21 (factory) was already producing three other aircraft types of different design. In consequence, later variants of I-16 simply continued with the numbering system.
Type-4 was quickly superseded by much improved Type-5. It incorporated a major redesign of engine cowling, which will define a characteristic look of this fighter for the rest of its life, with front cooling louvers, radial exhaust pipes coming out on the circumference of the cowling, and a silver clamp-band around it. It maintained the original enclosed forward-sliding canopy and a telescopic gun-sight, as well the full span ailerons. Type-5 stayed in production for several years with further modifications made in 1938.
Particular aircraft that I wanted to model was "White 1", belonging to 33 IAP Regimental Commander Pavel Petrov, photographed during 1940. Big red spearhead painted on top of the fuselage exemplifies really well the influence of art deco in "Soviet glory period". Profile of this aircraft appears on the excellent "Modeling the Aircraft of VVS" website of Matt Bittner and Erik Pilawskii (http://vvs.hobbyvista.com/index.php). Painstaking research done by Erik Pilawskii, sublimated on this site and in his new book, "Soviet Air Force Fighter Colours 1941-1945", made a quantum leap in understanding many facets of this subject, and I can highly recommend both for anyone interested.
What really made this project possible is the series of aftermarket sets produced by Airwaves, aimed at correcting generic I-16 Hobbycraft / Academy kit in 1:48 scale. So far, Airwaves has released sets for the I-16: Type-5, Type-10, Type-29, and Cockpit Detail sets. I incorporated two of these sets to make an accurate model of Petrov's aircraft.
---
1. Wings & Fuselage
Usually, the work would start in the cockpit, but my mailman arrived with the Type-5 conversion first, so I started to hack on the airframe. Hobbycraft kit doesn't really represent any particular variant of this aircraft. It is rather a medley of details from different I-16's in one box. To make an accurate early Type-5, one would have to make a serious scratch-building effort, or use this Airwaves set.
The set is cast in vanilla-colored bubble-free resin that can be cut, and sanded just like styrene plastic. It includes the outer section of the wings, with ailerons, and the whole engine cowling with the spinner. This means that all the major components of the kit will have to yield to the cutter.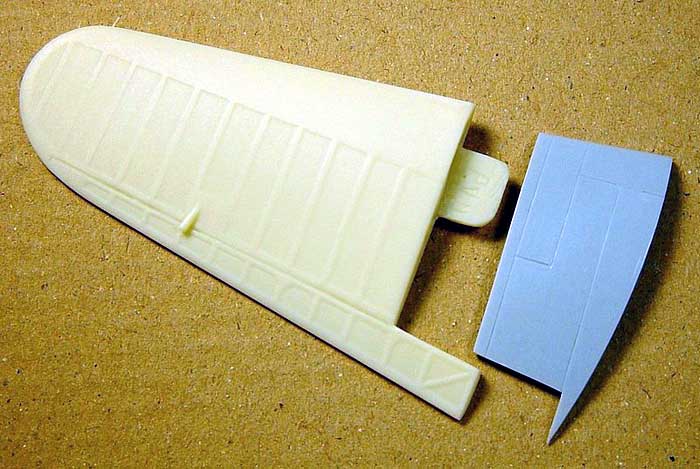 Click the thumbnails below to view larger images:
---
The fuselage needs to part with the cowling. All that remains from the wings are inner panels on the upper side, and a central bottom section including the landing gear bays. Cuts need to be well planed, but are not hard to make. I marked all the parts in question, and made the initial cuts little bit outside of the marks, to leave some room for mistakes.
Final dimensions were achieved with sand paper. If everything is done properly, resin parts fit very well, and bring a glimpse of a familiar shape.
Once the main operation with resin was over, I continued to modify the exterior of the airframe. Type-5 had access door for the pilot only on the port side of the fuselage. It also did not have a radio. Starboard side door, and the radio hatch on the same side of the fuselage had to be deleted. I-16 had its instrument panel buried quite a far way under the front deck of the cockpit. To allow for some light to come in, two circular cutouts were present through the top of the fuselage, just in front of the instrument panel. On Type-5 aircraft these two holes were covered with glazing, as they were "in the open wind", when the canopy was closed. I first drilled out a pair of holes in the fuselage, used cylindrical cuts form a clear sprue to superglue in these holes, and then sand, and polish them flush with the fuselage surface. The result is very convincing. I also created rails for the sliding canopy from lengths of Evergreen rectangular plastic strips, and added leather padding on the front edge of the cockpit opening, made from electric wire insulation.
Some surface paneling detail was made of brass sheet, cut to shape and then glued on, instead of just having the 2D panel lines, this was done for the oil tank filler cap on top of the cowling, the cowling band, wing outer section fastener, and some other miscellaneous panels. Rows of rivets were added on the cowling, and inner wing panels.
---
2. The Tail
I wanted to depict a typical droop of elevators, present on literarily all pictures of I-16s at rest. I also wanted to reposition the ruder slightly. As I was working on cutting these surfaces and repositioning them, I realized that rib detail of the tail surfaces is lame, when compared to the rest of airframe that was now very accurate.
At this point I was still feeling fresh into the project, and having quite a reserve for stretching, so I decided to rebuild this detail completely, using a trick I learned from Aleksej, of Gremlin Models. First part was to sand smooth all the tail surfaces. Next step was a time consuming one, and included masking off accurate ribbing detail in negative using strips of Tamiya masking tape.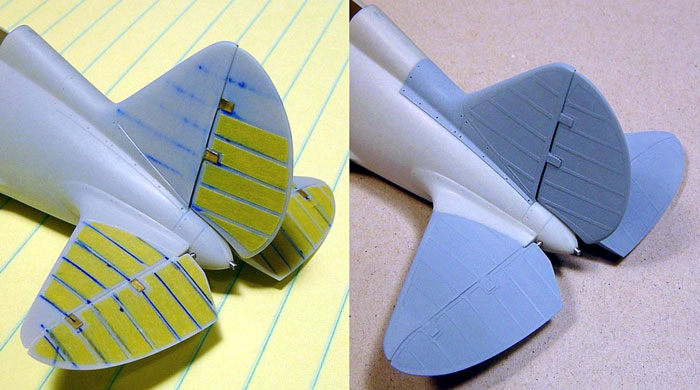 After this was done, I sprayed some neutral gray color in thick layers, so that when I removed the masks it produced nice 3D rib effect, similar to the one present on the wing and ailerons. One more layer of gray over the whole tail served to smooth all the edges.
---
3. Nine Cylinders on Two Wheels
Hobbycraft kit includes M-25 engine which is decent enough, considering that it will be hidden in good part under the front cowling. The problem was that I used mine for I-153 built two years ago. So I used "Engines & Things " Shvetsov unit that is a slight improvement over the kit part, but can be made into a really nice looking radial engine with some scrap plastic and copper wire.
I also used the excellent vac-form acetate canopy from Falcon, because one in the kit was a bit on the absurd side.
The main landing gear needed some attention as well. I detailed wheels with some rivets along the rim, and rebuilt the covers completely, with structure made out of Evergreen stock, thin wire, syringe tubing and such. I used available photos to work from, and ended up with something that can pass closer inspection.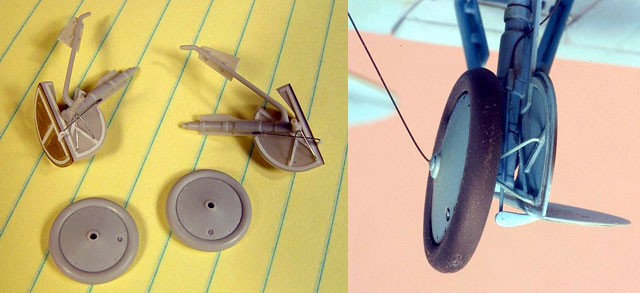 I also opened up a trapezoidal window in the back wall of the right wheel well, and covered it with acetate sheet. This opening offered quite limited view to the pilot, of what was below him in critical moments of landing.
---
4. Cockpit
Just when I started to despair, mailman arrived again. This time a cockpit set was packed in a box, and not a minute to early. Airwaves cockpit is once again done mostly in light tan resin, but there are also small bits in white metal. This set is beyond comparison with whatever was originally in the box. I will let images speak for themselves.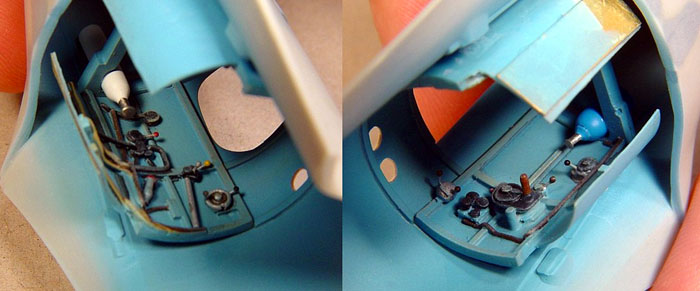 Click the thumbnails below to view larger images:
At this point two fuselage halves were already glued together, which meant that I would have to install the cockpit through the bottom opening of the wing area. But this didn't seem to be very hard; after all, people build ships in bottles don't they? As a matter of fact, design of the set made this task really easy. I first inserted main fuselage frame behind the pilot's seat into the fuselage cavity, and fixed it there with CA glue.
This helped to align side panels that also wrap under the partial floor element, which also anchors on mentioned fuselage frame. After a bit of adjusting everything seemed to fit well, so I painted all the separate bits, applying some washes and dry-brushing to make it all come alive. Interiors of I-16 were commonly painted with undersurface color of the time (if not left unpainted), this being rather bright shade called AII Blue. I mixed this myself, trying to follow the hints given by guru Erik.
Few bits that came in white metal form are: telescopic gun-sight, nitrogen and oxygen bottles, ruder pedals, control stick, flare pistol, as well as small levers for different controls left and right (I replaced these with spares from photo-etched bin, for more "to the scale" appearance). I turned both bottles, and the gun-sight using my Dremel as the lathe, with sand-paper pressed against their surface, to clean them up and improve cylindricity. The gun sight needed some more work to bring to the standard. I made forward "spider-leg" supports from the copper wire, and the oval canopy seal from the brass sheet, cut and bent to shape. After touch of black paint it looked nice and proper.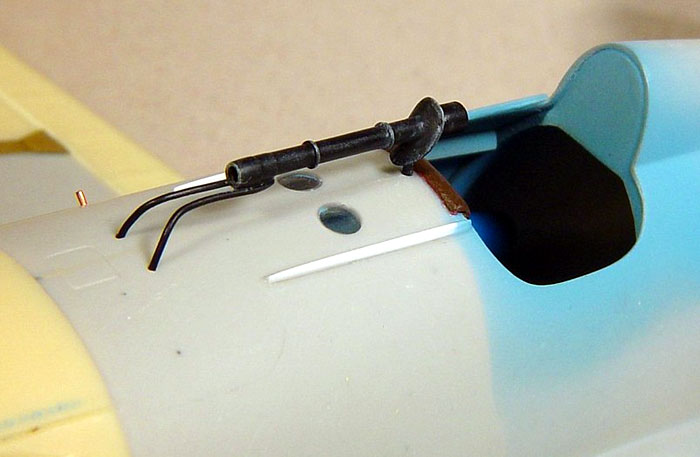 The only slight let down of the cockpit set is the instrument panel. There are three of these, mind you, for different I-16 types, but they all have blank instrument faces. Now, after all is assembled it won't make a big difference, but it would be nice if an acetate sheet for instrument faces was included. Well, I would be dammed to leave it like it is, so I went to make my own instrument mask.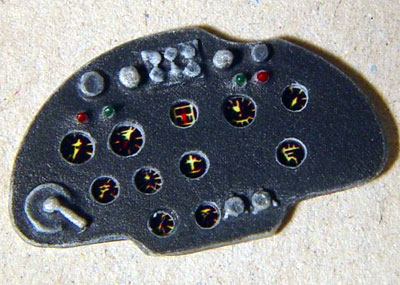 I drilled through holes for all of the instruments with drill bits of the proper diameter. Then, I laid the piece with its back down on the sheet of sand paper, and sanded off most of its thickness. After this, I scanned this part (face down) to get a computer image of the instrument placement. Using the magnified image, I created simple instrument faces in a program for manipulating bitmaps, "MS-Paint". After this is finished, I printed the scaled version of this mask on a glossy photo paper. When the print dried, I applied a cote of "Future", for that reflective glass look. Now, all that is left is to paste that mask on the back of pre-painted resin panel, just like with photo-etched/acetate combination. Voila, home made instrument panel! This process may sound complicated but its actually very easy to do (if one has a computer).
Now all that remained was to assemble everything, sand, polish, prime, sand, and polish again...
Erik, the compassionate soul that he is, offered help even when decals were concerned, and printed two tail stars with white no. 1 on them. In the mean time I managed to find appropriately sized number 1 in my spare-decals pile, and after all decided to spray paint the stars (unappreciative bastard that I am), mainly to be able to color match with the red spearhead. So, everything on the model except the white number 1 on the ruder is masked and airbrushed. Red flash on the vertical tail should actually be a slightly darker shade, but on most of my photos, this in unnoticeable.
Otherwise, shades for AII Blue (bottom) and AII Green (top) were mixed at home, and after first application tweaked slightly to come back second time, and add some depth at places.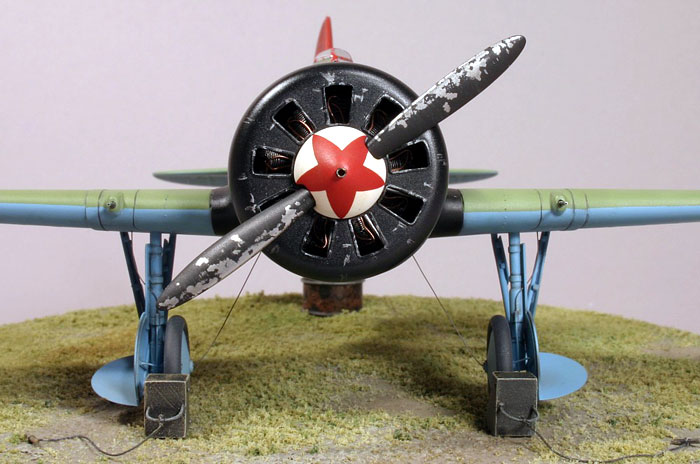 I read somewhere about a technique of achieving chipped paint by applying wet salt over pre-painted silver surface, and then airbrushing main color. Dry salt can be easily removed to expose chipped bits. It sounded crazy enough to try, so the propeller and the canopy frame were done in this way. Later, I would use the same technique for discoloration of rusty oil drum. I am pretty happy about the whole affair.
The idea to build a base came after finding several photos of I-16 with its tail propped, so that the fuselage is leveled. I liked the looks of it, and thought that a rusty fuel drum as a tail prop, and a pair of wheel chocks may add right amount of character.
The fuel drum was made from brass sheet, rolled around a pen, with copper wire for the drum rings. I also added some small dings to its surface. The drum has a pin in the bottom, with which it can be secured in two different places on the base (where I drilled the holes). Now I am able to display the model propped on the oil drum, or resting on the ground, with the drum standing next to it.
Wheel chocks were made like little boxes of plastic, with half rings in the front made from copper wire. Again, shape corresponds to the one seen on photos. I roughly sanded them, painted them black, and then weathered them with browns.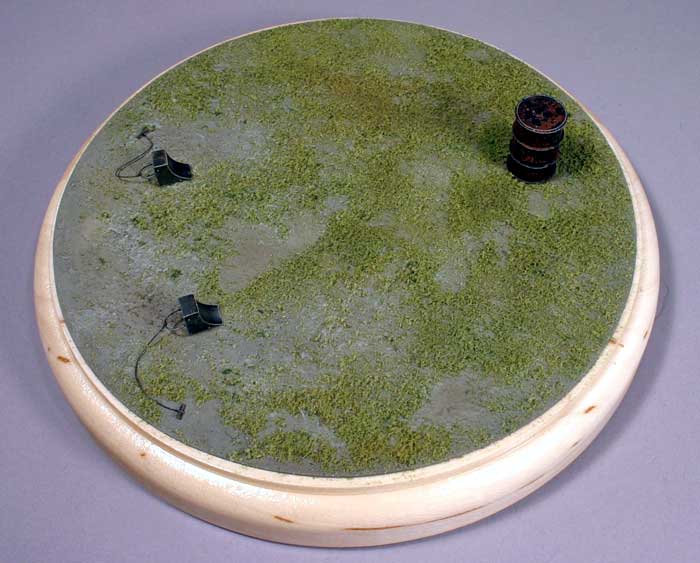 The biggest challenge was the grass, as I never did this before. I bought two bags of "railroad grass" of different color, one fine, one course. In retrospect, I would get only the fine one next time, as only that really looks good in 1/48 scale. I also discovered that hairspray is much better bonding agent for grass then recommended white glue. Just don't let my wife know... Once fixed to the base, I dry-brushed different shades over the grass to achieve more natural look. Not bad for the first time...
Conclusion and Acknowledgements
This particular I-16 early Type-5 turned out to be much, much more than a simple, and quick build. It rather became a proof that you can condense a lot of attention and detail in a very small space, while still keeping most of it appreciable, and visible!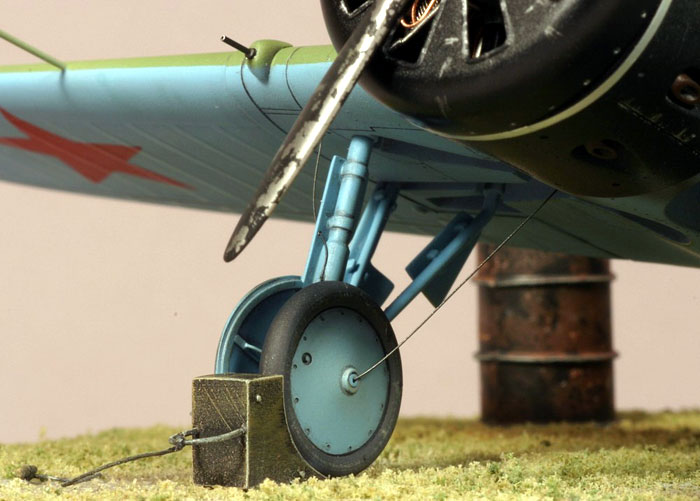 Airwaves accessories hold same essential importance to this Hobbycraft kit, as plastic surgery holds to Hollywood film industry. And I will venture to say that using the first-mentioned combination produces much more authentic and satisfying result, than ... well the second mentioned case.
I would like to thank Erik Pilawskii for all of his knowledge and help, and endless patience in answering my questions.
In the same manner, I am really grateful to Pete Vill, who firstly mastered these sets, and then spared one copy for my mailman. He also continues to build my expectations for English beer, and I just hope that it will live up to it.
Finally, kudos to Airwaves for tackling subjects that so many others like to ignore.
After all that has been written, I have run out of words to put here, and "Happy Modeling" is becoming such a cliché, so 'till the next time...
don't misbehave!
Click the thumbnails below to view larger images:
---
Model, Images and Text Copyright © 2003 by Aleksandar Šekularac
Page Created 11 December, 2003
Last Updated 17 March, 2004
Back to HyperScale Main Page