28cm K5(E) "Leopold"
by John Ellingson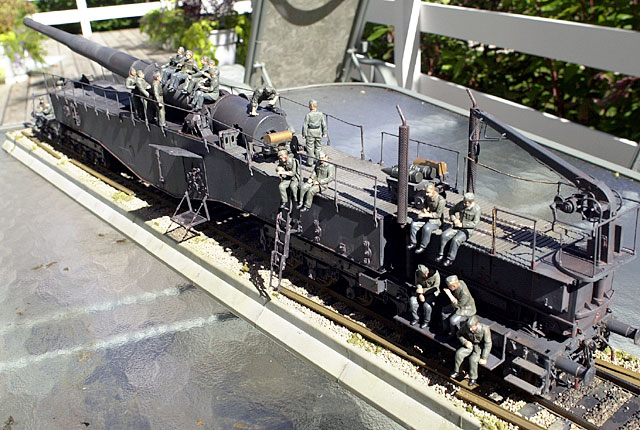 K-5 "Leopold"

HyperScale is proudly supported by Squadron
Here is Trumpeter's 1/35 scale K-5 "Leopold" railway gun. My model was obtained through Squadron via my local hobby shop, Hobby Craft, in Madison, WI., where this model is on display.

There are two models that will mark 2003 as a watershed year for the plastic model industry – the Academy 1/32 FA-18 and the Trumpeter 1/35 K5-E. Both have advanced the state of the art to new levels and I believe currently set the industry standard.

If you've ever wanted to know what is felt like to be the Krupp factory, this is your chance.

As near as I could tell after about 35 hours of research, this kit is a very accurate representation of the K5-E. While I could not find a particular K5-E that this kit might represent, and I did see variations in virtually all of the K5-Es (as one might expect for an object that really was built one at a time and not on an assembly line) that could be seen in photographs, this kit does seem to be very accurate.

The only shortcoming that I could find was that the rounds produced for the kit do not match the type of rifling portrayed in the barrel muzzle. The rounds in the kit were the less common type and not the rounds with rifled grooves that matched the barrel rifling in the kit.

The K5-E was built from 1936 onward throughout the war. They served along the French coast, in Italy and on the Eastern front (moved from France).



In researching the model, I was inspired by the early review by Terry Ashley that is available both at HyperScale and at the Perth Military Modeling site. The Aussie, Terry Ashley, has turned the model review process upside down for those of us in the right-side-up hemisphere with his new review format, which includes images from the kit's instructions. Anyone considering attacking this project should be sure to access Terry's fine review of both the Dragon and Trumpeter kits.

I have been fortunate in my lifetime to spend considerable time around large metal machinery and to spend twenty years living on a seacoast . I wanted to build a model that represented one of the K5-Es that was placed on the coast of France. I wanted to depict this behemoth late in its lifecycle when the metal had taken on the patina and colors of an object with years of exposure to the elements.

The K5-Es on the coast of France in 1944 could be up to eight years old with over 4 years of exposure to salt air. Creating the impression of metal from something plastic is part of the joy and challenge of building armor models. I wanted this large model to visually carry the weight of this massive piece of machinery.

Metal machinery, like the K5-E, is built from plate, rolled and tube stock and heavy castings and forgings. Many of the cast and forged parts have seems. In finishing the metal parts the seems were typically lightly grinded to remove sharp points and edges that could generate stress points. In addition many subassemblies (such as the hoist) were assembled from welded common metal shapes, like angles and channels. I constructing the model I tried to preserve the seems on parts that were likely cast, forged or made from welded stock.
This kit of over 1100 parts takes time. The parts are generally very cleanly cast and the assembly sequence is well thought out and illustrated. However, there is a problem I had not dealt with previously that required some backtracking. Even though the fit is up to the highest industry standards, it does not assure that the larger assemblies remain true and square. I had to break and reform some joints to remove some torque in a couple of subassemblies. The resulting torque that I had built in did not exhibit itself until I discovered that the gun barrel was not aligned perfectly on the centerline and the center section did not sit squarely on the for and aft truck assemblies.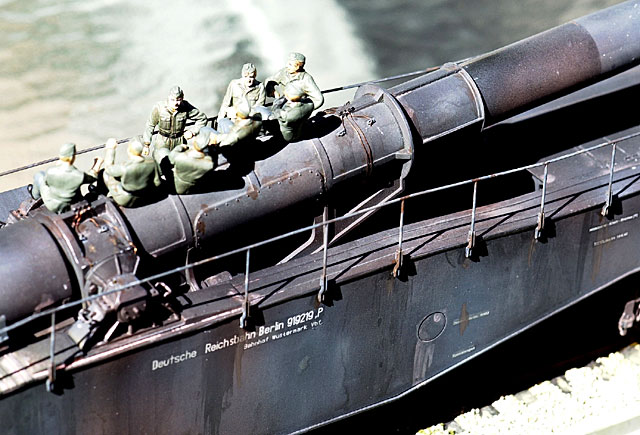 Unfortunately, the joints I had to bread were the only ones I used cyanoacrylate on. I will build another one of these kits and will stick with solvent type cement in the future. It will provide sufficient holding support and provides a more flexible joint at the same time.

There are a number of small and fragile parts. No matter how careful you are, prepare to lose and break some. I found myself scratch-building a couple of the smaller parts that Scotty beamed up or my clumsiness broke.

I did follow the instruction sequence with no real variation and it all worked well. However, I would caution builders to be certain with left and right-handed parts as they are very similar and the instructions are not always clear on differentiating these parts apart from their part number.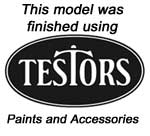 I used Floquil paints and Model Master Acrylics to paint this model. I also used a good deal of denatured alcohol in the various washes that allowed for rusted pigment to settle in those places gravity led them. I used four different grays. I also layered four different colors for the wooden duckboards.

I used a ground graphite stick and a 2B soft pencil for the bare metal and patina effect. I also used sparingly a silver colored pencil to indicate areas of recent bare metal exposure. I used this most sparingly as salt air tends to discolor bare metal in just a few days of exposure.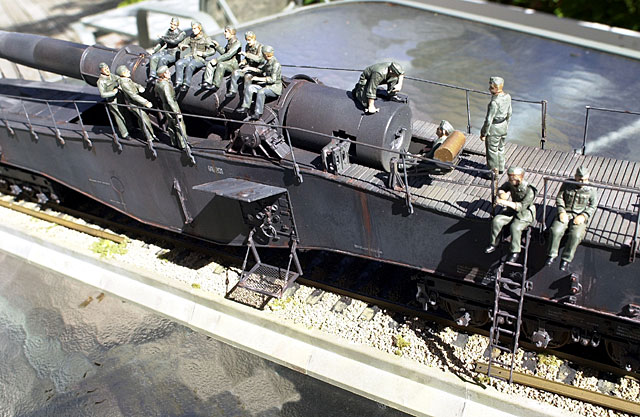 I did have some difficulty with the decals and could not get all of the transfers to separate from the paper.

I supplemented the kit with model railroading ballast and greenery for the base and the 23 figures are all from the Tamiya spares box.
This kit is for the experienced and patient builder with lots of display space. I highly recommend it as one of the most satisfying modeling experiences I have had in over 50 years of model building. My congratulations to Trumpeter for the courage to put such a model in the market and for producing a kit that the average experienced modeler can build into a museum quality result.

I spent a total of 141 hours on this model and $128 USD for the model, additional paint and supplies. This works out to $0.91 per hour for the pleasure of building this model.
Click the thumbnails below to view larger images:
---
Model, Images and Text Copyright © 2003 by John Ellingson
Page Created 05 October, 2003
Last Updated 17 March, 2004
Back to HyperScale Main Page