"I Got Dem Low Down Malta Blues..."
by Steven "Modeldad" Eisenman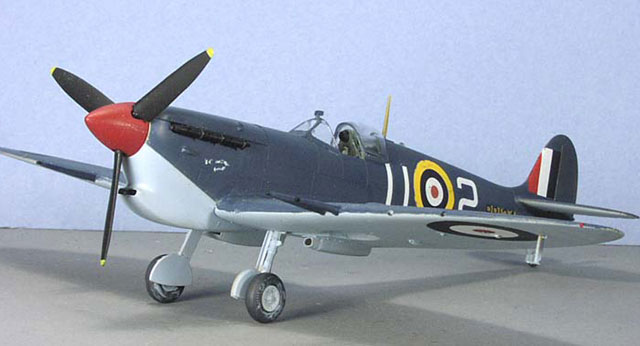 Malta Spitfire

Tamiya's 1/48 scale Spitfire Mk.Vb is available online from Squadron
On HyperScale's Plane Talking Discussion Group we often speculate about the color of a particular aircraft, or whether or not such and such camouflage pattern was used. But, we frequently avoid finishing models in those speculative color schemes. Could the reason be that we don't want to waste a good kit on a speculative scheme, or that that we don't want a friend walking into our house and telling us how wrong it is?

Having a stash of 1/48 kits that is larger than any hobby shop in my area, and having no one who sees my models who would know the difference between Temperate Land Scheme and Temperate Sea Scheme, or know that a Finnish aircraft is not a Nazi, I guess I have the freedom to do some odd ball stuff.
For years the color of the "Malta Blue Spitfires" has been debated on Plane Talking. What was the actual color? What paint did they use or could have used? U.S. Navy paints, Extra Dark Sea Gray, Dark or Light Mediterranean Blue, or was it a local mix that will forever be unknown?

Rather than try to solve all the questions, I just speculated on the Spitfires on board the USS Wasp during Operation Calendar. Operation Calendar began on 10 April, 1942, when the aircraft carrier Wasp docked at Port Glasgow, Scotland to take on 47 Spitfires Vc bound for the besieged Island of Malta. For her own protection, Wasp also carried 12 Wildcat fighters.

It appears that the Spitfires loaded aboard Wasp were painted in Dark Earth and Middle Stone and most likely had a Sky Blue underside. It also appears that they were un-coded and had all four cannons mounted (Once at Malta, one gun per wing was removed.). But when they flew off the Wasp's desk, the Spitfires had undergone a transformation and appeared to be in a very dark color, which was referred to as "blue".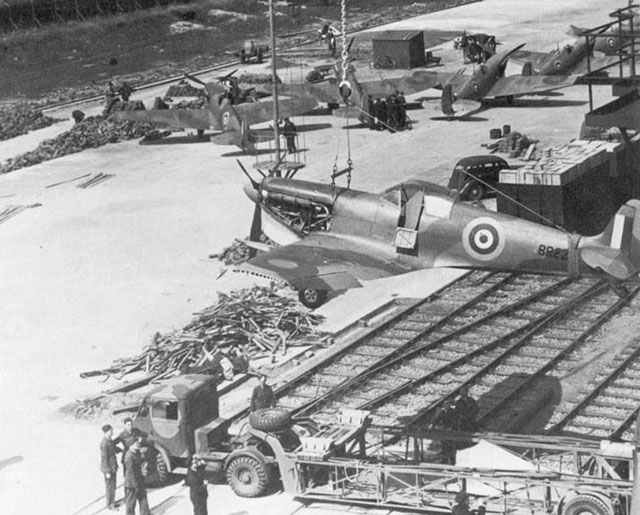 Now for my very unscientific assumptions (Couldn't get away over the holidays to either the British or American archives!). Given the way the Spitfires seemed to be hastily painted, I believe that the decision to paint them a dark color came while Wasp was at sea. With this assumption on my part, and the fact that they were not painted prior to loading, I do not believe stores of paint such as Extra Dark Sea Gray were loaded aboard Wasp. If this was the case, what paints would have been used to repaint them?

In 1941 Wasp had its camouflage changed from an overall "Black Scheme", "Scheme 4", to a "Modified 12 Scheme", which involved the use of Blue (either Sea Blue 5-S or Navy Blue 5-N, and on Wasp I believe, but cannot verify, that 5-N was used) and Gray on the vertical surface and Deck blue 20-B on the horizontal surfaces. The pictures of Wasp during Calendar do seem to show a two color scheme that appears to be new. (Note: What is odd is that the picture of Wasp does not show the splotchy camouflage of Mod. 12, but rather a segmented camouflage pattern.) I would presume that Wasp would have sailed with stores of the new camouflage paint for subsequent repairs. It could be argued that the use of ship paint is out of the question, because it is too thick. But given that paint is nothing more than pigment and carrier (thinner, etc.), the weight of the paint can be reduced by the addition of more thinner. As modelers, we do this all the time; Windsor Newton oils in tubes become a wash with the addition of turpentine. I have even thinned oil based house paint to a wash so that wood grain still shows through.

The question becomes, assuming that a shipboard blue was used, because there are references to a blue, which blue was it (Now, if a dark gray Ocean Gray 5-O was used, then oh well, project over!!). I believe that both blues were used – Navy Blue 5-N and Deck Blue 20-B.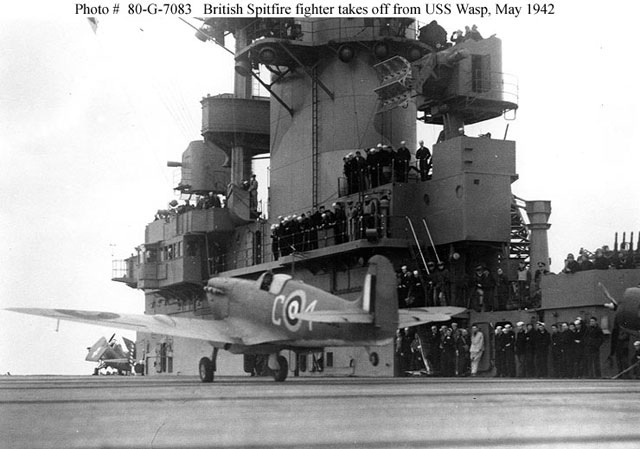 Click the thumbnails below to view larger images:
The reason I believe both blues were used is because Deck Blue 20-B is a very dark blue color, and in my opinion it would be close in color to the Navy Blue of a uniform. Yet, the pictures of Spitfires coded U*2 or C*4, seem to show these aircraft are lighter than the uniforms on the sailors. In other pictures the Spitfires appear almost black. I also do not believe that USN Blue-Gray was used, as it appears to be too light. I know black and white picture are unreliable, and that there is shifting light, and so on. As I said earlier, these are very unscientific assumptions.
For the purpose of model paint comparison, I painted the Tamiya scrap wing with Aeromaster USN Blue-Gray, Polly Scale Deck Blue 20-B, and Navy Blue 5-N. No paint was lightened or darkened in the painting process.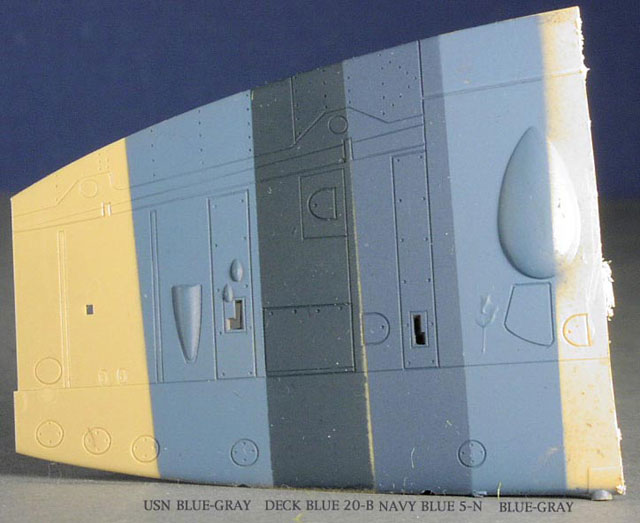 I wanted to do Spitfire Mk. Vc BR124 / U*2. I started with the Tamiya Mk. V Spitfire and the Bringuier Aviation Products Mk. Vc resin wings. (Shame they are OOP, very nice, fit perfectly, just some minor warping.) I first painted it Dark Earth, Middle Stone ( B scheme) and Sky Blue. For the Sky Blue I used Polly Scale RAAF Sky Blue with some dark blue added. I then applied the serial number. After masking the serial I sprayed the model with Polly Scale Navy Blue 5-N. I did not even attempt the uneven application that was on the original aircraft, although I did hand paint around the fuselage roundel. I also applied a lighter spray on the rudder and elevators, this was noticeable on the real aircraft, to reduce the effect of paint on control surfaces.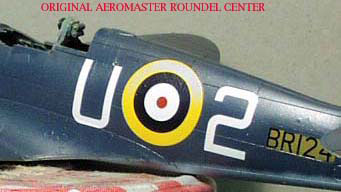 For the markings for U*2, I used Aeromaster's Defenders of Malta, Part I, 48-597. With respect to U*2, what a disappointment! The transit codes (which were applied on Wasp) are too big by at least four to six inches. Also, the red center of the fuselage roundel seems far too small. I found a more appropriate red center, but could do nothing about the codes. The instructions also indicate the Desert Scheme formed an outline around the upper wing roundel. I have serious doubts about this. I have not seen this on other pictures of dark painted Spitfires.
There are also some odd issues to consider. For example the color of the spinner. This is another assumption. It does not look as black as the prop blades, and in the picture of the aircraft being loaded on Wasp, it does not look like Dark Earth. I made an assumption of dark red. There is also a very unique item that has been overlooked. There appears to be chalked script on the cowl under the exhaust. It is not legible. Could it be a good luck message, the signature of the painter of the aircraft, or a pithy saying? No idea. I tried to represent this using a squiggle of white paint on a fine brush. The antenna mast is another matter. The picture of U*2 leaves me with the impression that it was left unpainted in Middle Stone. U*2 also seems to have the attachment points for the "cheese cutter" IFF wires, but they do not seem to have been attached.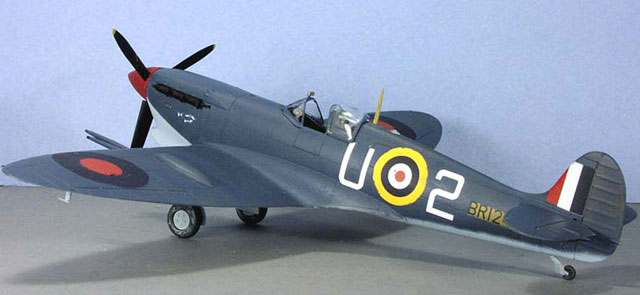 Finally I have one question for which I have no answer. If you look at the wheels of U*2, the tires appear to have a bit of overspray. Also, some Spitfires seem to have the light color extended across the bottom of the rudder, and to me it appears the underside color is higher up than usual. Could there have been full underside repainting en-route?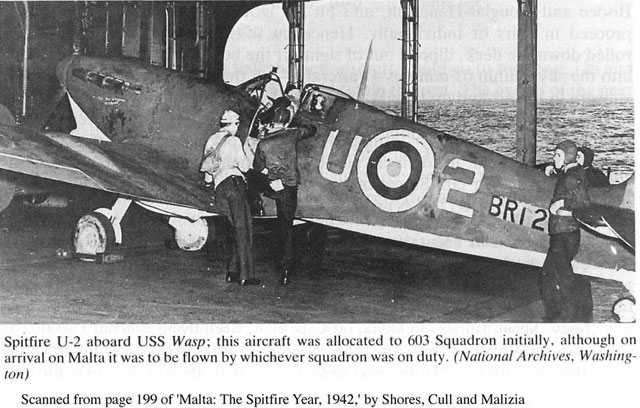 I could be so very, very wrong in my assumptions and conclusions. But, for me, it really does not matter. I enjoyed the research and modeling process. If nothing else, I have me one interestingly colored Spitfire. Of course, I welcome comments and any information you wish to share.

I'd like to thank Graham Boak and David Wadman, who good naturedly put up with my insanity and provided information that was not available to me, and, of course, their opinions.
Spitfire Mark V Aces; Dr. Alfred Price, Osprey , 1997.
http://www.geocities.com/Pentagon/Quarters/4289/Camo.html
http://www.steelnavy.com/usnchips.htm
http://www.modelwarships.com/reviews/books-plans/snyder-short/usn-1/usn-1.html
The Picture of the Spitfires being loaded is from The Spitfire at War, by Dr. A Price.
The origins of the other picture is unknown to me, and will be removed at the copyright holders request

---
Model, Images and Text Copyright © 2004 by Steven "Modeldad" Eisenman
except as noted above
Page Created 08 January, 2004
Last Updated 17 March, 2004
Back to HyperScale Main Page