MiG-3
by Adam Batkiewicz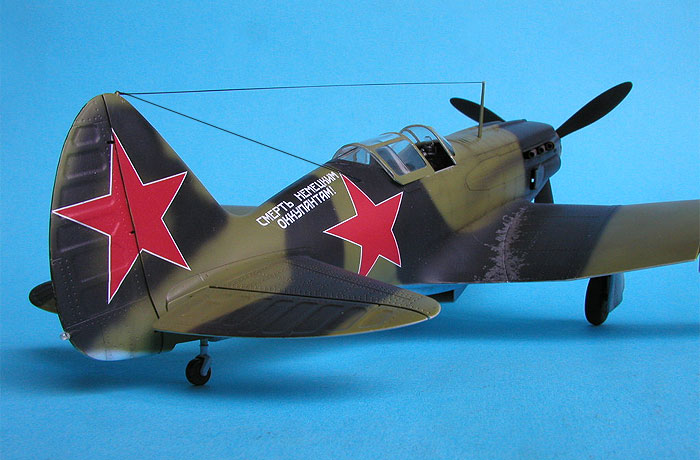 MiG-3

Trumpeter's 1/32 scale MiG-3 is available online from
Squadron
Here is Trumpeter 1/32 MiG-3.
The model has been built almost straight from the box except for the seat belts from masking tape and antenna wires from stretched sprue. It was a "quick project" with a purpose to test my company Data Decals' decal sheet DD32001.
Well, in the end it was not the fastest build I have ever heard of, but according to my own "manufacture time", which usually takes few months even with a state-of-the-art kit, it was record speed.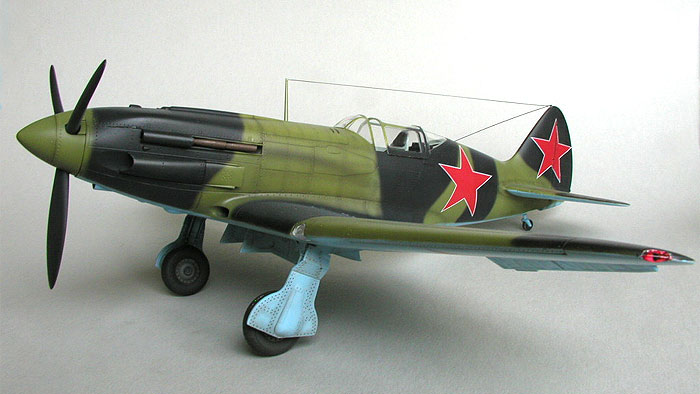 I finished the model within 10 days with main job done during the weekends.

My impressions regarding Trumpeter's 1/32 MiG-3 are very positive. Construction was straightforward and level of details is highly satisfactory (although the rivets may still be too prominent). The parts fitted well and only few areas needed treatment with Mr. Surfacer. Ejection pin marks were present on inner surfaces but on the finished model they can be seen only on inner sides of gear doors.
The cockpit was painted with a very bright light blue color and then shaded a little with an airbrush.
The instrument panel, radio boxes and other parts were drybrushed and additionally treated with silver pencil to bring out details. I also thinned slightly sides of pilot's seat and added belts made from masking tape.
Fuselage halves and wings went together with no problem (the only little tricky part is mounting of the air intakes in the wing root, but it's nothing serious).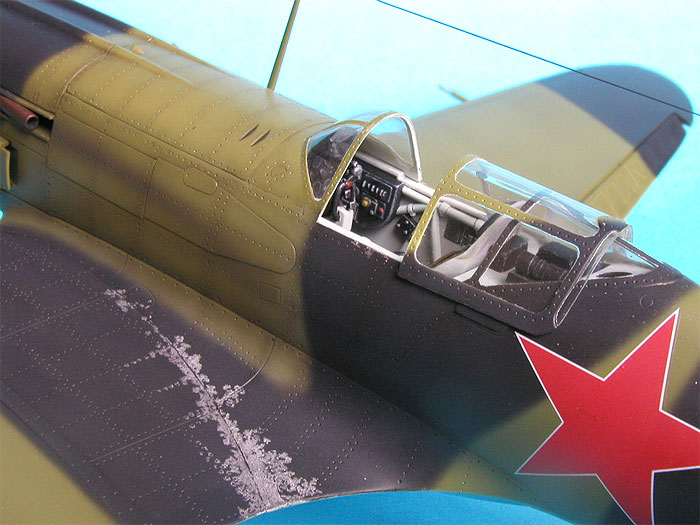 I decided not to bother with moving ailerons, flaps etc. and simply glue them in place. During this process I experienced a critical moment when I couldn't find CA glue for metal hinges. I guess it's too much "artistic order" in my place. Therefore I decided to make mock-up hinges from stripes of styrene sheet.
To create more "interesting" look of the wings I drooped slightly elevators, although practically on all pictures of MiG-3s they are in neutral position, so be aware.
I didn't use the tailwheel doors. Picture of this very aircraft suggests that strut was probably covered with (leather) cover. So keeping in mind that model should be mainly out-of-the-box, I decided to left it as is.
Maybe I'll detail this later.




Camouflage
I elected an aircraft with slogan "Death to the German occupants!" on starboard side. The base for this scheme was a well-known photo showing this plane taxiing. Even though very low contrast I believe this MiG was finished in early Soviet camouflage with Green, Black and Blue paints. The scheme is partially speculative because unfortunately only rear part of a plane and a fragment of a wing can be "deciphered" with some amount of certainty.
---
Paint
Because of time issue I decided to use acrylic paints. I dug up several jars of Aqueous Hobby Color Gunze Sangyo and tried to find shades I would be happy with. Maybe other modelers will find these suggestions for early VVS colors useful:
Green: H58 Interior Green

Black: H77 Tire Black

Blue: 1xH25 Sky Blue + 4xH11 White (5xH11 is also OK)
(Although Light Brown was not used for this camo, but to complete the list of paint equivalents my suggestion would be H71 Middle Stone. Maybe it will be of some help for modelers doing "White 54".)
---
Weathering
Due to the limited time I did not apply a "wash" to highlight panel lines, so the plane was rather heavily "post-shaded" with an airbrush. Additionally wing roots were weathered with silver pencil.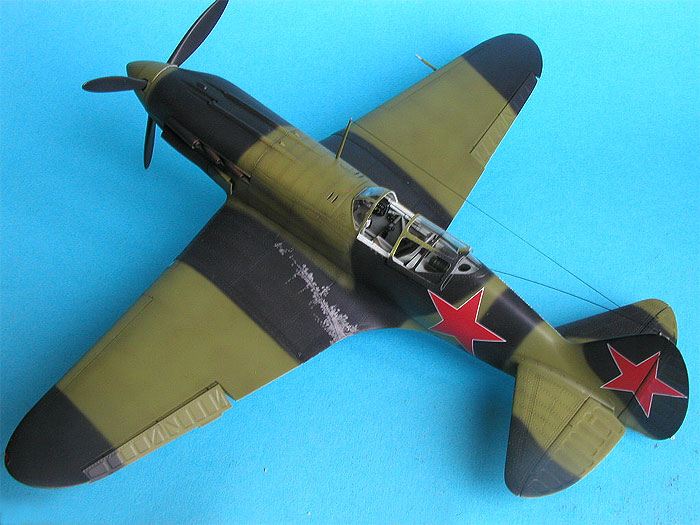 After placing the decals everything was sealed with matt clear.
This kit was straightforward and was a real pleasure to build. I am not a superdetailer, but building straight from the box and not bothering with problems like "was this knob in a cockpit black or dark grey?" can be refreshing.
I think that when summer comes I'll try another big MiG, but in some cool winter scheme!
Click the thumbnails below to view larger images:
---
Model, Images and Text Copyright © 2004 by Adam Batkiewicz
Page Created 24 February, 2004
Last Updated 17 March, 2004
Back to HyperScale Main Page