Operation Typhoon
by Eamonn Sheahan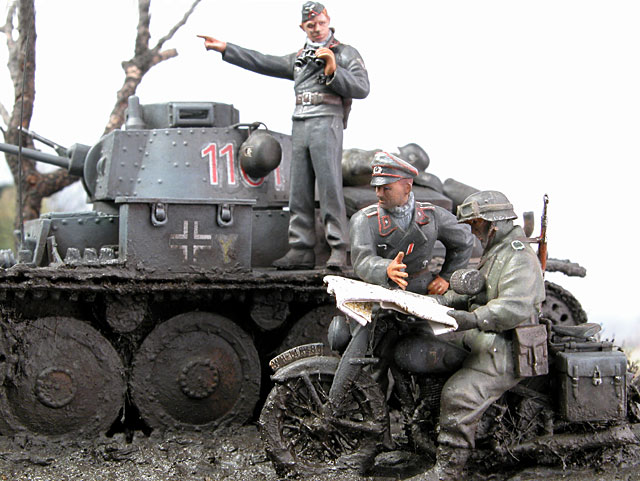 "Operation Typhoon" Diorama


Italeri's 1/35 scale Panzer 38t is available online from Squadron.com
This diorama, inspired by Masahiro Doi of Armor Modeling Magazine, depicts elements of the 7th Panzer Division during Operation Typhoon, the drive on Moscow during the autumn of 1941. The onset of Russia's Rasputitza (period of mud) has begun which, unbeknownst to Hitler, signals the beginning of the end of his audacious gamble.
The Models
Italeri's Panzer 38T and Tamiya's latest Motorcycle kit release are the focus of this work. I built the kits basically straight from the box.
Some extra detailing was added to the tank in the form of scratch built stowage boxes made from plastic card. The hatch cover at the bottom of the hull was mad using bits and pieces from my scrap box.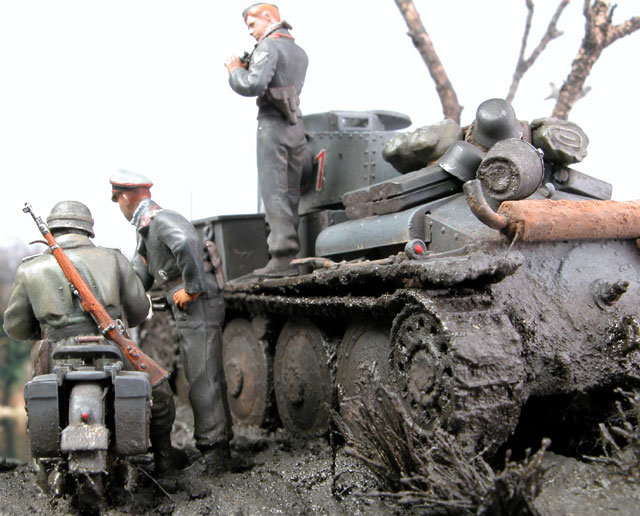 The motorcycle had brake cables added using fuse wire. Both models had fine dirt glued to them to depict the build up of earth during the campaign.
Both models were painted Panzer Grey using Tamiya's spray paint, TS-4. A wash was applied combining Raw Umber oil paint and turpentine into a thin mixture. I dry-brushed the vehicles using multiple shades of light grey from Humbrol. The muddy parts of the vehicles were painted with Raw Umber oil paint.
---
Figures
Figures were conversions of Tamiya and Dragon sets. The soldier on the motorcycle had his legs altered with Milliput. The Tank Commander was changed to a bending pose, and the crewman standing on the tank had Verlinden uniform detail added to his arm.
---
Base and Groundwork
The groundwork was made from styrofoam and plaster. To obtain the muddy effect on the dirt road I used Tamiya Putty, shaping it with the handle of a small brush. The result was then painted with Raw Umber oil paint which creates the moist effect I was looking for.
I added grass that had been bought from a hobby shop. The tree was one of many branches that I have collected from parks near my home over the years.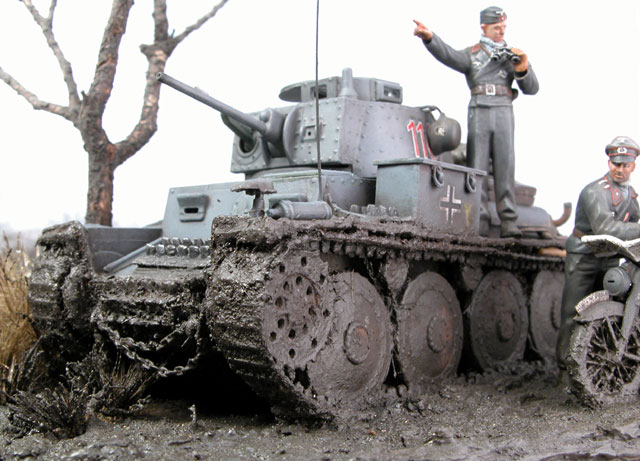 The base was built using an old picture frame, strips of wood and some flat pieces of board . I cut the pieces to size , assembled them and then stained and glossed the base.
The title plate was made from brass, cut to size, and nailed in place.
As a final touch I added a black bird to one of the branches of the tree, overlooking the scene as if to foretell an impending disaster.
Click the thumbnails below to view larger images:
---
Text and Figures Copyright 2003 by Eamonn Sheahan
Images Copyright 2003 by Brett Green
Page Created 03 October, 2003
Last Updated 17 March, 2004
Back to HyperScale Main Page