P-47D Thunderbolt
by Brian Criner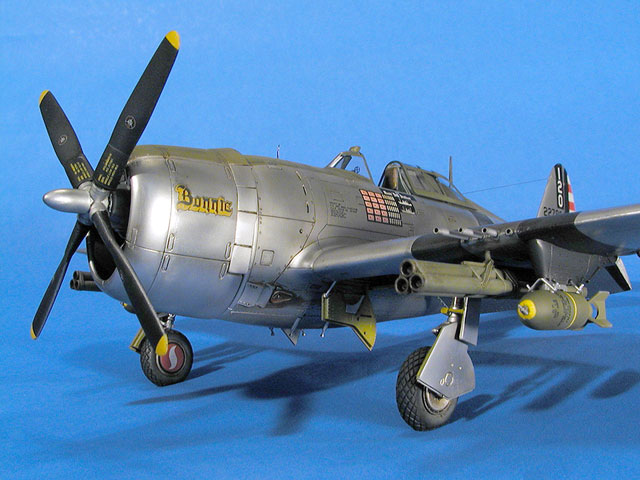 Republic P-47D Thunderbolt "Razorback"
images by Gregg Cooper


Tamiya's 1/48 scale P-47D Thunderbolt is available online from
Squadron.com
Here is my 1/48 scale Tamiya P-47D.
This is the second Tamiya T-bolt I have completed this year. I was fortunate to have a friend, Stan Spooner, who owns an advertising agency that does work for Tamiya America. They were doing the new ad for the T-bolt and he asked me if I could get it done for him as he was wrapped up with a few other projects. I jumped at the opportunity to be the first in the area to build the T-bolt. Unfortunately, it had to be out of the box using the kit decals. Although Frank Kilbbes Little Chief is a fascinating subject, it was not what I had in mind for my Jug.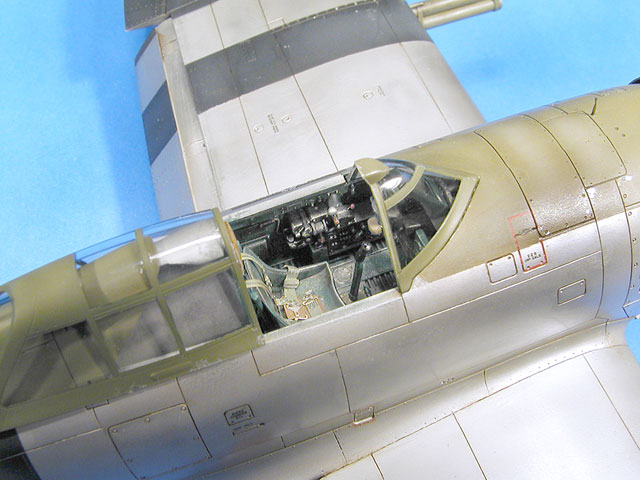 After completing the P-47 for the ad, I quickly acquired another Tamiya P-47 and got started on my topic, Major Bill Dunham's "Bonnie", from the 348th fighter group. Major Dunham's plane is of course, the plane represented on the cover of Squadron's in action book on the Jug.
Before starting, I called my friend, Greg Cooper from Scalequest, and asked him if I could pick up one of his great updates for the Thunderbolt. The Scalequest set includes resin oil cooler exits and wastegates, an air divider, open cowl flaps for both early and late T-bolts, and intercoolers. Greg graciously gave me one of his sets and offered to photograph the model once it was complete (As you can see, Greg is also a fantastic photographer).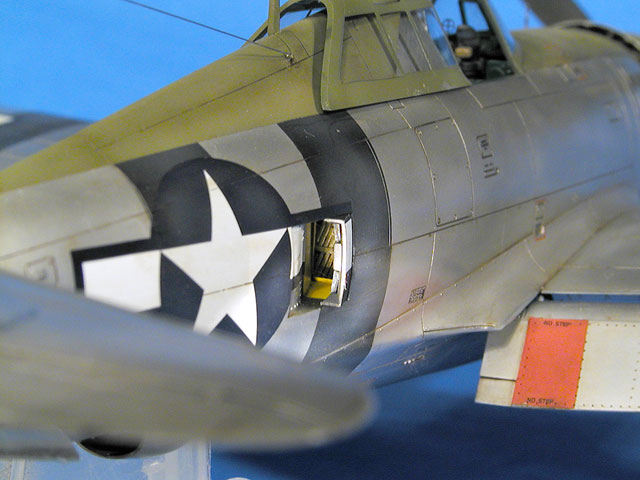 Greg's resin parts are dream to work with when compared with some other resin products out there. Once the resin sprue-blocks are removed, the pieces just fit right into place! They are a great enhancement to a great kit and I recommend to anyone considering a build up of the Tamiya Jug to seriously considering picking up a set. His directions are straight forward and practical and there are just no fit problems.
Having never built a plane with a natural metal finish (at least one in which the natural metal is SUPPOSED to be showing and not exposed as a result of "chipping"), I needed to decide which metalizer system to use.
Being a creature of habit, and generally being a coward when it comes to trying something new, I opted to pass on Greg's advice that I use Alcad II, and use my tried and true method for metal undercoats using Testors Model Master Buffable Metalizer paints.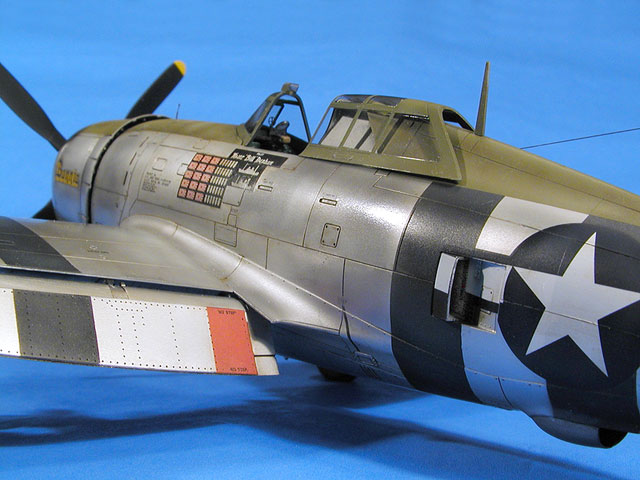 Once the plane was together, I sprayed on Aluminum metalizer and buffed it to nice sheen with my variable speed Dremel w/flexishaft attached. I then coated the metalizer with Future Floor wax to act as a protective coat over the paint and as a smoother surface for decals. Although the thought of masking the ID strips and antiglare panels caused a bit of trepidation, there were generally no problems with paint being pulled up (I use Tamiya tape for masking). Once the paint and decals were on, along with an additional coat of Future to seal the decals, I covered the surface with clear flat. This gave the what I figured, was the best representation of weathered natural metal. I followed this coat with a liberal wash of Burnt Umber using Grumbacher Artist oils and Turpenoid, and then another coat of flat. I would say, for the most part, I didn't experience all of the problems I had anticipated using metalizer paints.
I did experience some fingerprint issues from handling the model. A friend suggested I use Testor's Metalizer sealer, which believe it or not, I didn't even know existed until after I finished the model. I don't know if it would have helped prevent fingerprints.In addition to the scalequest parts used, additional aftermarket parts used were some great wheels from Ultracast, painted seat belts and some cockpit bits from Eduard, and or course decals from Aeromaster.
The project was a delightful one and actually only took about 3 1/2 weeks to complete (compared to my usual months and months and....).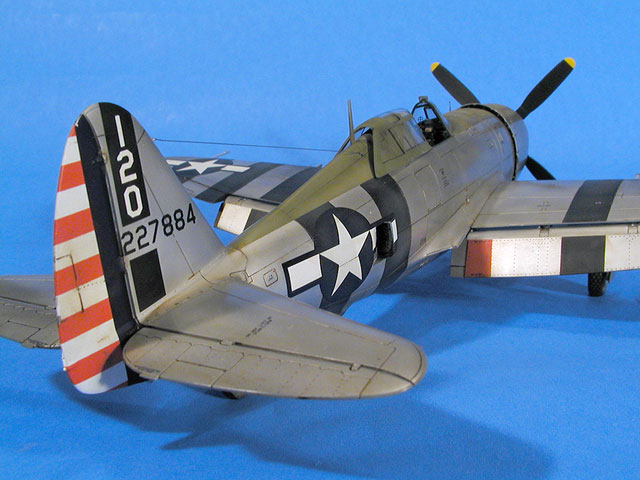 I have already picked up another Scalequest set in anticipation of the release of Tamiya's bubbletop...Yeah Baby!
Click the thumbnails below to view larger images:
---
Model and Text Copyright © 2003 by Brian Criner
Images Copyright © 2003 by Gregg Cooper
Page Created 11 June, 2003
Last Updated 05 May, 2005
Back to HyperScale Main Page