P-61A Black Widow
by Peter Kormos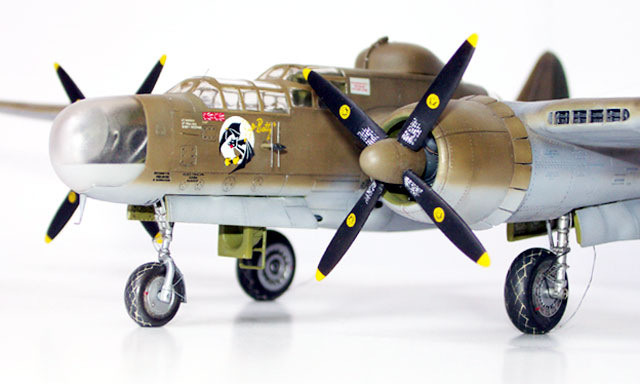 P-61A Black Widow

HyperScale is proudly supported by
Squadron
Here is my 1/72 scale P-61A Black Widow kit from Dragon.

I wanted to build a Black Widow with semi-transparent nose and in the early Olive drab/Neutral grey camo. The box contained only the ferry tanks and not the rotating quad gun, so my options were limited to 'Jap Batty'.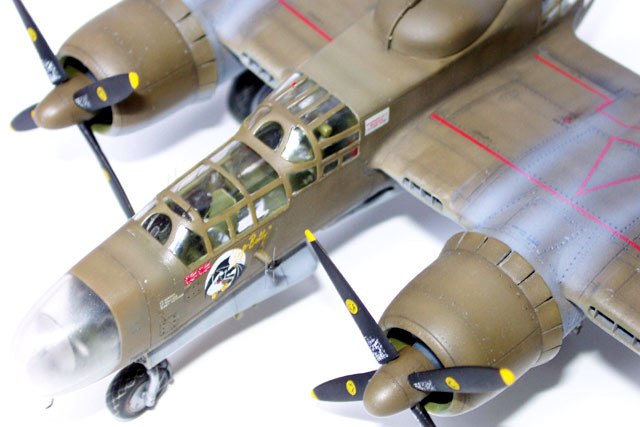 "Jap Batty" was a P-61A-1-NO Black Widow (Block 1: 425485 - 425529) with the serial number: 425528. According to my references, Block 1 planes didn't have underwing pylons - a big mistake that I saw on other 'Jap Batty' model kits. Under wing pylons were only added from Block 11.
I started to build this kit on 29th September, 2002 and finished it in this on 24th October, 2003. Rougly that's 11 months of work with with approximately 200 hours of work. OK, I know I'm slow like snail.... :-)

I didn't use any resin detail sets but I managed to buy the Eduard PE set for the Widow. On the other hand, I spent a lot of time on scratch building. The number of home made items are summarized in the following table:

| | |
| --- | --- |
| External surfaces | 113 + ignition wires + rivet detail |
| Main gear bays | 2 x 7 |
| Nose gear bay | 24 |
| Cockpit area | 64 |
| Radar operator's compartment | 31 |
| Radar device | 21 |
Originally the clear parts were badly scratched especially close to the connecting surfaces. I carefully had to sand out the scratches and finally the clear parts were dipped into Future.

There were serious fit problems at the wing-to-booms joints - where the wings met the fuselage, otherwise construction was quite straightforward.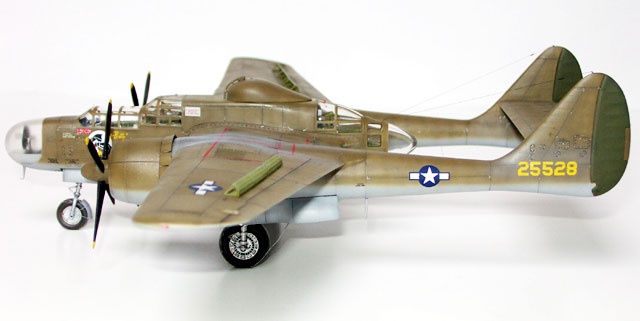 Rivet lines were added according to the line drawings of Osprey Combat Aircraft book.

After reading Paul Boyer's article: 'Motorizing a Mediterranean Spitfire' on the FineScale Modeler website, I decided to add electrical motors to my kit as well. The power supply wires are coming out from the bottom of the main wheels and will be completely invisible, once the base is finished for the kit. (the wires are temporarily tacked into the gear bays).
I used Olive Drab and Neutral Grey paints from the Gunze acrylics range.
Weathering was achieved via a combination of Burnt Umbrer and Black artist's oils, pastel powder and silver pencil for paint chips. Exhaust stains were sprayed on with well diluted Gunze acrylic grey in many fine layers.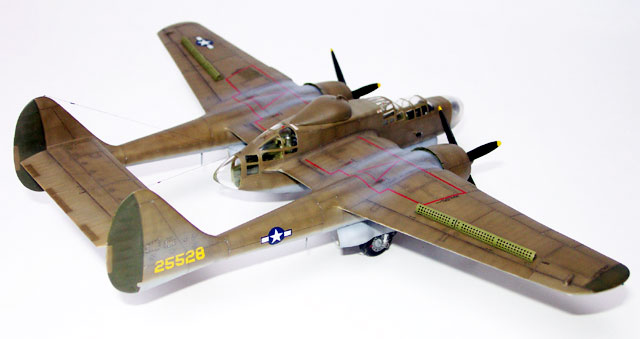 The basic markings are from the #72099 Superscale decal sheet. National insignias and most of the stencies came from a P-38 decal sheet from Superscale.
The original Dragon decal sheet is too thick. I removed the original carrier film from the decals, and airbrushed a new one, so I could use some of the original stenciles as well.
Most of the photos were taken indoors, with a 3.1M pixel Kodak digital camera. Unfortunately, I had to use flash on the camera, hence a lot of interesting detail was lost on the photos.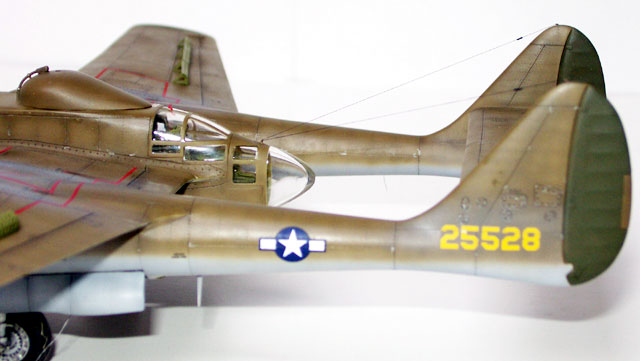 For those, who are interested in the construction of this kit, 95 in-progress photos are available on my home page.

http://www.freeweb.hu/kismorc/models/P-61/page_01.htm

(Please be patient, if the server is slow/currently down, when you're trying to check the photos. My pages are hosted on a free web server).
Acknowledgements and References
I'd like to thank my friend Mihaly Molnar for his reference materials.
References
MBI: Northrop P-61 Black Widow

Squadron/Signal: P-61 in action

Osprey Combat Aircraft: P-61 Black Widow Units of World War 2.

Warbird Tech Series: Northrop P-61 Black Widow

Internet
Click the thumbnails below to view larger images:
P-61 Black Widow Units of World War 2


Combat Aircraft 8

Author: Warren Thompson
Illustrator: Mark Styling
US Price: $19.95
UK Price: £12.99
Publisher: Osprey Publishing
Publish Date: August 28 1998
Details: 96 pages; ISBN: 1855327252
Model, Images and Text Copyright © 2004 by Peter Kormos
Page Created 02 March, 2004
Last Updated 17 March, 2004
Back to HyperScale Main Page