Panzer II Ausf J (VK 1601)
by Steve Palffy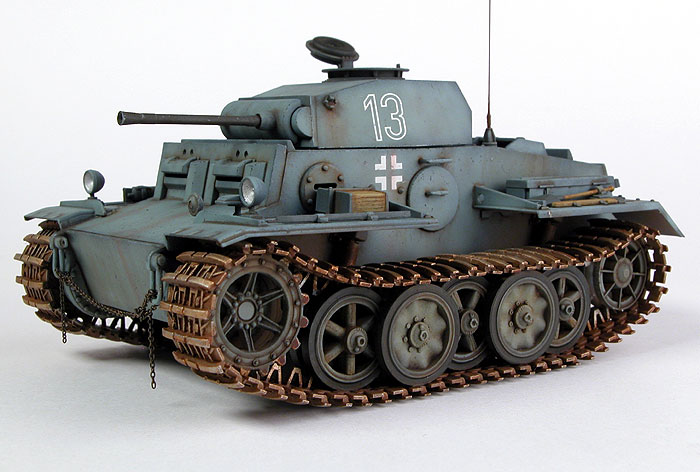 Panzer II Ausf J (VK 1601 Reconnaissance Tank)

images by Brett Green

Alan's 1/35 scale Panzer II Ausf J is available online from Squadron
Here is my 1/35 scale Panzer II Ausf J. This is a new kit from Alan Hobbies.
Only 22 Panzer II Ausf Js were built, with the first being rolled out in April 1942. To my eye it looks very much like the love child of a Tiger I and a Panzer I!
Alan's Panzer IIJ proved to be a nice fit with good fit.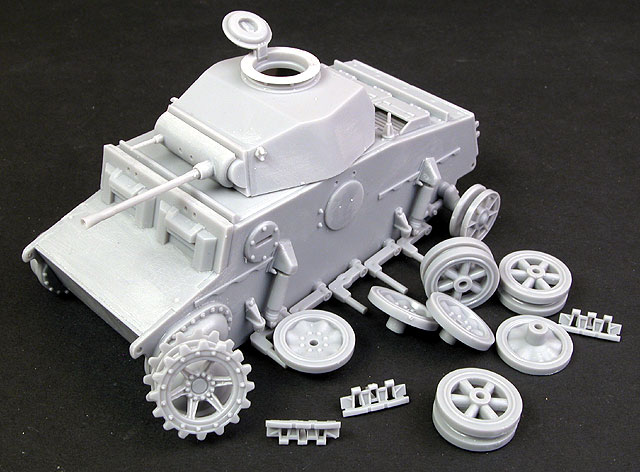 The tracks use 56-57 links per side. Each link features a big hollow guide tooth.
I built the kit with minimal modifications and additions. Brass wire was added as an antenna, as was a light chain to the front of the vehicle. I thought this made sense as there was no tow cable in the kit.
I also drilled out the ends of the gun barrels and hollowed out the headlights and tail lights.
Painting, Markings and Weathering
My Panzer IIJ was painted with Tamiya Field Blue lightened with Light Blue.
The tracks were painted Flat Earth then dry-brushed with Silver. This was followed by a was of Sienna oil paint thinned with odorless solvent.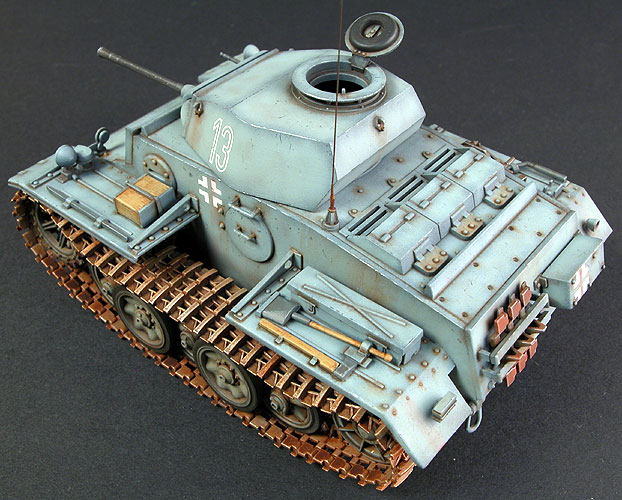 Detail on the vehicle was livened with an overall wash of Raw Umber oil paint (once again thinned with odorless solvent); with pinpoint washes of a Black/Burnt Sienna mix in specific areas.
Chips and scratches were added to edges using a Silver artist's pencil. The chipping and wear on the vehicle hull and turret were achieved with a blunt hobby knife blade, scratched against the painted plastic. This revealed darker paint beneath.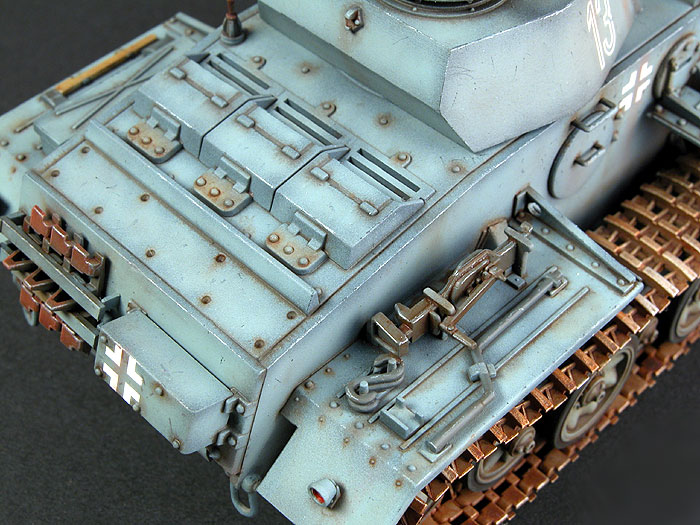 I used decal that were left over from another kit. These were applied with the assistance of Microgloss and Solvaset.
The entire model was sealed with Testor's Dullcote.
Red-Orange pastel chalk was dusted on the spare track links, the exhaust and also a few streaks on the hull and the turret.
I can thoroughly recommend Alan's 1/35 scale Panzer II Ausf J as a simple, nicely detailed and good-fitting model.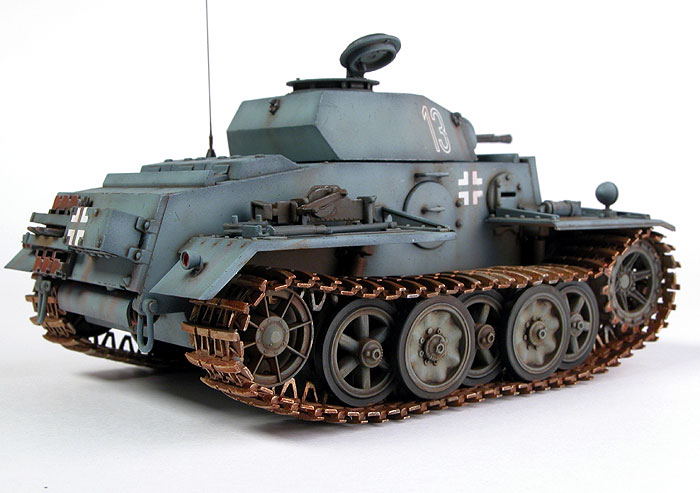 The kit was bought from NKR Models.
---
Those lucky enough to live in Sydney can see some of Steve's models on display at
Avenue Hobbies in Victoria Road Chatswood.
---
Click the thumbnails below to view larger images:
---
Model and Text Copyright © 2003 by Steve Palffy
Images Copyright © 2003 by Brett Green
Page Created 22 May, 2003
Last Updated 17 March, 2004
Back to HyperScale Main Page