Revell's 1/72 Scale
Schnellboot S-100-Klasse
by Chris Wauchop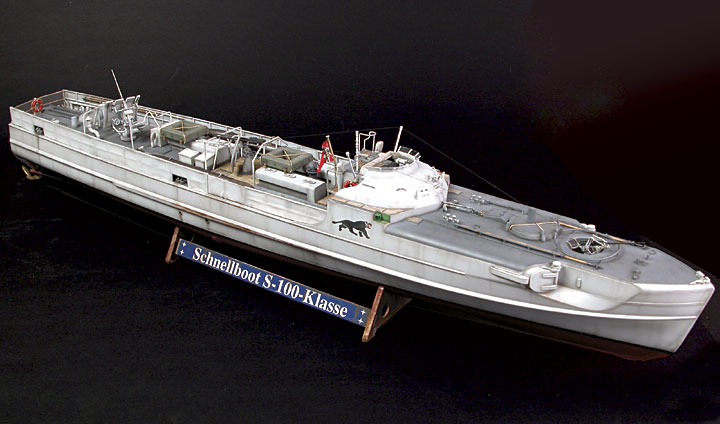 Schnellboot S-100-Klasse
images by Brett Green

Revell of Germany's 1/72 scale S-100
is available for less than USD$20.00
online from Squadron
Here is Revell's 1/72 scale Schnellboot S-100-Klasse.
Schnellboot literally translates as "Fast Boat". The British sometimes referred to this family of German torpedo boats as "E-Boats", as an abbreviation for "Enemy Boats".
The S-100 Class was a development of this successful series that included an armoured bridge. This feature was retrofitted to some earlier variants too.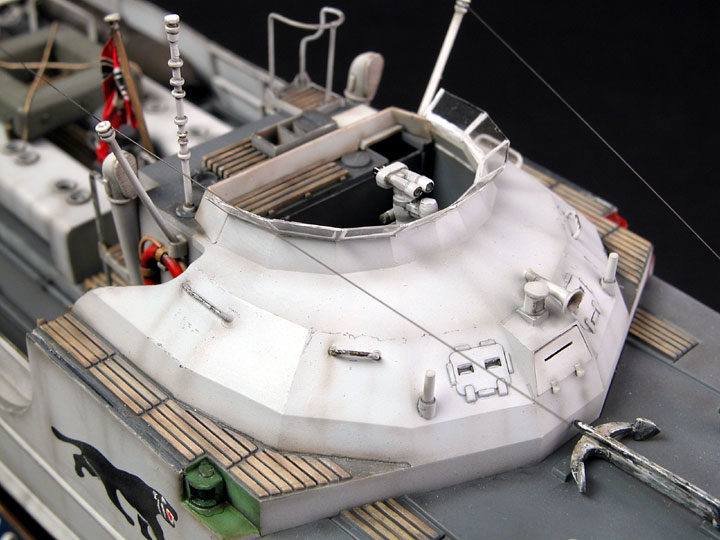 Revell's 1/72 scale S-100 was released late in 2001. It is very nicely detailed straight from the box and quite accurate. Its sleek lines and impressive size will also ensure that it is a head turner whether on display at a model competition or on the mantelpiece.
Chris found that Revell's 1/72 scale S-100 was generally straightforward to build with good fit overall. Some parts exhibited flash, but this was quickly cleaned up with a sharp hobby knife.
However, the instructions were a little ambiguous in places, especially relating to the assembly of the guns. For example, the 20mm cannon on the forward deck does not seem to leave any space for the gunner, but the alternative (ie raising the entire gun) was no more appealing.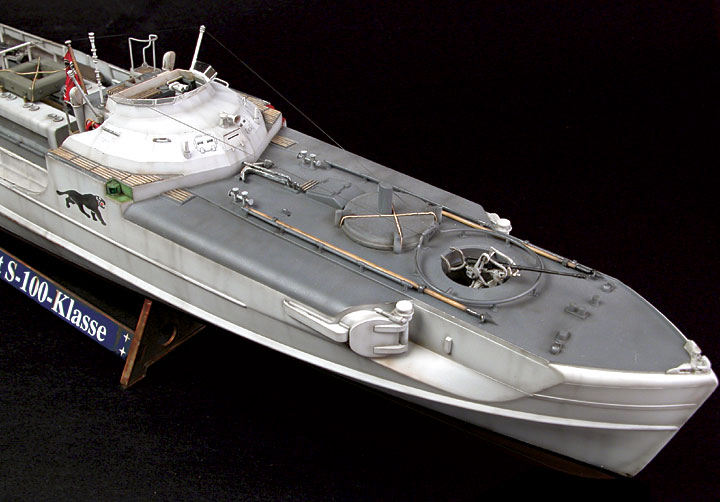 Modellers should take special care to scrape off the inner pair of smoke discharger mounting rings on the rear deck before the deck is installed. The depth charge launch rails will not fit if these raised features are not removed.
Although the model is largely built from kit parts and without the aid of aftermarket sets, Chris made a number of additions and modifications.
The canvas dodgers for the railings were cut from paper-backed lead foil. Once the dodgers were glued into place they could be gently pressed to reveal an impression of the railings' outline.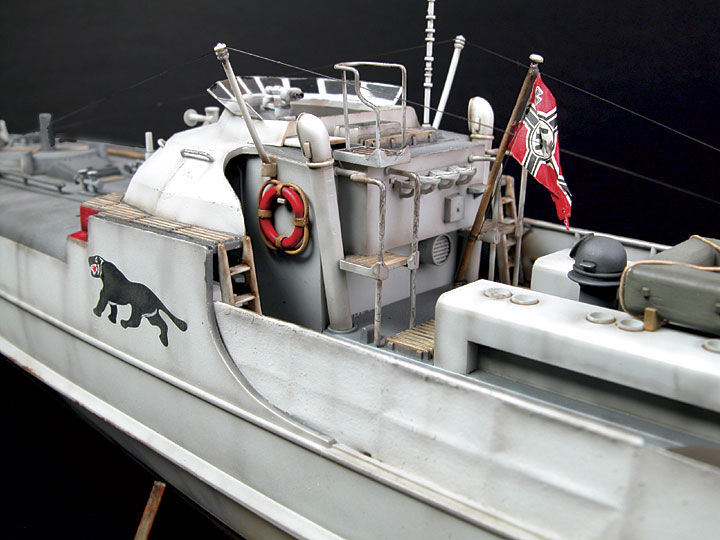 The blades for the torpedo propellers were individually cut from small sections of plastic card. Each blade was then secured to a shaft of stretched sprue. The torpedo retaining straps were fashioned from lead foil and wire.
All gun barrels were hollowed out with the point of a hobby knife except the 37mm gun on the rear deck. This was replaced with a metal item from ARMO set no. 72728 for a Flakpanzer IV Ostwind. This is a beautifully detailed item, even including the fine cooling slots and the characteristically flared muzzle.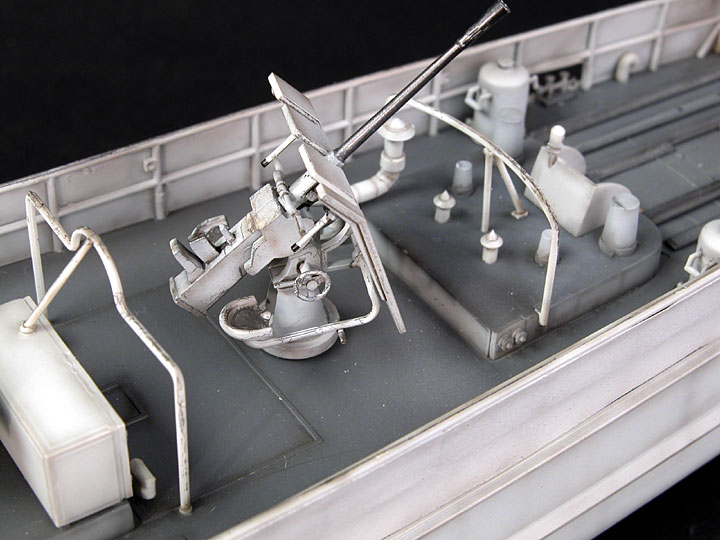 Handholds on the bridge were replaced with brass wire. The soft brass was quite delicate, but more in scale than the plastic kit parts. The new handholds were glued in place with super glue.
Antenna rigging was sourced from smoke coloured nylon invisible mending thread.
The boat's propellers are inaccurate, but the kit parts were used regardless.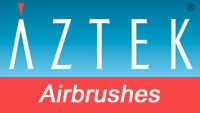 The S-100 Class was finished in a simple scheme of Schnellbootweiss (an off-white colour) on vertical surfaces and Blaugrau (Blue Grey) on decks. Below the water line was usually painted dark grey, but several colour photos suggest that some may have been painted dull red.
Chris painted the vessel using a mix of 90% Gunze H-338 Light Grey and 10% Tamiya XF-66 Light Grey as Schnellbootweiss; and Tamiya XF-64 Dark Grey for the horizontal surfaces. The lower hull was painted Tamiya XF-9 Dull Red for a splash of variety, and the plimsoll line was masked and sprayed Flat Black.
These colour coats were applied using the Testor Aztek airbrush fitted with the fine tip.
Planking and woodwork was painted Tamiya XF-59 Desert Yellow.
Deck guns were given a coat of Gunmetal. The metal 37mm barrel required a coat of Tamiya Primer to improve the adhesion of the gunmetal paint.
Propellers were painted Tamiya enamel X-31 Titanium Gold.
Torpedos were painted using Gunze H76 Burnt Iron followed by heavy weathering.
The Black Panther was detailed with red and white paint applied with a fine brush.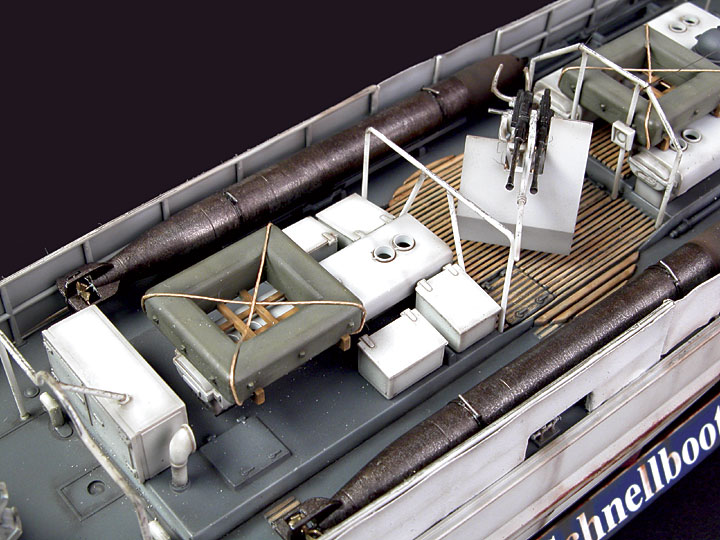 Overall weathering was applied with the Aztek airbrush using Chris's usual method. The airbrush cup was loaded with a very thin mix of Tamiya Flat Black and Red Brown. This was then sprayed into natural shadow areas and in dirty streaks, representing a battle-weary boat at war's end.
Osprey New Vanguard - German E-Boats

Squadron/Signal Publications No. 4018 "Schnellboot in Action"

Classic Warships Publishing - Warship Pictorial #15 "Kriegsmarine Schnellboot"
Click the thumbnails below to view larger images:
---
Model by Chris Wauchop
Images Copyright © 2004 by Brett Green
Text Copyright © 2004 by Chris Wauchop and Brett Green
Page Created 04 January, 2004
Last Updated 17 March, 2004
Back to HyperScale Main Page