Schwimmwagen
by David Harmer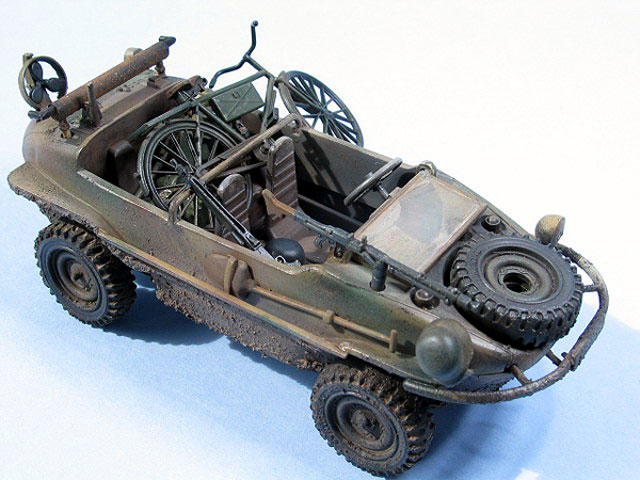 Schwimmwagen

Tamiya's (new and improved!) 1/35 Scale Schwimmwagen is available online from
Squadron
Here is my 1/35 Tamiya Schwimmwagen. This kit will be familiar to many of you as it was first released in the year I was born - i.e. it has been around for 30 years!

Like me, the kit is starting to show itís age. It is inaccurate in shape, grossly over simplified in places - the steering mechanism is not replicated at all -- and it has been replaced by younger, stronger, faster versions (Tamiya, in particular, has released a more accurate and detailed version).

There were, nevertheless, two good reasons to build this kit. Firstly, it was free. It was given to me by a friend following a recent trade. Secondly, it would give me an opportunity to try out MIGís weathering powders and resin which have only recently become available at my local hobby store.

While few will be interested in the story of this kitís construction, I thought some of the beginners amongst us (of which I am one when it comes to vehicles) might be interested in my experiences using the MIG products.
There are better kits of the Schwimmwagen out thereÖ end of story. Nevertheless, I opted to build this one (almost) out of the box.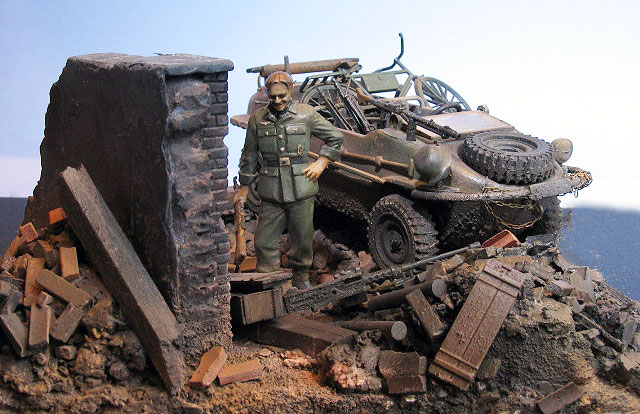 The only deviations from the instructions were to chop the exhaust pipes off and replace them with tube, and to add some plastic card inserts to fill large gaps behind the rear wheels (where the upper hull joins to the lower hull).
Painting, Markings and Mud
I opted for a three tone sand, red-brown and olive green finish described in the instructions. As I planned to bury the car in mud and dust, I didnít bother with markings other than the rear number plate.
About those MIG products...
Anyone who reads Tamiya International Model Magazine will be familiar with MIG weathering powders. A number of recent articles have illustrated how they can be used to stunning effect.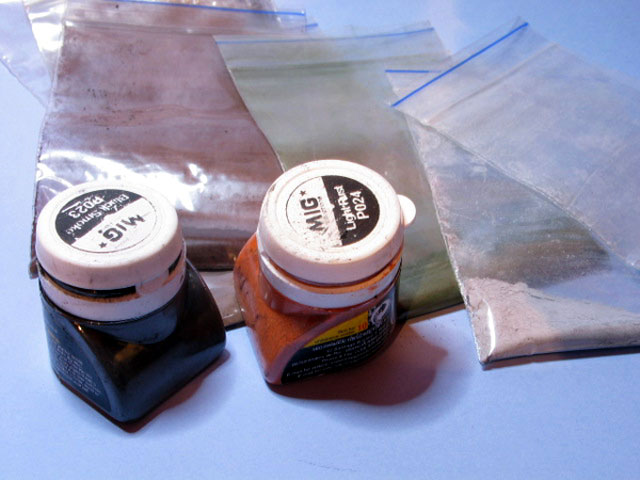 Besides a wash and some localised drybrushing, the Schwimmwagen was weathered using a combination of MIG powders and pastels.

The MIG powders can be mixed together with isopropyl alcohol or Tamiya acrylic thinners to make a wash or applied straight from the container and applied in much the same way you would use pastels chalks . They can also be mixed together with plaster dust and MIG's resin product to produce a mud mix which can be applied directly to whatever you are modeling for textured mud effect.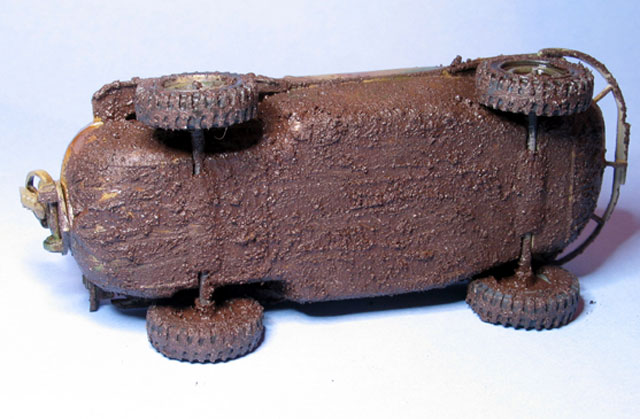 People have been producing similar mud effects for years using celluclay or whatever so itís not as though MIG are offering something you canít replicate with other cheaper products. However, the resin mix does dry in 10-15 minutes and gives superb results.

Basically, the mud mixture comprises:
Plaster mix

MIG powders Ė a suitable brown colour is a good place to start

Resin mix

(optional) Sand or grit to add texture
You will notice as you are mixing the plaster mix and powders together that the mixture only ever looks to be a pale brown colour. Donít do what I did and add lots and lots of dark brown in an attempt to correct the situation. Things come right (or wrong, if youíve added to much colour as I did) when you add the resin into the mix.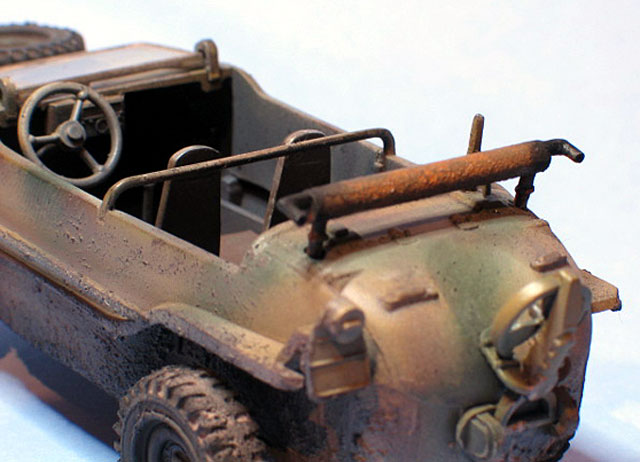 Once youíve created a mud mix you simply paint it on then clean your brushes out in water. I discovered, the mixture works well as filler. So, if you know your going to be applying mud to your vehicle, donít worry about the odd blemish, you can cover it with mud.
I am not entirely sure whether it is worthwhile replacing the ubiquitous pastel chalks with MIGís powders as they are more expensive. However, they do seem to offer a greater intensity of colours and appear to be more versatile than the traditional pastel sticks.
For this reason, I will supplement my use of pastels with the MIG products.
---
Model, Images and Text Copyright © 2003 by David Harmer
Page Created 11 December, 2003
Last Updated 17 March, 2004
Back to HyperScale Main Page
Back to Reviews Page