Building Roden's 1/72 Scale
Sd Kfz 231 (8 Rad)
by Glen Porter
Sd Kfz 231 (8 Rad)
images by Brett Green


Roden's 1/72 scale Sd Kfz 231 is available online from Squadron.com

The Achradwagen (eight-wheeled car) or A.R.W. spawned a whole family of armoured cars starting with the 231 in 1937, culminating with the Puma at war's end.

With eight-wheel independent suspension and steering, plus front and rear driving positions, this vehicle was quite unique and successful, but by no means perfect. One of its weaknesses was its height, which tended to make it an easy target at times.

Roden is currently releasing a whole series of these vehicles in 1/72 scale and the subject of this construction report is the first of them – the Sd Kfz 231 (8 Rad).

I was very impressed when I reviewed this kit a few months back here on HyperScale. The only faults I thought worth mentioning at the time were that all the hatches were moulded closed, making it difficult to display the model manned, and it looked like it would be hard to pose the wheels in any position other than straight ahead. I have since found some other niggling issues, namely sink marks on the outside of the road tyres which I did not fix but I now wish that I had! Some decals were out of register too. Having said that, I am still very impressed with this kit as the level of detail is excellent.
Right from the start, I must say that this kit goes together without any problems. The join between the upper and lower hull parts disappears with ease. In fact, I did not need to use any putty on the model at all, although I should have on the tyres.


Roden supplies a beautiful little jack but does not advise where to install it. Also, positions of the equipment on the mudguards is not especially clear. To be fair though, photographs suggest that no two vehicles had identical stowage positions so perhaps it was left to the crews to decide on the best positions.

The kit is supplied on four sprues, two black and two white. I do wish that Roden would change to overall grey plastic in common with the rest of the industry. It is much easier to see detail and flaws on plain grey plastic. All unique parts are provided on the white sprues while duplicate parts are in black plastic.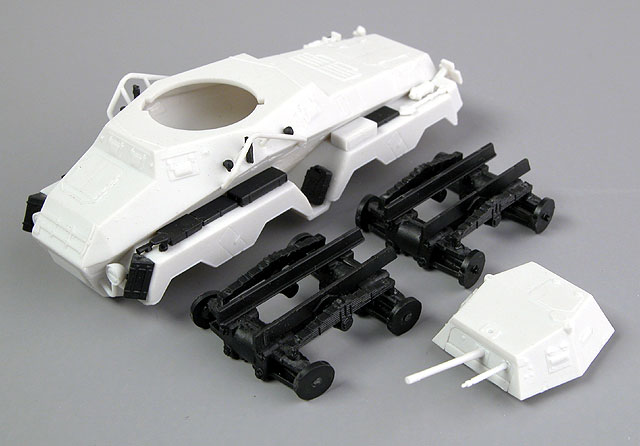 As the eight wheel steering is one of the hallmarks of this vehicle, I decided to try to turn all the wheels. It turned out to be much easier than I had expected. The hole through each wheel backing plate (parts A16 x 8) is much bigger than it needs to be and this allows the plate to be repositioned without having to cut and rejoin the driveshafts (parts A14 x 8). All I had to do was to round off the square outer ends of the radius arms and each backing plate could be glued on as if the steering was turned.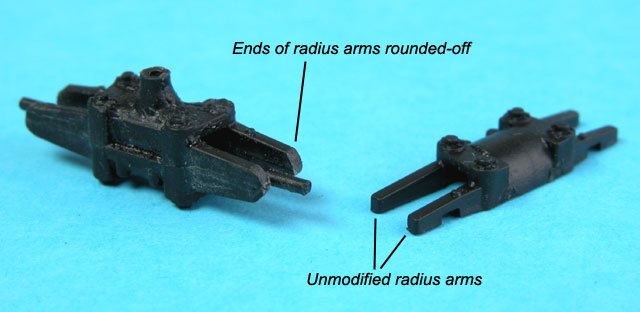 Construction was undertaken in four distinct steps – the two suspension bogies, the hull and the turret. The headlights and tail lights look a bit overscale but fit on well enough, and Roden gives you four German Army helmets but they are noticeably underscale and are best not used. I found three good helmets in a Preiser figure set that I will add after painting, along with some other personal crew equipment. The jack was placed on top of one of the side-opening equipment boxes on the right side rear guard, as this seemed to be a logical place for it. All other construction went as planned, without any problems.
Click on the thumbnails below to view larger images:
I have always liked the three-colour German armour scheme so it would come as no surprise that I should pick that option out of the four schemes in the kit. The other three were Panzer Grey.

Although the Dark Yellow and Red Brown colours were okay, I used a Green that was, in my opinion, way too green and too dark. I then added a black oil wash over the entire vehicle and then the whole paint job was too dark!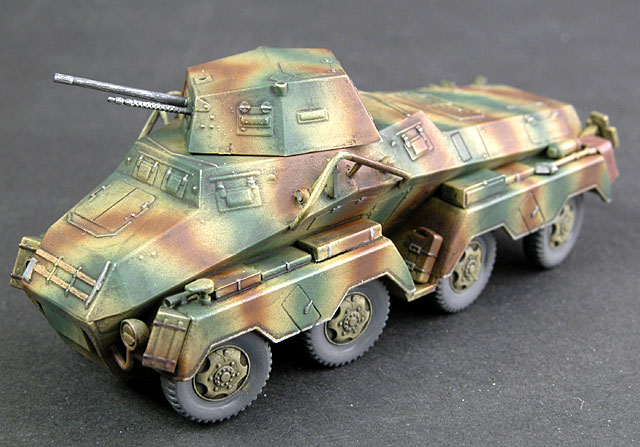 Oh what to do? Well, nothing. It was too late. If I had realized how dark the paint was going to look I would have simply resprayed the Green with a lighter shade, but to lighten the colour now would also lighten the wash and hide the detail. I will just have to live with it.

At this stage I glued the bogies on to the chassis and also the road wheels which had been painted on the sprue. The tools, side light lenses and exhaust guards were painted by hand and then a coat of Tamiya Acrylic Gloss was sprayed over the entire model in preparation for decals.

The kit decals had some register problems so I borrowed some crosses from a Revell Tiger and these went on with no complications. Each decal was then oversprayed with Tamiya Gloss to seal them.

I now made what might have been a major mistake. Still worried about the mode looking too dark I decided to give it a dusting coat of Dark Yellow to fade the finish. I thinned the paint to much and sprayed it on too wet. The consequence was that, like a wash, the thin mix pooled in all the crevices and corners, exactly where I did not want it to be. As I only use enamel paints with the exception of washes and gloss coats which are acrylics, I was able to take off this paint with a cotton bud moistened with enamel thinners. Phew!!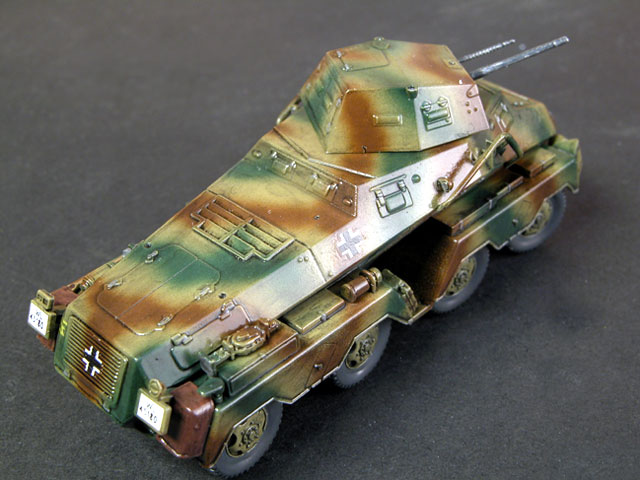 Some of my fellow modelers are surprised that I still use enamels. I do not deny that there are advantages to acrylic paints, but I have a good selection of enamel paints and although the law may force me to use acrylics in the future, I can make mistakes and I still have some idea of a remedy.

Back to the model...

The next step of the painting process is the overall coat of Model Master Dull Coat to flatten the finish. With this completed, I then made an effort to give the vehicle's lower surfaces a dust coat as the vehicle was operating in the summer of 1943. A light coat of Tamiya Buff was used for this purpose.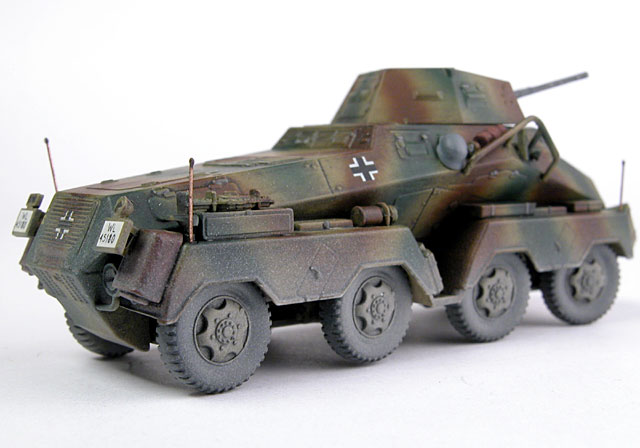 I added Preiser bedrolls to the helmets hung in the manner seen in some photos. These were all painted appropriate colours when they were glued in place.

Four small holes were then drilled in the mudguards at the corners of the vehicle, and four small lengths of wire were inserted to form clearance rods for the driver. These rods were not necessarily identical to each other, as they were shortened when they were bent or damaged. To complete these rods, a small bead of Araldite was placed on the top to form a tiny ball.
In summary, I must say that I am not totally happy with my modelbecause I chose the wrong shade of Green.

However, Roden's 1/72 scale Sd Kfz 231 is a super little model and I would heartily recommend it to anyone interested in small scale armour models.
Click on the thumbnails below to view larger images:
---
Model and Text by Glen Porter
Images Copyright © 2003 by Brett Green
Page Created 11 November, 2003
Last Updated 17 March, 2004
Back to HyperScale Main Page