Savoia Marchetti S.M. 81 Pipistrello
by Scott Battistoni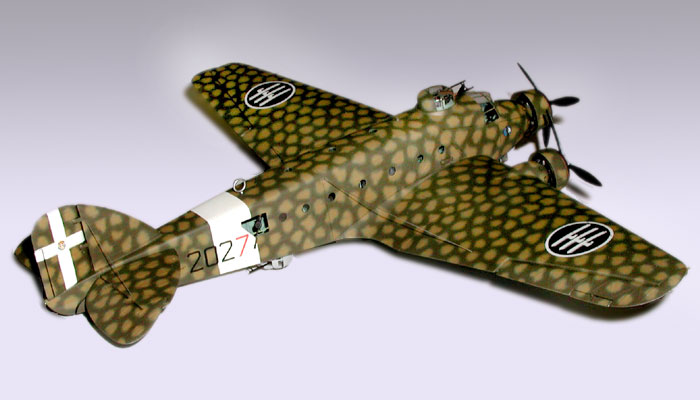 Savoia Marchetti S.M. 81 Pipistrello


HyperScale is proudly sponsored by Meteor Productions

The SM. 81 Pipestrello was designed and manufactured in the 1930's. It was the predecessor to the more famous SM. 79 Spaviero.

The SM. 81 was loved by its aircrews for being a very stable bombing platform, its heavy load lifting capacity, and ruggedness. Mussolini liked the aircraft enough to assign one called "The Tortoise" as his personal transport.
However as the war progressed, the beloved SM. 81's were quickly relegated to transports and glider towing due to their slow cruise speed at altitude.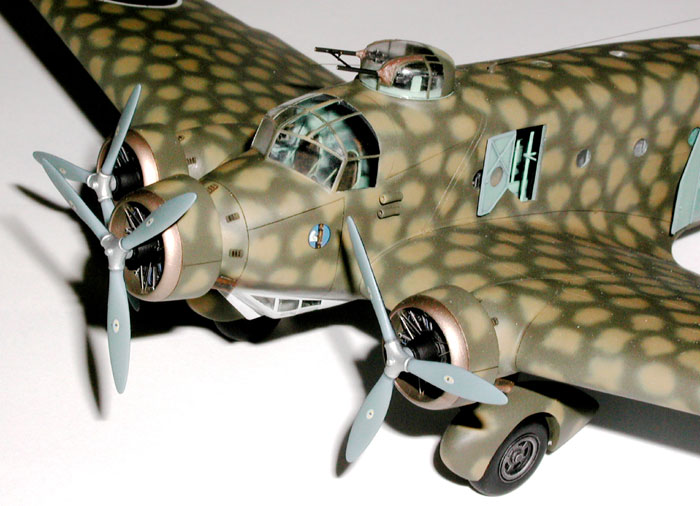 The SM. 81 also has a lesser-known claim to fame as being involved in a rare WWII dogfight where bomber versus bombers occurred. A lone SM. 81 was pounced on by three Vickers Wellesly's, where upon the Wellesly's came out victorious after an approximate 12 minute battle where the rear gunners onboard the Wellesly's took turns riddling the Pipistrello with bullets.
SuperModel's 1/72 Scale S.M. 81
Italian aircraft modeling is often a neglected subject in the modeling industry. This is a shame given the fascinating color schemes applied to the Regia Aeronautica aircraft during WWII.

Back in the early 1970's, the Italian firm "Supermodel" released several 1/72 kits of Italian WWII aircraft. While these kits are substandard in today's modeling market, they should not be overlooked. With a little tender loving care, these kits have the potential of being transformed into little gems.

I decided 3 weeks before the IPMS USA 2002 Nationals at Virginia Beach, Virginia to start work on this project. My model ended up taking "Best Italian Aircraft award", and First Place in it's category.
---
Interior
The entire cockpit was scratchbuilt, consisting of no less than 1383 parts glued in place for the cockpit interior. Some of the interior details came from various PE sets, and the Cooper Details generic radio set. I actually had to stop detailing the interior due to the time crunch of the approaching convention.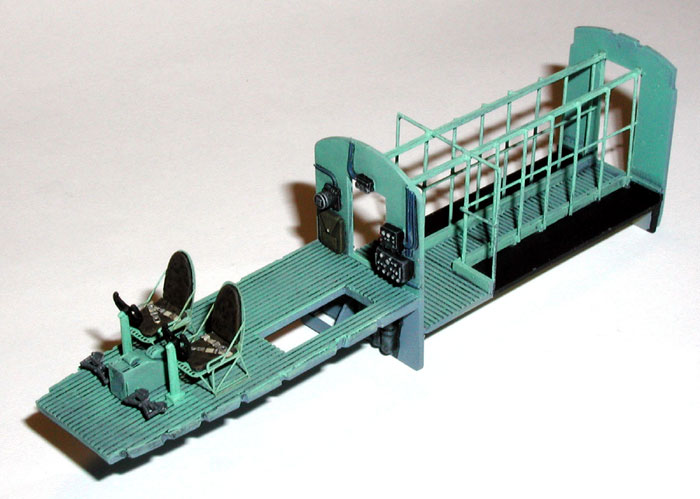 Click the thumbnails below to view larger images:
---


Structural and Glazing
Supermodel left off the "ribbed" fuselage, horizontal, and vertical tail details. I simulated this fabric covered effect by first scribing a line in place of each rib location. This was followed by gluing Plastruct's new line of strip styrene .010 rod placed into the scribed rib lines. These styrene ribs were then blended in with Gunze Sanyo Mr. Surfacer brush on type filler. Careful sanding finished off the blending aspect of the ribs. All other panel lines on the model were re-scribed.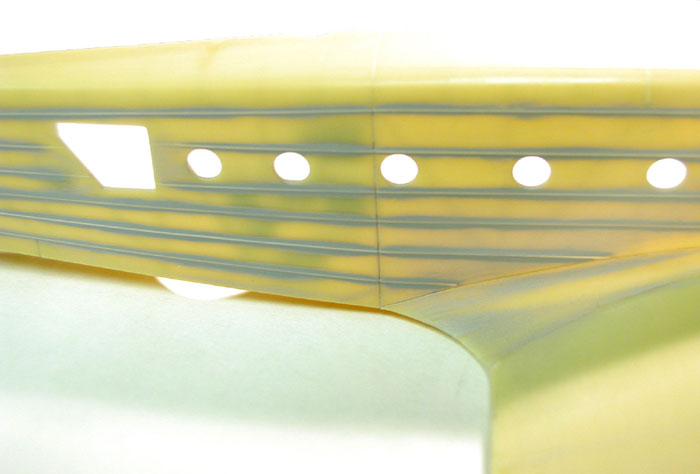 The kit clear pieces were discarded in favor of Falcon vacform canopies found in their Italian aircraft sets. However, you still have to use the kits lower turret clear piece as Falcon strangely enough left this out. All of the side "round" windows were produced using a punch and die set and .015 clear styrene.
---
Exterior Details
I opened the wheel spats to show off the wheels. These mud covers on the real A/C were often removed in the field on the real aircraft. The new wheels were produced by combining Tamiya 262 main tires, with a Hasegawa Typhoon wheel rim inserted into the tire.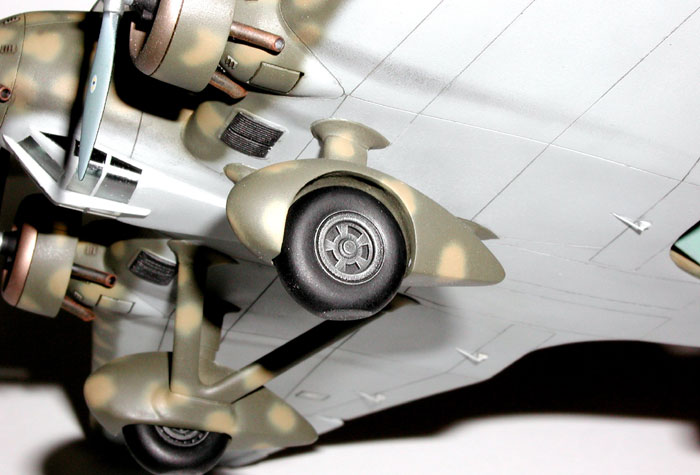 All turrets and guns were scratchbuilt for the model. The kits stock engines which aren't bad were detailed out with wire and tubing.
New exhaust collector rings and stubs were made and added to the engines.


My model was then painted with Tamiya acrylics mixed to the appropriate colors. I used a Paasche H1 for the overall color and a Badger 100 SG dual action airbrush for the mottling set at around 8 to 10 PSI on the compressor.
The decals came from SkyModels new Italian Bomber sheets, and Tauro's National Insignia sheet.
And there you have it - a 30 year old kit brought up to today's Tamiya/Hasegawa standards in 3 weeks. All it took was a little patience and elbow grease.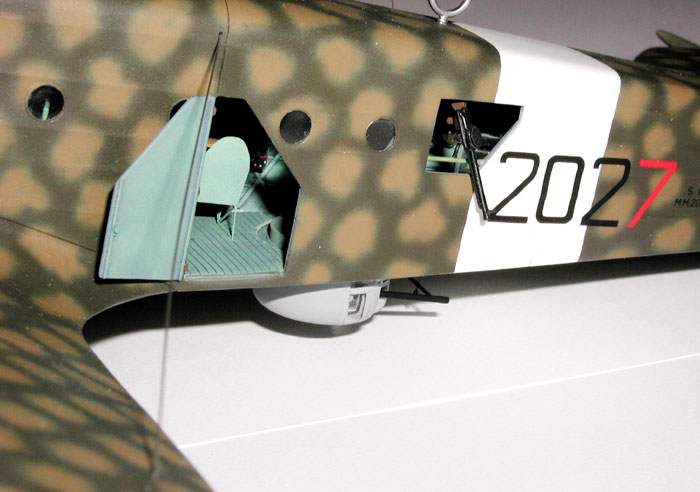 All of my documentation for this kit came from a rare IPMS Milan club produced mini booklet done on a photocopier. A local friend of mine just happened to have a copy of this rare booklet which included interior shots and scale drawings. My thanks to you Mike L. for lending me that information.
Click on the thumbnails below to view larger images:
---
Model, Images and Text Copyright © 2003 by Scott Battistoni
Page Created 13 March, 2003
Last Updated 17 March, 2004
Back to HyperScale Main Page