Supermarine Spitfire IXc
by Wojciech Perkowski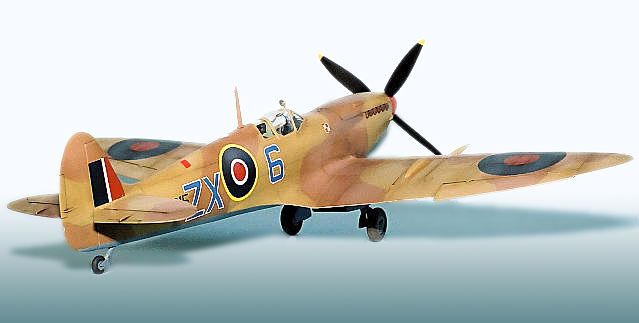 Supermarine Spitfire Mk.IXc

ICM's 1/48 scale Spitfire IXc is available online from Squadron
ICM's Spitfire IX is the most accurate 1/48 scale model kit of this much admired WWII fighter, but as we all know it needs some improvements. Here is my example with resin parts by my fellow modeller Konrad Kondrat rubyconn@wp.pl.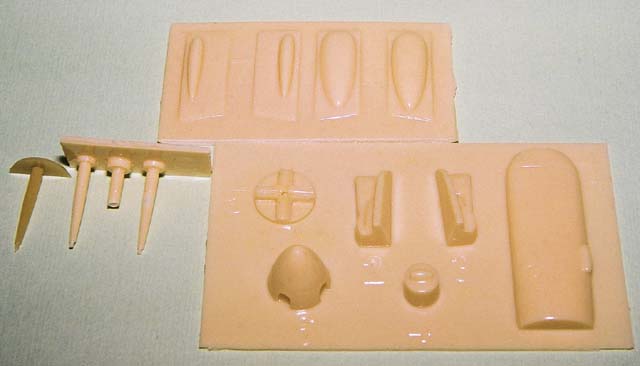 Construction, as usual, starts in the cockpit.
Although it looks more like the Mk V interior, I only reshaped the stick, sit, and added Part photo etched harnesses, as it was planned to be closed.
Pactra British Interior Green was used to paint this area (acrylic).
The fuselage halves were glued together, and front corners of wing/fuselage fairing were removed from both sides according to panel lines, to make place for resin inserts with these asymmetric small blisters and gun camera panel omitted by ICM. Floor with instrument panel could be inserted after that. I didnít install engine and firewall.
Wings were next. Prior to joining upper and lower parts, resin cannon bay covers were installed (the easiest way to remove them from thick base is to make a crack with razor saw along edges and then brake the parts like piece of chocolate). Then small oval bays were created in upper wing halves where they meet resin inserts near fuselage. After that lower and upper wing parts were glued together.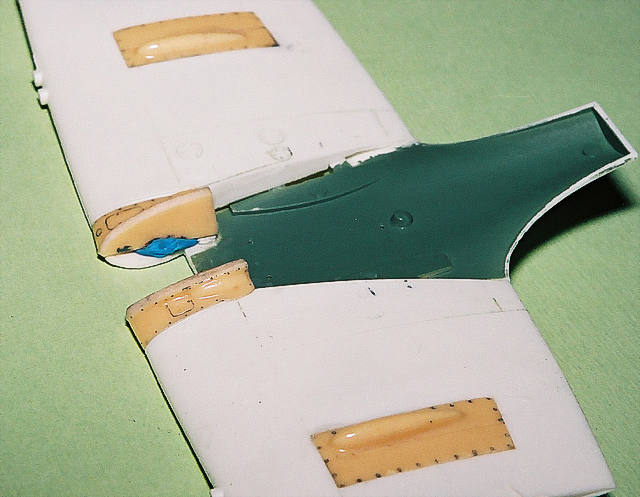 Resin inserts were joined temporary to wing with Blue Tack and dry fitted with the fuselage (I decided to remove small fragments of engine side covers from resin inserts). When I was satisfied with the fit, superglue was placed here from inside of fuselage (engine upper cowling wasnít installed yet), and no sanding was required here. Minor filing was required on wing leading edge here.

The upper engine cowling was removed from the resin base and the inside was drilled several times to make sanding itís undersurface easier. While sanding, I dryfitted it with fuselage (rear height) and the ICM engine upper cowling (front height). About 0,5 mm thickness plastic plate was glued to the rear, as it was slightly shorter than should be. Effort was rewarded with much more accurate shape of the cowling than ICM part.
The small air intake above right side exhausts on engine cowling was sanded more flat. I didnít use smaller resin intake on left side engine cover and copied (plastic molten with temperature method) the one from Tamiya Spitfire V instead (ICM one looks slightly anorectic to me).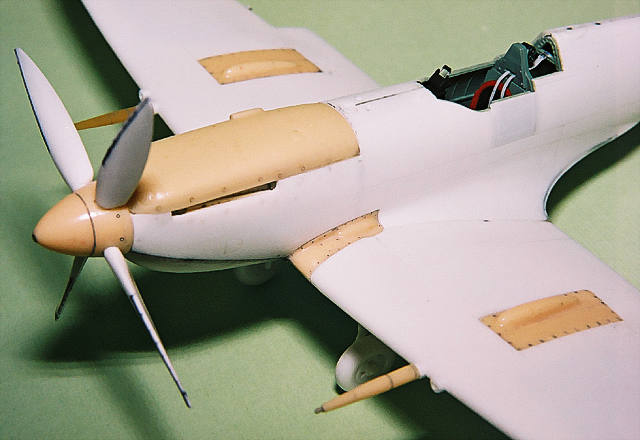 Front exhaust slots edges on engine side covers were moved towards spinner as they begin too far from it (they should begin with panel line on resin upper engine cowling). Undercarriage legs were reduced in length (about 2 mm if I recall correctly), propeller blades slightly modified and engine air intake completely reshaped. The only sinkmarks to be filed were located near ailerons on upper wing and right fuselage half near cockpit. The rest of construction went without troubles.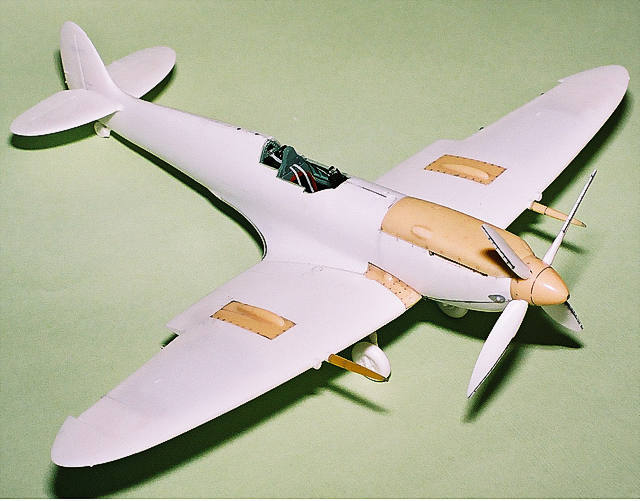 I added some details here and there. ZX6 was equipped with non standard flat outer (not installed) cannon barrels caps and flat wheel hub covers.
I wanted to depict an early Spitfire IXc, ZXO6 EN315 from Polish Fighting Team (Skalskiís Circus) of 145 Sqn North Africa 1943.
First, the undersurfaces were preshaded in black and the model was camouflaged with Humbrol 157 Azure Blue (I added about 30% white here), 84 Mid Stone, and 5029 (acrylic) Dark Earth. Al. surfaces were coated with gloss varnish and model was ready for decaling.
The kit decals did not look too good, so the excellent Techmod ones were substituted. One more layer of acrylic gloss varnish and panel lines were accentuated with oil wash.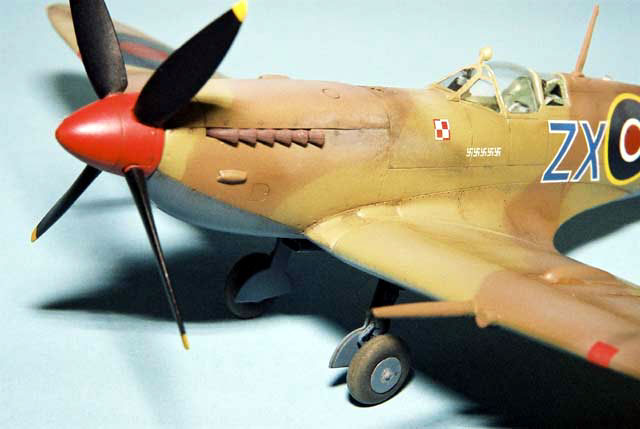 Pactra Clear Matt was sprayed with a small amount of white on the upper surfaces to add a faded look.
Finally, masks were removed from canopy, and small details glued and painted.
I like the Spitfire very much, and want to make more of them.
This kit was easier to build than my first ICM Spit IX/XVI which suffered from more sinkmarks. Unfortunately I made probably no less than two errors this time Ė more possibly EN315 was equipped with wide (two cannons type) cannon blisters, and it looks like there should be no scissors on early Spitfire IX undercarriage legs.
Maybe Iíll fix these someday if I will know for sure.
Supermarine Spitfire , Monografie Lotnicze 38, 39, 40, 41, AJ-Press

Supermarine Spitfire IX/XVI, Modelmania 5, AJ-Press

Various internet sites.

Click the thumbnails below to view larger images:
---
Model, Images and Text Copyright © 2003 by Wojciech Perkowski
Page Created 16 February, 2003
Last Updated 17 March, 2004
Back to HyperScale Main Page