T-34/76
in 1/72 scale with PT-3 Mine Roller
by Chris Wauchop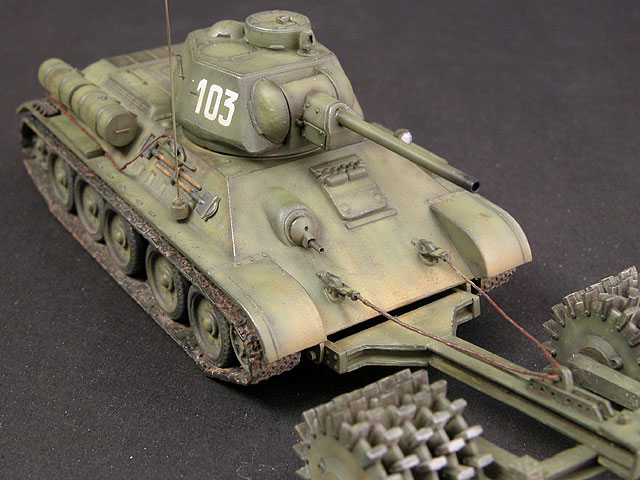 T-34/76
with PT-3 Mine Roller
images and text by Brett Green

Eastern Express's 1/72 scale T-34/76 with PT-3 Mine Roller is available online from Squadron
Chris Wauchop has a long queue of commission modelling jobs, including quite a few small scale armour kits. For his latest job, he decided to work on Eastern Express's 1/72 scale T-34/76 medium Soviet tank. This release also includes a PT-3 Mine Roller.
The Eastern Express T-34/76 is fairly typical of other offerings from this Russian manufacturer. The kit detail is good straight from the box, and surface texture is excellent. The quality of the plastic is variable from sprue to sprue, but generally the model does not present any major construction challenges.
The model was built with a few enhancements.
The 76mm main gun barrel was replaced with a turned aluminium item from AMRO (stock number 72 703). This was a very nice piece of work.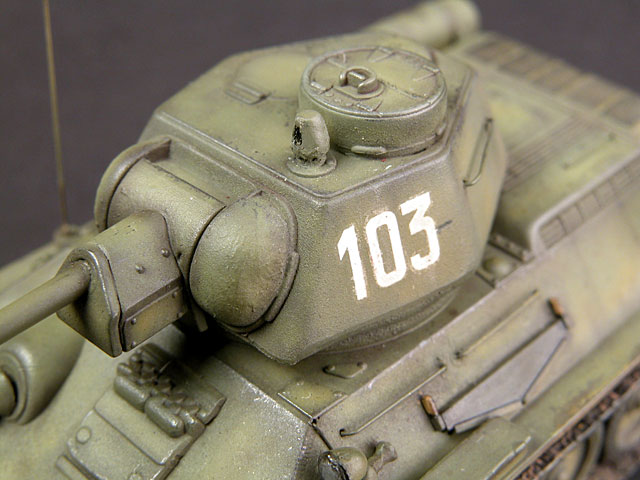 Handrails were replaced with fine brass wire. Brass wire was also used for the aerial. Brass tube was employed to replace the hull-mounted machine gun barrel. Although it is somewhat overscale, it looks better than the kit part. Handles for the external fuel drums were added using thin brass strip. The plastic exhaust pipes were hollowed out with the tip of a new hobby blade.
According to the box art and reference diagrams in the instructions, the PT-3 Mine Roller was missing some detail. The two attachment points for the stabilizer cable were added using strips of plastic card. Several lightening holes were drilled through these parts. The stabilizer cable itself was sourced from Revell's 1/72 scale S-Boot, which offers plenty of spare string after the model has been finished! Detail on the bottom of the front of the roller mount, including interlinking loops, were added using brass wire.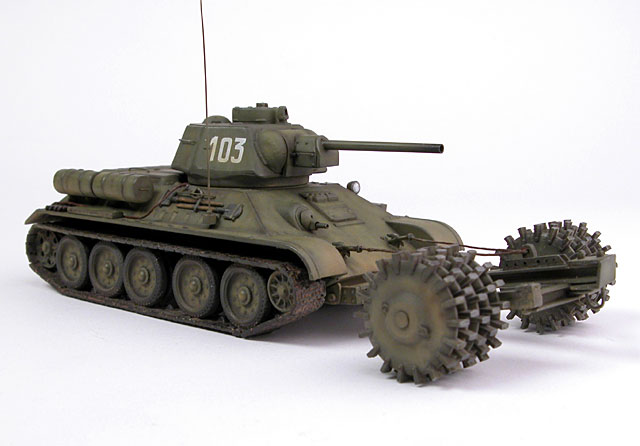 The link and length tracks were the only complication to construction. It turned out that each side was about 1/5 track links too short. Chris used the spare track links, and also had to relocate the idler wheels and drive sprockets to ensure proper fit.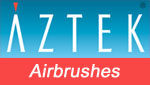 Painting
Chris commented that painting was done on full automatic pilot! Camouflage colours were applied with the Testor Aztek A470 airbrush.
Two colours were used to achieve a patchy, worn appearance. The two colours were Tamiya JA Green and Tamiya Khaki.
Dust is a light overspray of Tamiya Dark Yellow. The wooden handles for the tools were also painted Tamiya Dark Yellow.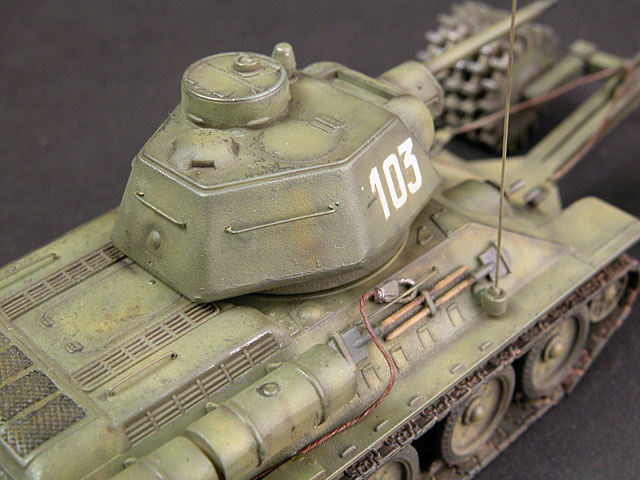 Tamiya Semi-Gloss Black was thinned with water and used as a wash around raised detail.
Edges of the vehicle were highlighted with a lead pencil. Lead pencil was also used to "colour in" the metal spade heads and saw blade.
---
Markings
The kit decals did not seem to relate to the specific subject, so Chris sourced generic number decals from Academy's 1/72 scale Messerschmitt Me 163 kit.
Despite buffing the plastic surface to a gloss finish prior to application, the decals suffered from silvering. Chris touched up these problem areas with spots of green paint before a final coat of Gunze Flat Clear.
Apart from some mild frustration with the fit of the tracks, Chris found this kit to be a fairly quick to build and very nicely detailed.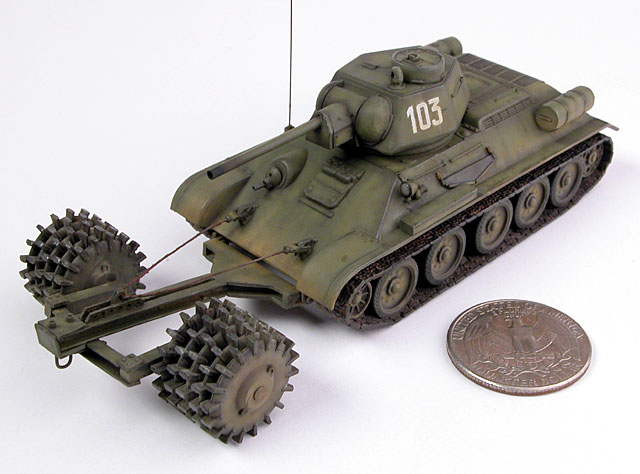 As can be seen by the comparison photo next to an American Quarter Dollar, this T-34 is really quite tiny!
Click the thumbnails below to view larger images:
---
Model by Chris Wauchop
Images and Text Copyright © 2004 by Brett Green
Page Created 13 February, 2004
Last Updated 17 March, 2004
Back to HyperScale Main Page