T-55A
by Mark A. Sindiong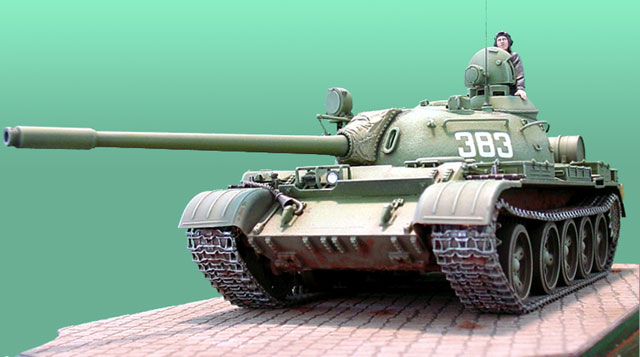 T-55A


Tamiya's 1/35 scale T-55A is available online from Squadron.com
This is Tamiya's new 1/35th scale T-55A, built box stock (except for a couple of MV lenses) while on a short business to Japan & Korea.

I made two previous trips to Japan over the last couple of months but failed to find a T-55A. This last trip proved more fruitful as the T-55A had been released for at least a few weeks by then. I had planned to build this tank during the trip from the start and had a mini "travel kit" of tools ready to go. I was looking at general construction while on the road and finishing up once I returned. If it all went as planned, I'd have the model ready for display at our local IPMS chapter meeting the day after I returned. Well, as usual, all didn't go as planned and I forgot my travel kit at home!!! So this build became a "basic tools only" affair, tools I picked up at the shop from which I purchased the tank (Domo Shima san!).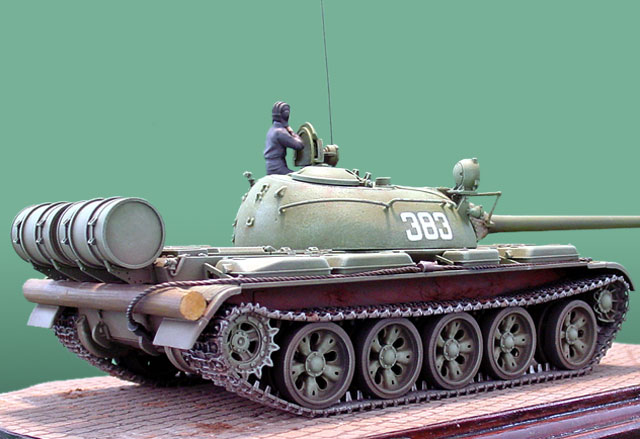 After buying this beauty and returning to my lodging, I did a quick look to get a feel for the model but didn't really have any time to dive on in (too many good restaurants & good food to pass up on!). The model therefore sat for a couple of days and then was packed up for the trip to Korea.
Once at my hotel in Korea, after a good night's rest, I chose my version (Soviet T-55A, sans loaders MG) and cut some plastic. I finished the lower hull rapidly, adding all the bits including the tracks. I'd say it took all of two hours to complete, maybe a little less. I set the whole lot aside to dry while I hit the town with some friends.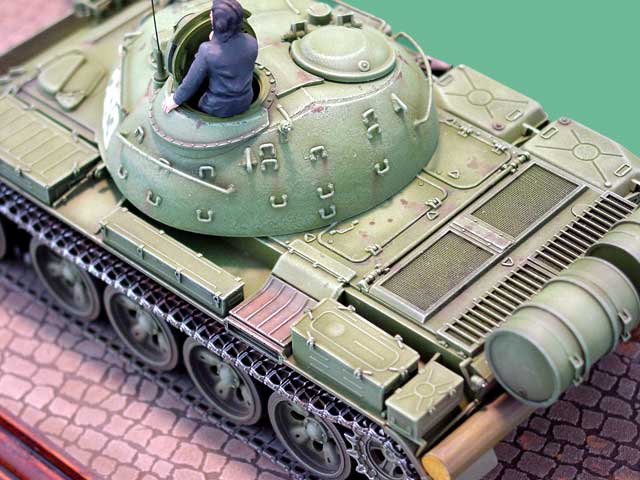 After cutting the evening a bit short and departing the Bar we normally hang out at, I rushed back to the hotel and started on the turret. After thawing myself out, I dived right into building this final assembly. The turret took a bit longer due to its many tiny parts but overall it was still pretty easy to finish up. I believe I spent three hours on the turret give or take. At that point the completed but unpainted model was packed up for the long ride home to Hawaii.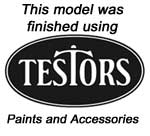 Home at last and ready to paint!
I was pushing the deadline so I decided to cheat a bit, allowing more time for weathering. I painted the T-55A using my Thayer & Chandler airbrush shooting Testor's Model Master Enamels thinned with Lacquer thinner to expedite drying time.
I didn't bother priming the model and went ahead putting paint on bare plastic.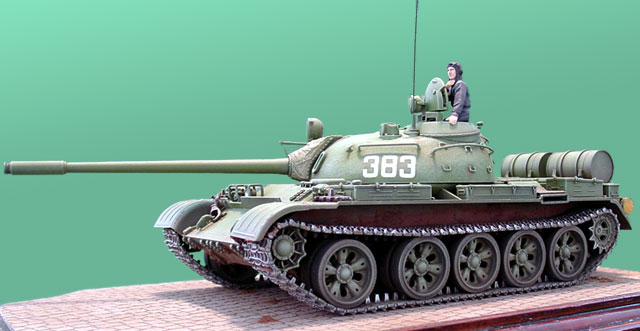 I first pre-shaded the entire vehicle with Model Master 2 Aircraft Interior Black, followed up with the base coat of Model Master Interior Green mixed with a few drops of MM2 Soviet Armor Green. How did I come up with that mix? I don't know, I can't really tell what color T-55A's are/were, all the ones I've seen had been repainted and picture are tricky to go by as well. So I went with a best guess and hoped it would turn out.

After completing the base coat, I shot earth tones on the lower hull and running gear (including tracks). The model was left to dry for a couple of hours so I started working on the figure to pass time. I started back on the model with dry-brushing the base color mixed with white oil paint. I gradually increased the amount of white in the mix with each dry-brush application but stopped short of using straight white during this process. Once the upper hull was completed, I started on the lower hull using the same technique but this time using the earth tones mixed with oils.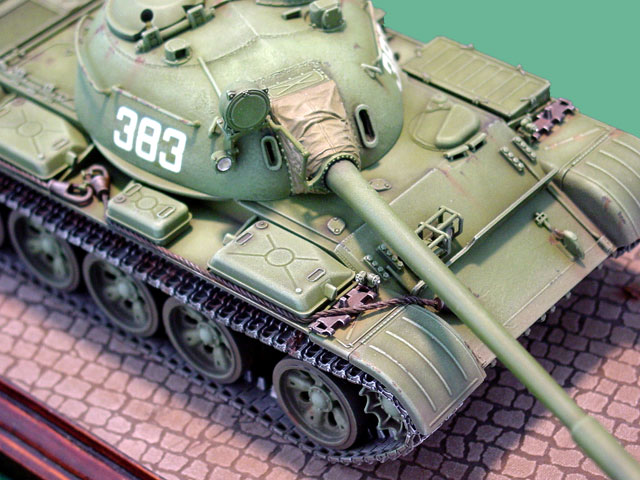 After blending the lower hull with the upper hull slightly, I commenced on "chipping" the paint using ultra thinned flat black. The small chips were then carefully dry-brushed with Tamiya Paint Marker Chrome Silver and I moved onto the final weathering step. I took out my pastel chalks and mixed up some rust tones & some earth tones, applying them to select areas for effect.
The only washes were applied sparingly to the fuel drums & tanks.
Thinned oil paints were also used to simulate grease & oil stains often found on the back decks of tanks. The whole tank was then coated in a slightly flattened Testor's MM Semi-Gloss Lacquer, placed on a simple base (not the one in the images) and whisked off to the IPMS meeting.
Mission accomplished!
In conclusion, this was one of the most enjoyable armor projects I've ever completed. The model itself is engineered beautifully and all the parts are of top quality so building it overnight was a simple task.

The only quibble I have concerns the tracks, and how they don't sag, but that's easily fixed with a little patience.

This project also reminded me that one doesn't need all the wiz-bang tools or a fancy workshop to finish up a straight build, this model being built with only a hobby knife, CA glue (no accelerator), and some sand paper. Yes, I did airbrush it but if I had found a suitable color in a spray can… I would have applied the paint that way as well.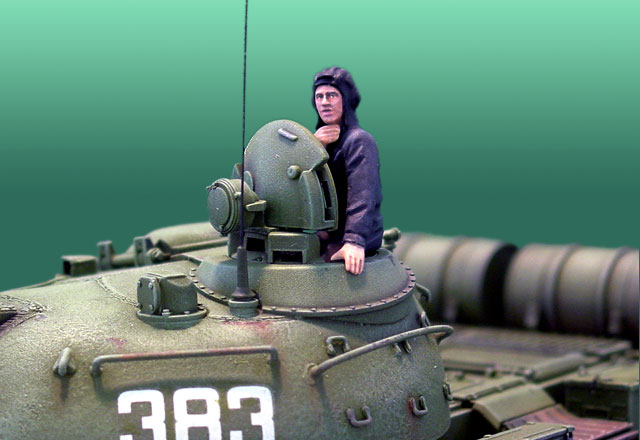 Oh, before I forget, the crew figure was added after the IPMS meeting and was finished in Testor's Model Master 2 "skin tone" enamels. I'm okay with the finish on the figure but still have a long way to go & a lot to learn when it comes to painting faces!

Thanks & Happy Modeling!



---
Model, Images and Text Copyright © 2003 by Mark A. Sindiong
Page Created 28 January, 2003
Last Updated 17 March, 2004
Back to HyperScale Main Page