T-55
by Chris Wauchop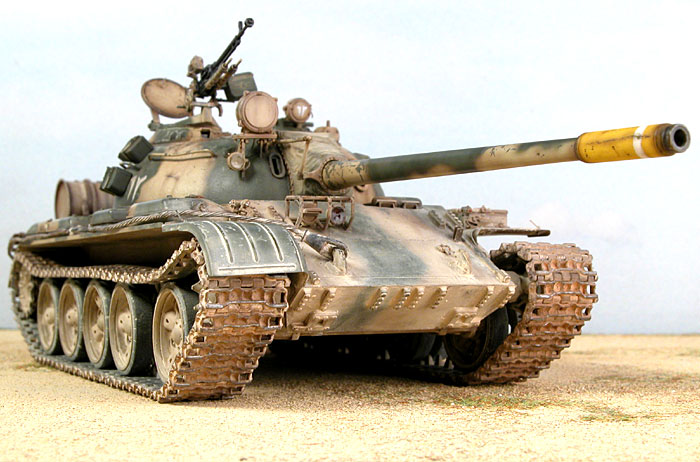 T-55
images and text by Brett Green

Tamiya's 1/35 scale T-55 is available online from Squadron
Chris Wauchop was very impressed with Marcus Nicholl's Tamiya T-55 in Issue 97 of Tamiya Model Magazine (April/May 2003). He was therefore delighted when a regular client asked him to build Tamiya's excellent 1/35 scale T-55 using that magazine article as a guide to detail and finish.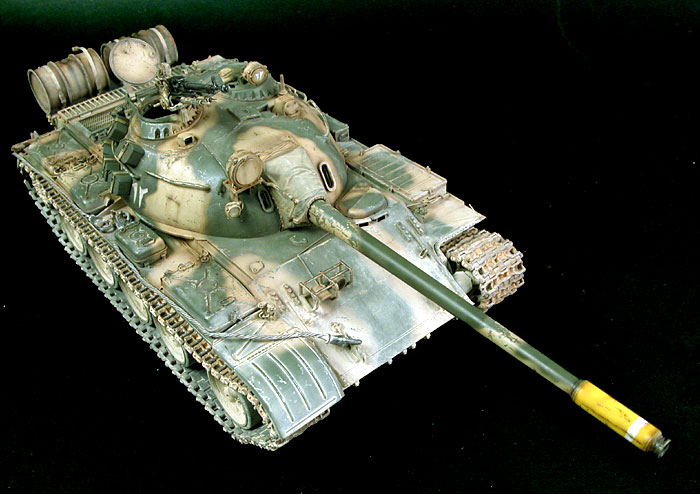 Armed with Tamiya Model Magazine as his sole reference, Chris started his first 1/35 scale armour kit in more than six years.
Although Chris does not make it a habit of using after-market accessories on his models, he did employ a few in this case. They were the Lion Roar photo-etch set, specifically designed for the Tamiya T-55; and the Armor Track Models workable track links.
Basic construction was a breeze. No problems were encountered at all, and the model would have been completed very quickly if it was finished straight from the box. However, Chris wanted to supplement and improve much of the detail that was moulded onto the kit.
Copper wire of various gauges was used extensively to replace grab handles, handrails, fuel lines and electrical wiring. This wire proved to be a little uncooperative, springing back to its original shape after being bent into tight curves. After several attempts, however, the small parts were tamed. In-line fuel cocks were also fabricated from wire.
The Lion Roar photo-etched set provided mesh for the rear deck vents and the two distinctive fuel drums and fittings on the rear of the vehicle. Chris described folding the large photo-etched drums as "a pain", but the results are well worthwhile. One of the separate straps was left undone to display the detail of the securing bolts.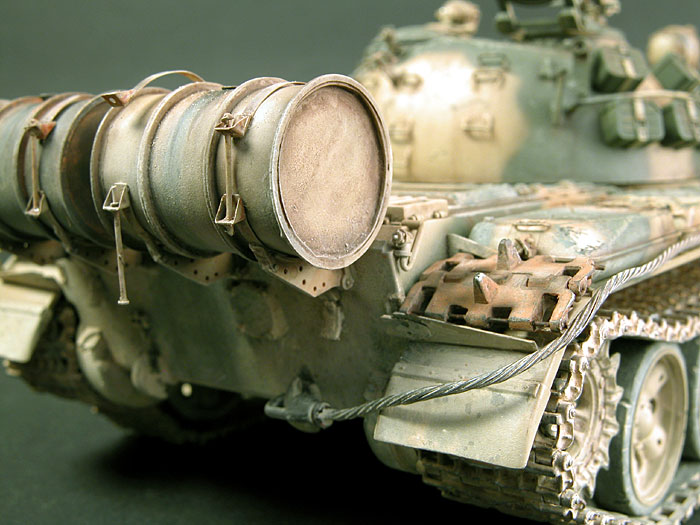 Copper picture-hanging wire substituted the string tow cables on the kit. The copper wire is quite flexible compared to steel cable, and also features finer individual strands.
The kit upper exhaust guard was replaced with lead foil. The lead foil was embossed over the kit part before being beaten up somewhat, and secured in place.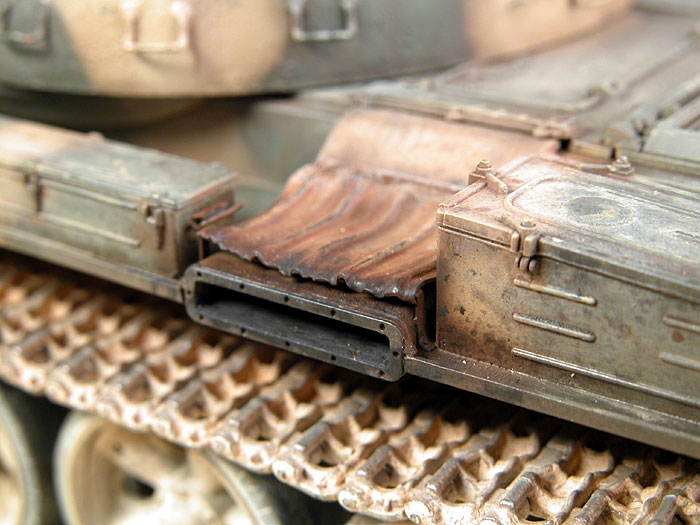 The Tamiya kit supplies vinyl tracks which do look good, but cannot entirely capture the weight and sag of the heavy metal links on the real vehicle. Chris's client offered the Armor Track Models track links as a substitute. These links were probably designed for the Trumpeter family of T-55s, but they work quite well on the Tamiya kit. Each link required clean-up, and the track pins had a nasty habit of either launching into space or blunting their points. Fortunately, Armor Track Models provided plenty of spare track pins! These factors meant that assembly was time consuming (Chris said that they took him two days to complete), but the outcome is undeniably good.
The track set includes resin drive sprockets and idler wheels, but Chris used the kit parts instead.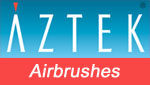 The model was destined to wear Iraqi desert colours with a disruptive green camouflage pattern as used during one of the conflicts with Iran. All the camouflage paints were applied with the Testor Aztek A470 airbrush.
Chris's T-55 received a base coat of sand colour, mixed according to Marcus Nicholls' recipe of 60% Tamiya Desert Yellow and 40% Flat White.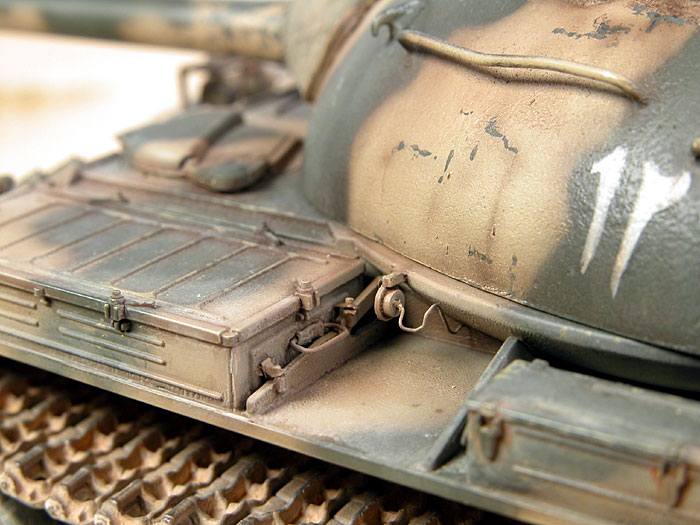 This was followed by a disruptive green pattern. Once again in line with the Tamiya Magazine article, the colour used was Tamiya Field Grey. In this case, though, Chris felt that the colour needed to be "greened up" so he sprayed a thin coat of Tamiya Olive Green over the Field Grey.
Markings were hand painted using Flat White acrylics.
---
Weathering and Final Details
Marcus Nicholls used MIG Pastels in his article but Chris did not have access to these. Instead, he mixed standard artist's pastel chalk with Mineral Turpentine to achieve a similar result.
Tamiya Field Grey was applied in small, random patches over the Sand colour in places to simulate scratches and worn paintwork, revealing the original Soviet Green colour beneath. Grime and oily streaks were also airbrushed onto the surface of the vehicle.
The headlight was hollowed out and lined with shiny Bare Metal Foil, before being filled with several layers of Testor's Clear Parts Cement. This worked fairly well, but the third coat resulted in a slight yellow caste on the surface of the lens. The small Infra Red lamp was also filled with Testor's Clear Parts Cement after the inside was painted black. When dry, the lens received a coat of Tamiya Clear Red.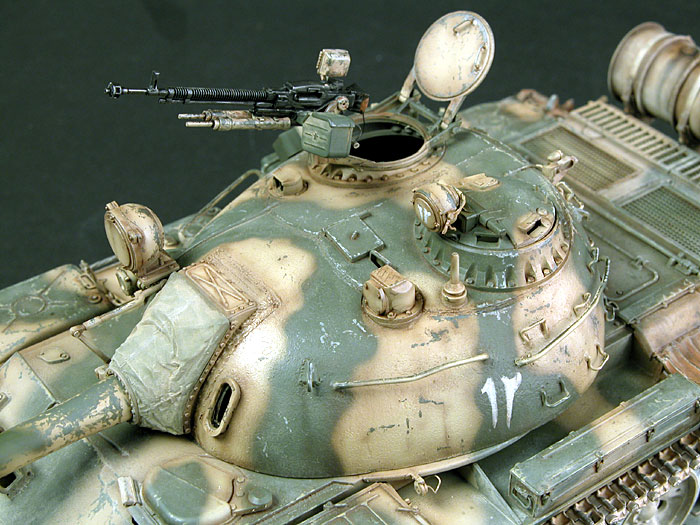 An oil wash (per the article) helped pick out some of the details, and a 2B clutch pencil was applied to the high points of the track links to simulate wear and tear.
When Chris and I discussed the model and this article, he suggested that the text should include "with apologies to Marcus Nicholls".
Well, as far as I am concerned, imitation is the sincerest form of flattery; and Chris's styrene homage to Marcus' article looks like a high compliment indeed!
Click the thumbnails below to view larger images:
---
Model by Chris Wauchop
Images and Text Copyright © 2003 by Brett Green
Page Created 11 August, 2003
Last Updated 17 March, 2004
Back to HyperScale Main Page