Kursk Tiger
Tamiya Tiger I Early Production
by David Jenkins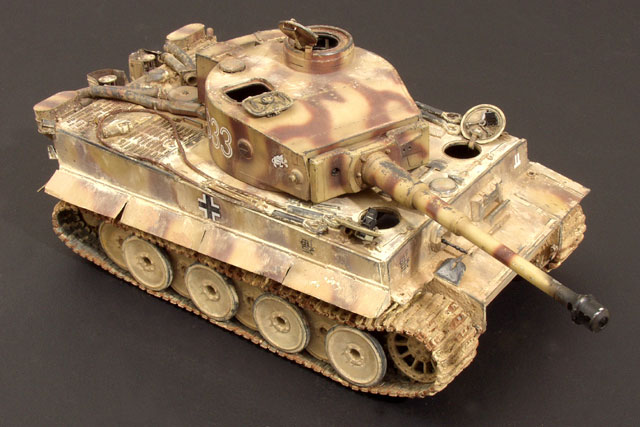 Tiger I Early Production


Tamiya's 1/35 scale Tiger I Early Production is available online from Squadron.com
The one thing that always amazes me with model making is the history you discover when researching a models background. For the early Tigers the battles around Kursk in July 1943 loom large. Of the Tigers that fought at Kursk the 'Das Reich' Tigers caught my eye with their famous Gnome markings and camouflage.
This is the Tamiya 1/35 scale Tiger I Early Production (kit no. 35216).
I have not built an armour model in more than ten years so this project was more about learning some basic scratch building and weathering techniques than building an accurate museum model.

The kit was built almost strait from the box, with the addition of Tamiya PE Grills, Jadar-Model metal barrel, brass sheet skirts, brass picture wire tow cables and lead foil exhausts. As with Tamiya kits plans and fit were fantastic and no problems were encountered.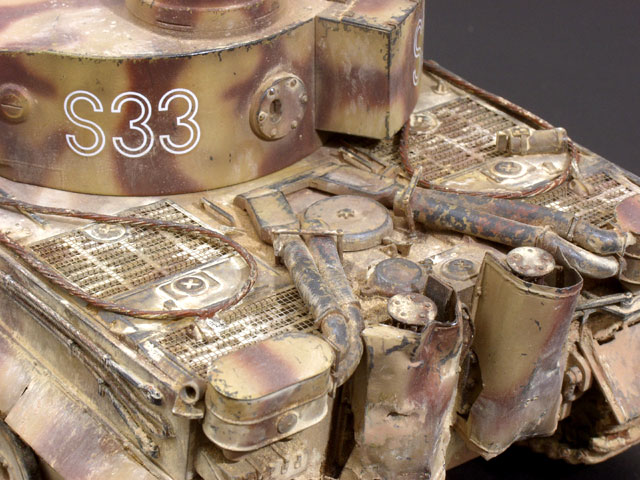 I wanted my Tiger to look like it had seen some action. So the side skirts were replaced with cut to size brass sheet that could be bent out of shape. Exhausts shrouds were made by burnishing lead foil was over the kits parts. Brass picture wire was used to replace the kits tow cables.
I had only decided to do a 'Das Reich' Tiger from Kursk.
S33 seems to be over represented, so I would have preferred another tank. Try as I did I struggled to find any comprehensive information on other 'Das Reich' Tigers, let alone find any other decal sheets with appropriate S.. numbers.

I was still in this confused state when Marcus Nicholls amazing T55 appeared in Issue 97 of Tamiya Model Magazine (Apr/May 03). My Tiger's fait was sealed. Inspired by Marcus painting and weathering techniques I decided to follow his step by step guide on this model and see what happened.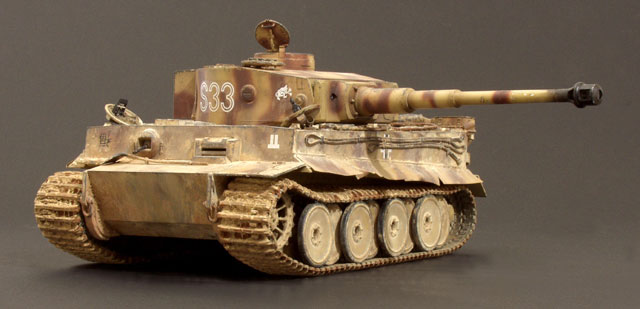 The model was given a base coat of lightened Tamiya XF-59 Desert Yellow. Camouflage of Tamiya XF-10 Flat Brown was then applied. Paint clips were achieved with Vallejo 995 German Grey and Vallejo 913 Yellow Ochre. I ran a lead pencil along any worn metal edges to give them a metallic sheen. Weathering was done with the tried a true Chris Wauchop mix of heavily thinned black and red brown paint. To really help fine details stand out the model was given a wash of heavily thinned Model Master 2005 Burnt Umber and 2007 Burnt Sienna oil paints.
Weathering and Final Details
Mig Productions Pigments look amazing on Marcus's T55, but unfortunately are not available in Australia. So I would now have to try my hand at using pastels calks instead, something I have never done before. My local art store had an abundance, everything from deep mud browns to light Ochre. These were ground into powder and mixed with Humbrol Enamel Thinners. This thick slurry was liberally applied to the lower hull and tracks. Several things then occurred! The thinners seemed quite content dissolving its way through the glue holding a myriad of small parts which then promptly fell off. The thinners also dissolved paint and caused the lead foil to separate from its backing paper. Heart failure was an option, but a bit of glue and dabs of paint soon rectified things! Once dried the chalk returns to its powder form. With a stiff brush in hand and thinking of how mud builds up on a real tank the chalk can be brushed off. The process was repeated several times with different coloured pastels to add depth.
It may not be the most accurate S33 'Das Reich' Tiger, but it was a lot of fun to build and I have learnt a lot along the way. If anyone has references for the other 'Das Reich' Tigers I would love to see what they looked like.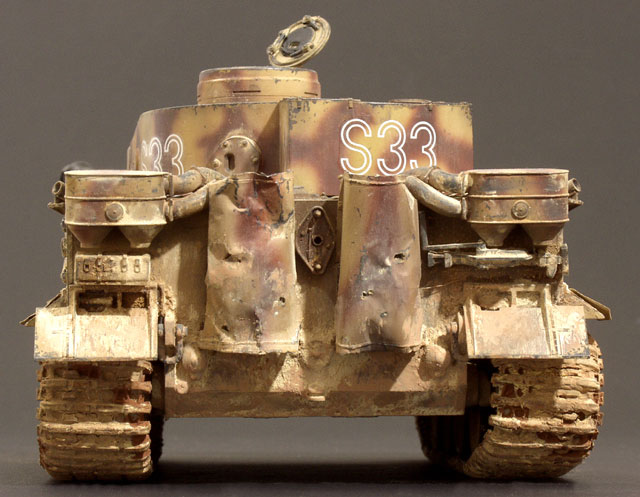 Many thanks must go to Marcus Nicholls for his inspiring T55 – I would recommend finding a copy of Issue 97 of Tamiya Model Magazine (Apr/May 03). Marcus step by step guide was an invaluable reference. I would also like to thank Chris Wauchop for his friendship and for mentoring me on my many modelling fiascos!





Kit and Accessories:
Tamiya Tiger I - Early Production Kit (No. 35216)
Tamiya Tiger I PE Grills
Jadar-Model (Hi-Tech) Tiger I 88mm KwK36 L/56 Metal Barrel
---
Airbrush:
Model Master 50601 airbrush
---
Paints:
Tamiya XF-59 Desert Yellow
Tamiya XF-10 Flat Brown
Tamiya XF-1 Flat Black

Vallejo 995 German Grey
Vallejo 913 Yellow Ochre

Model Master 2005 Burnt Umber
Model Master 2007 Burnt Sienna
---
References:
Issue 97 of Tamiya Model Magazine (Apr/May 03).
Internet etc

Click on the thumbnails below to view larger images:
---
Model, Images and Text Copyright © 2003 by David Jenkins
Page Created 27 August, 2003
Last Updated 17 March, 2004
Back to HyperScale Main Page