Messerschmitt Bf 109G-10
by Aleksandar Mladenovic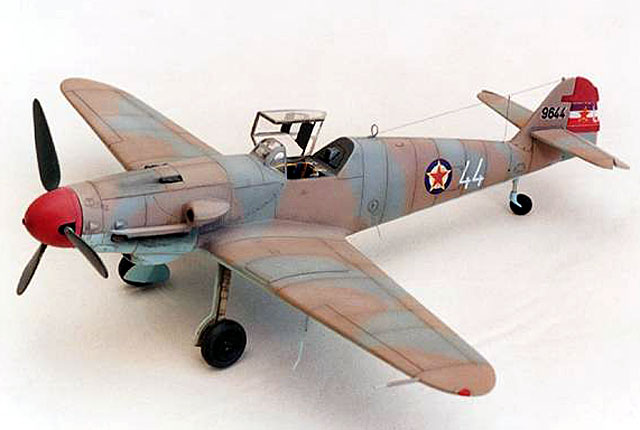 Messerschmitt Bf 109G-10


Revell of Germany's 1/72 scale Bf 109G-10 is available online from
Squadron
The post WWII Yugoslav Air Force used Messerschmitts Bf 109Gs. Some were captured from retreating Luftwaffe and Croatian forces but most of the type came from Bulgaria.
Delivery started in 1947 after the Paris Peace Treaty which limited the size of Bulgaria's Air Force. The last Bf 109s were received in 1949.
A total of 59 Bf 109Gs were sent disassembled and transported by rail. Some were 2-seaters, 6 in total, by some sources two of the G series were converted to two-seat trainers in Bulgaria on Yugoslav request.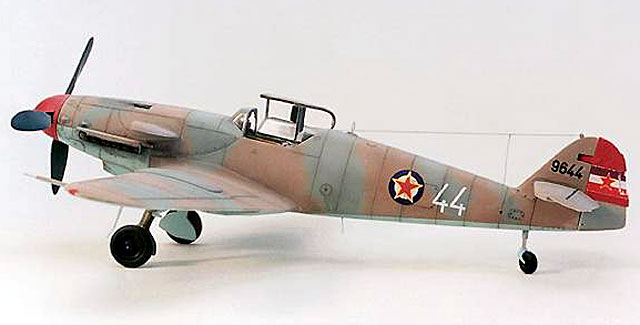 Of particular interest for me was "White 44", a Bf109 G-10 (Yugoslav registration 9644). This aircraft was actually a Bf 109G-10/ U4 wk. nr. 610937 captured at Zeltweg Airfield in Austria at the end of the war, handed over to Bulgaria and finally to Yugosalv AF.
"White 44" served with the 172nd fighter wing based at Zadar airfield. Some sources say it may have been active on patrol sorties along the Italian frontier during so-called "Trieste crisis" the (fortunately non aggressive) confrontation between Yugoslavia and Italy over the free zone of Trieste. "white 44" retired in 1953 with total flight time in service 35 hours and 15 min.
This is Revell's 1/72 scale Messerschmitt Bf 109G-10. Generally speaking this is a good kit.
Unfortunately there are a few mistakes which makes it an inaccurate representation of actual aircraft such as the spinner, air intake, canopy and of course (almost 2mm shorter in span) propeller! I've replaced those parts with ones from Heller's Me-109K. Both kits are identical in size and fit of parts was great .
The original machine guns (MG 131) were replaced with some more realistic from spares box .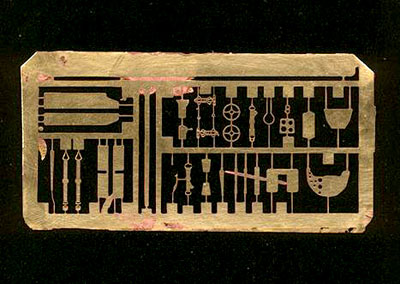 I also made so-called 'contact' copy of Eduards PE zoom set, that home made PE set lost 3D effect but my intention was to use only a few parts and most of them without surface details ... antennas ,seat belts, pedals, cockpit grips and handles.
Furthermore, I redesigned the cannon cover, five part gun sight in scratch built accompanied with acetate instrument panel from personal production line completed realistic cockpit look. The tail wheel leg was extended using metal tubing (medical needles). The Fo 987 radiator interior was made from plastic net (silver dry brushed), previously painted in black .
Make sure to correct angle of main wheel and undercarriage leg because it will look more like Spit's than Me109's undercarriage.




This aircraft was finished in an unusual camouflage scheme.
Basically it is standard scheme for the period of 1950's of Light Blue underside ( close match FS 35450 ) and Middle Gray upper surfaces (so called 'pigeon grey FS 35237), however the Dark Brown areas (close match FS 20117 ) are non standard (though some Yak's reportedly wore similar camouflage in same period) with addition of red spinner and ruder makes this post war Bf 109 attractive as one post war machine could be.
National markings are in 4 standard positions - 2 on the fuselage sides and 2 on wing undersides. White code 44 fuselage only, black registration code 9644 and rudder flag.
---
Painting
I didn't used any primer.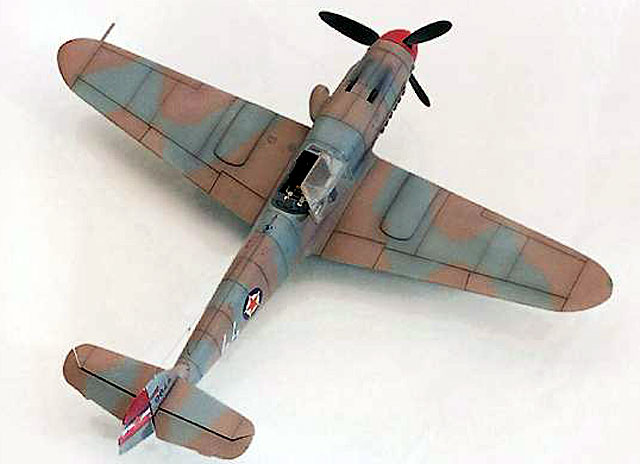 For the underside Light Blue color I mixed two ABCModelfarb's enamels plus Testors 1721 for Middle Gray. This part was really fun Unfortunately I'v diluted Dark Brown (ABCModelfarb's) too much and spent an hour and half painting Dark Brown. The result was really great since I was able to spray very fine lines and I didn't use any kind of masking but after such long time I was at the end of my nerves!
A few days after panel lines received dark grey pastel powder and engine section received oil leaks and real rust powder ( I'v collected it during restoration work on my WW2 period Bulgarian helmet ). Finally panel lines were subtly over-shaded with water diluted ink ...blue for underside and black for upper surfaces.
---
Decals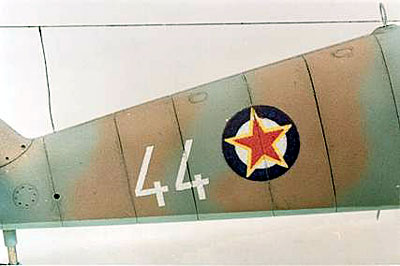 I used Corel 9 for the decal artwork.
With a little help of my friend I had free access to color laser printer (thanks Zvonko). Tango Papa's clear decal paper is great for this kind of printing, with a light overcoat of Humbrol Matt Cote to protect from scratching and home-made decals were done .
Tango Papa's white decal paper with digital cutter was used to produce white "44" codes also white marking surfaces . The white areas were applied first (with dimensions exactly the same as roundel or a flag) due to thin printed layer decals are very transparent for example red star's outline which is yellow over green paint become greenish yellow !
Special thanks to Zvonko Gabaldo for his kind assistance and free access to color laser printer and to Djordje Miltenovic and his excellent web : http://members.tripod.com/YUModelClub/
Click the thumbnails below to view larger images:
---
Model, Images and Text Copyright © 2003 by Aleksandar Mladenovic
Page Created 05 August, 2003
Last Updated 17 March, 2004
Back to HyperScale Main Page