Academy's 1/48 Bf 109G-14 as a
Messerschmitt Bf 109G-6/Y
Part 1 - Construction
by Peter Kormos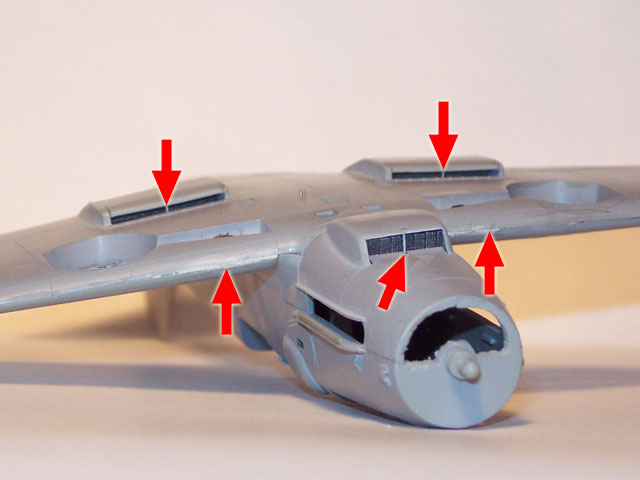 Messerschmitt Bf 109G-6Y

Academy'
s 1/48 scale Bf 109G-14 is available online from Squadron.com

I like to build Luftwaffe planes, but somehow I find myself not really interested in some types, and the Messerschmitt Bf 109 is one of them. Many years ago as a junior, I started to build one 1/72 scale Bf 109 from Matchbox, but actually I have never finished it.
Since then, I have seen many archive photos, decal sheets and artists' profiles, but none of them really caught my attention. But about 3 years ago, I saw a side profile on the 109 lair site that I found to be the coolest looking Bf 109 I've ever seen, and I knew this is THE ONE. :-)

The base I used was Academy's 1/48 scale Messerschmitt Bf 109G-14 kit. "Why the Academy kit?", you may ask. Before buying one of the Hasegawa kits in 2003, I was awareded with this one on a model competetion. Since I hadn't got any other Bf 109 kits in my stash, I decided to build this one, no matter how good or bad it is compared to the other offerings.
Besides the basic G-6 components, the kit contains the short fin + long tail wheel strut, Erla canopy and the sand filter... seemed like a jackpot for me to build a Bf 109G-6Y. I started to build the kit out-of-box, but as you'll see, I added more-and-more detail during construction.
Construction started in early spring, 2004.
I heard some rumors that the fit is not so good on this kit, so I quickly removed the main components from the plastic tree, and dry-fitted them together. To my amazement, fit wasn't that bad... and according to the line drawings in the Aero Detail booklet, both the fuselage and wings looked A-OK to me.
Accuracy wasn't really a priority for this project, so after the fuselage and the wings were temporarely held together with adhesive tape, the thing looked pretty much like a Bf 109 to me. As usually, I didn't start with the cockpit, but rather worked on any other components I currently felt like to fiddle with...
Exhaust gas fenders were thinned down to scale, sink marks and some access panels (i.e. MW50, Mk108 reloader's oxygen connector) were filled in with putty.

Next, the air intakes were hollowed out, excess plastic was removed from unwanted areas (i.e. exhaust stubs, fresh-air inlets, shell ejection ports, window for FuG16ZY mast), then I headed for the cockpit. Strips of Evergreen styrene, copper wire and aluminium foil was employed to dress up the pilot's office. In the end, I had a cockpit that satisfied my eyes, although it's still not 100% like the original one, but that's OK for me.


Port side. More detail was added later.

Instrument panel with custom made bomb-panel and other goodies.
Cockpit floor after little electric boxes were shaved off. New ones were installed later.

Completely new fuel line, made out of steel wire, stretched clear sprue, electric wire insulator and thin strips of aluminium foil.

Internal canopy frame and rubber seal for canopy made out of copper wire.

Corner of the canopy was reworked to represent a later style Erla haube, and dive angle indication line was scribed in with a pointy needle. Now where's my bottle of Future to make this thing really shiny?

Elevators have been separated with saw blade. Note that the ugly scratch on the right hand side part that was accidentally made when I separated the parts. Luckily, it wasn't a big deal to eliminate that scratch.
The rear vent door for the oil cooler was missing on this kit, so I had to rework this area.


then the internal cavity was filled in with aluminium foil.

Before gluing the wing halves together, I added the necessary internal details, that included fuel drain pipes, spent shell ejection chutes, some pipes for the main gear bay and the roofs for water coolers.

On the outside, I added the actuating arms for cooler flaps, sanded wing's trailing edge to scale width and filled-and-reschribed some mis-aligned panel lines. Fit of the wings to the fuselage is not perfect. I decided to glue the wing halves to the fuselage joint first . Then, the wing halves were glued together. This resulted in a gap on the wings' leading edge, but it's far easier to fill this gap then to fiddle with filling-and-sanding the wing root.

Opening up the area around the gun muzzles and making panel lines around Mg131's. Green arrows show the panel lines, the red ones show some of the wrong lines that I accidentally schribed. Note that the upper hinge for the cowling is not long enough, so I removed it and schribed in a new one before painiting the kit.
Next came the main gear bay, that was missing almost all detail on the original kit parts. Simple materials, such as aluminium foil and copper wire was used for detailing. Holes were made inside the gear bay to represent the original structure.
Academy's representation for the navigation lights ended up in a pair of panel lines engraved into the surace of the wingtips. After removing the excess plastic I rebuilt the internal detail from strips of Evergreen styrene and clear foil was heat-formed to make the transparent cover.
Some prominent panel lines (such as the one around the tail wheel fork or some handholds, etc.) were missing on this kit, so I made custom templates for scribing. These templates were cut out from a Gulash paste tube. (Note: Gulash soup is a traditional Hungarian soup, it's one of my favourites. You should really try it if you haven't tasted it before... :-) )

One of the new additions to the G-6Y variant was the FuG16ZY antenna mast. This was fabricated from flattened/stretched sprue bits and copper wire.


One of the unpleasant discoveries about this kit was when I noted that the windshield was so much smaller than the fuselage, that it almost fell into the cockpit tube. After some unsuccessful tries to stretch the canopy, I ended up using Hasegawa's clear windshield and canopy that I got from my friend, Ödön Horváth.
As you can see, no aftermarket sets have been used for detailing this kit, except for Eduard seat harness. The sum of the number of home made additions are listed in the following table:
| | |
| --- | --- |
| cockpit | 102 |
| main gear bays | 2x7 |
| lights | 3 |
| external surfaces | 45 |
After some layer of Gunze Mr. Surfacer 1000, sanding and polishing, I added rivet detail based on the line drawings in Aero Detail booklet and some "corrected" drawings found somewhere on the Net.
Part 2 of my article will show the different stages of painting, the finished kit and a little introduction about me.
Messerschmitt Bf 109


Modelling Manuals 17


US Price: $17.95
UK Price: Ł12.99
Publisher: Osprey Publishing
Publish Date:

January 25, 2002


Details: 64 pages; ISBN: 1841762652
Model, Images and Text Copyright © 2005 by Peter Kormos
Page Created 05 April, 2005
Last Updated 05 April, 2005
Back to HyperScale Main Page