Academy's 1/48 Bf 109G-14 as a
Messerschmitt Bf 109G-6/Y
Part 2 - Painting and Markings
by Peter Kormos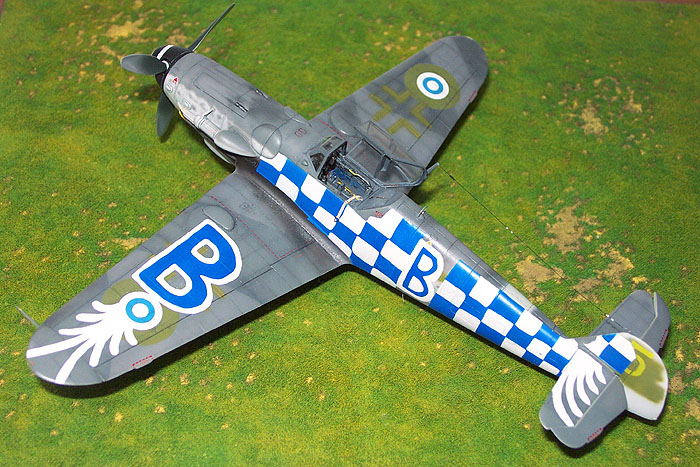 Messerschmitt Bf 109G-6Y

Academy'
s 1/48 scale Bf 109G-14 is available online from Squadron.com

Part One of this article dealt with basic construction and detailing the kit. Now, let me show you the steps of painting the kit.

First I painted yellow ID markings. Yellow was sprayed on top of white base coat, so I could make the yellow as bright as I wanted.

Then came the standard German camouflage of RLM 74/75/76.


Then the German and "old" Finnish national insignias were painted on with home made masks.

Then, the markings were overpainted with Finnish light blue (Gunze RLM65) on the lower surfaces, and olive green (Gunze US Interior green + olive drab) on the upper ones.


Next, I prepared the fusealge and the left hand side wing for painting the white of the air racer markings. I used Blue-tac, Tamiya tape, kitchen foil and home made masks to cover areas that remained intact.


Once the white was on the plane, I made a side profile of "MT-508" on my PC and I used that profile to cut out the masks for the blue checkers. I paid attention not to make uniform checkers, as the original markings weren't perfect either.
All colors I used were Gunze acrylics, except for the "air race blue", that was a Revell enamel. After all airbrush work was done, I applied a cote of gloss varnish to the model in preparation for the decals. I used Aeromaster Finnish insignias, some of the original Academy stenciles, but the custom decals for Finnish stenciles and "MT-508" markings were made by my friend, Péter Tóth. Then I sprayed another coat of clear varinsh over the decals, so that I could proceed to weathering. Panel lines were enhanced with highly diluted Tamiya black enamel, oil spills and drains were reproduced with a mixture of black and burnt sienna artists' oil paints. The same kind of black + brown cocktail was used for the exhaust stains.
Once the weathering was done, I carefully brush painted over the air racer "checkerboard" and "eye lashes" with Revell white and blue enamel in order to give a hint of "hand painted" effect. I didn't apply any kind of weathering to these markings, since these were new to the plane.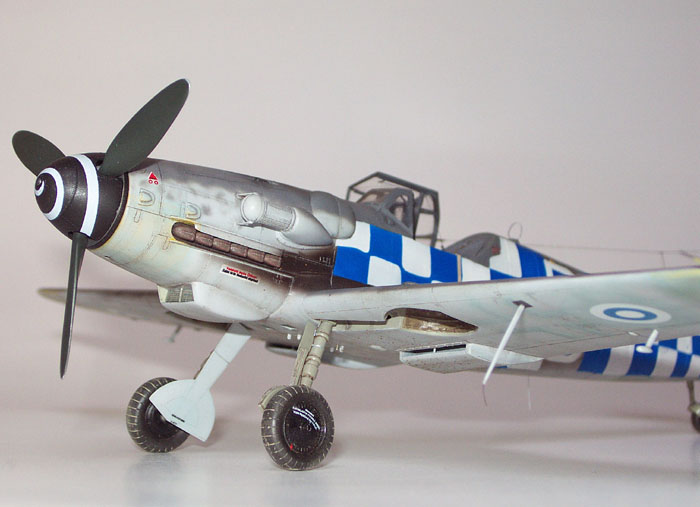 Finally I glued in the fragile parts, such as the main and tail gear, antennas, canopy, etc. and a new model was finished after 10 months of work.
I'd like to thank my friend Péter Tóth of Toff decals for the custom decals, and Sándor Fülöp, Chris Sherland and Károly Brassai for the help and informative conversations on "MT-508". Special thanks goes to my friend, Ödön Horváth for the replacement Hasegawa windshield.
I enjoyed learning about Bf 109 in general and I liked to build this kit - although it wasn't a constant joyride. Probably sometime in the future I'll build another Messerschmitt, but until then I'm gojng to finish some other models... I would really like to say something nice about this Academy kit, but I just cannot do that. The newer Tamigawa kits fall together so much easier and offer much more detail, that it's better to build some "professional" kits than fiddle with some old stuff, especially for those guys who have little time for modeling...
---
About me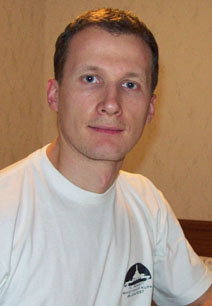 My name is Peter Kormos from Hungary and I work as a software developer. I was born in 1977 and have been building model kits from about the age of 10. I like to build WWII era US and German planes, usually in 1:48 scale. I have about 60+ finished kits at home, but only few of them make me really proud. My stash is/was deliberately kept at a minimum, that currently measures 3 in-progress and 3 in-box kits... On the other hand, I have a to-do list of different model subjects with 15-20 items in it. From time to time, some new models are added to the list, then some others fall out that I'm not interested in any more...
Proud owner of the Hungarian Master Modeler award from the autumn of 2003.
Click the thumbnails below to view images full-sized.
Click the "Back" arrow on your browser to return to this page.
Messerschmitt Bf 109


Modelling Manuals 17


US Price: $17.95
UK Price: Ł12.99
Publisher: Osprey Publishing
Publish Date:

January 25, 2002


Details: 64 pages; ISBN: 1841762652
Model, Images and Text Copyright © 2005 by Peter Kormos
Page Created 05 April, 2005
Last Updated 05 April, 2005
Back to HyperScale Main Page