Hasegawa's 1/48 scale F-15J
Year Of The Dragon
Part One
by Aleksandar Šekularac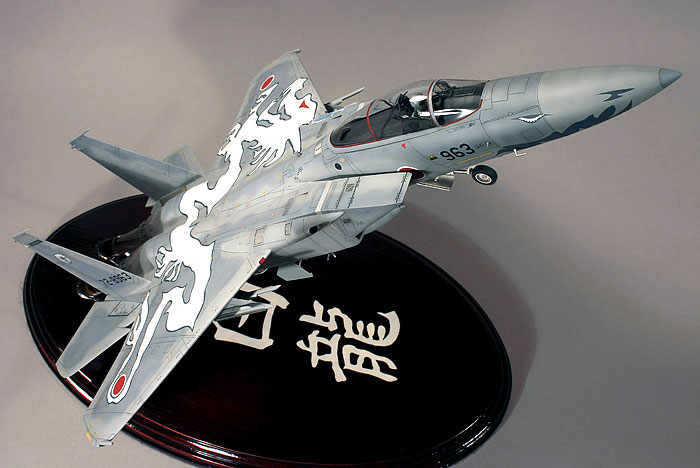 F-15J

An F-15 model was quite improbable option on my "to do" list just two years ago. My interest in modern western jet fighters was long gone with my puberty, replaced by fancy for more arcane subjects, and I wouldn't think twice before dismissing such a undertaking even as an idea. It all changed one innocent day, while I was surfing through Internet, and found a review of "Two Bobs" decal sheet for F-15J "The White Dragon". I was impressed. This was the best-looking air tattoo I have ever seen, and even if Canadians double their air force and paint it all in memorial schemes, and tiger-meets, they will have a hard time besting this one. So I ordered the decals, of course.

Now I had markings for some kit I didn't have, and subject that I didn't know much about. Yes, F-15 is a well known air-superiority fighter, capable of spectacular take-offs on air-shows, outlived it's less-fortunate stable-mate, the "Tom Cat", and will continue to serve faithfully until new, overpriced, over-hyped technology gets its act together, but what did I really know about this aircraft? Not much in terms of details, so important in our world of scale modeling. Every time when in situation like this, I reach for Squadron "Walk Around" title. No surprise, there is one for F-15 Eagle… This, complemented by the vast cyberspace of WWW was my prime reference for this job.


It was time to select the right kit in my favorite scale, which happens to be 1/48. When we talk about F-15 there is a tyranny of choice, so I did a quick Internet survey of all the available kits. Hasegawa seemed to be a solid candidate, not without problems, but certainly predictable. Instead of charging directly to one of the F-15J special edition boxes, I cunningly selected the "hi-tech" F-15C kit, the one with photo-etched fret, and supper-complex-turkey-feathers-plucked-out exhausts. After all, the J and C type are very much the same aircraft, and the markings were already taken care of.





The F-15 has that rare feature, where the engines can overpower its weight. This is a sure crowd pleaser at a public display, and it must make any flight-jock feel more of a man. Kerosene is included in the budget anyway. So, when I consider all this, it seams to me like a waste of plastic to make another F-15 model waiting insipidly on the tarmac on its three skinny legs, wrapped up in all those red ribbons, like some Xmas tree. Lets make it fly for a change! Better yet, lets make it do one of those "Viking" take offs, as I understand they are called: afterburner on, gear still retracting, elevators and air-intakes tilted down, nose pointed upwards.

All right, good idea, how do we do it then?

Firstly, I thought about how to prop the aircraft in the air. Supporting it through the burner-cans seemed as the most elegant way to do this. Only some inside details of the engines are lost (turbine and afterburner ring), and there are no offensive holes, or cuts to the underbody. The model is detachable, and for all intents and purposes can be detailed as any other "static" model.

I obtained two transparent acryl rods, and one rough oval wooden base from Hobby Lobby. After some measuring, my power drill did its first hobby assignment, making two parallel holes at about 45 degrees through the wooden base. I left the acryl rods for later, as my instinct told me there could be some fine adjusting to do when the model is close to finish.

In my opinion, color of mahogany goes well with mythical Japanese creatures such as dragons, so after sanding the base I proceeded with two coats of wood varnish in this color. While this was slowly curing, I went on-line once more to find correct Japanese symbols for "White Dragon". This took some time, but I've gotten it in the end. I printed these characters in very large font, and mirrored, on the backside of "frisket" paper, cut out the masks, and pasted them on now well-dried base. White color was airbrushed through the mask. The base then received two additional coats of clear gloss wood varnish, to seal everything off.
Click the thumbnails below to view larger images:
---
Much later, when the model was well underway, I secured the acryl rods to the base using the slow setting epoxy glue. After adding some black felt to the bottom, my base was finished.

Making the base before actual model is ready was sort of a commitment for me. I now had to finish the project even if it took year and a half to do it. And so it did…


Back to plastic, there were some serious modifications to be done to the kit, in order to make this bird fly.
Landing Gear
I modified the gear legs so that they can be depicted in moment of retraction. While I was at it, I decided to put some more detail as well: oleos were cut out, and replaced with pieces of metal tubing, wheel hubs were also cut out, and new brake detail rebuilt for the main wheels. More details were also added to the front undercarriage bay in form of wires and piping.
Click the thumbnails below to view larger images:
---
After studying photos and some thinking, I decided that the main gear legs should be already folded in their bays, but with open doors, and the front leg still not completely retracted, just before it sinks into the nose bay. I liked the dynamic look of this configuration, and based on available photos, it did seem that the front leg hydraulics are lagging a bit behind the main gear.
---

Air Intakes
The outside geometry of F-15 air inlets changes in flight. By tilting downwards, front intake lip provides for better compression of air, and improves stability of the aircraft. In a steep climb this behavior is particularly obvious. Of course, all kits of F-15 come with inlets fully open, with the upper edge being straight, to represent the craft at rest. More work for my hobby saw…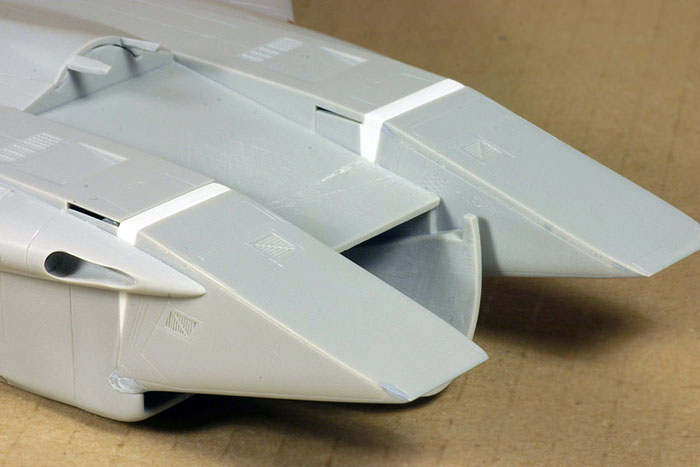 I identified the panel line dividing pivoting front part of the intake from the main body, and cut the plastic along this line. Now, there was no going back… New wedge of plastic was added to each side of the intake, and a rectangular piece to the top, and after many iterations of dry fitting, sanding and adjusting, the original front piece was glued on top of that. After a long drying time I smoothed out the whole mess.
---

The Mount
Next big modification happened inside the main fuselage body. This being a rather large model, it needs to have solid support for its weight. I was to use most of the main fuselage space for hollow supporting cylinders leading to the exhaust pipes, from the front compressor stages of the engines, all the way to the tail. But, where to find such cylinders?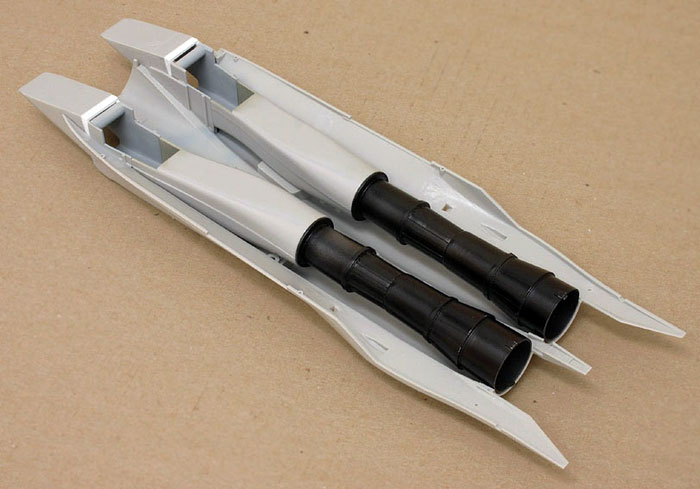 As much as I looked around the house (and neighborhood) I couldn't find suitable candidate for this job. Finally I resorted to an awkward solution of gluing one onto another spare exhaust pipes of other 1:48 kits. So in the end, my F-15 model ended up with parts of MiG-29 and Su-27 buried inside…
---

Flying Surfaces & Fuselage
Hasegawa's F-15 kit has fuselage divided in four major parts: the main body is made up of upper and lower surfaces, while the nose with the cockpit compartment has a classic left/right split. This part breakdown allowed me to finish the heavy work upfront, as described, before tackling the cockpit.

Main wings attach to the fuselage body in an odd place, where they cross several panel lines and should also blend into the upper body surface. This continuity was somewhat difficult to achieve, and repeated sanding, puttying, and finally re-scribing was crucial.

Situation with vertical tails was much the same. They look very well integrated with tail booms on the real aircraft, so I reproduced this in plastic (and putty). Horizontal tails were left alone at this point, and only the pivot connection was removed, and replaced with longer cylindrical piece of plastic.
Click the thumbnails below to view larger images:
---

Cockpit
Wanting to represent this model in flight, I knew that the canopy is going to be closed and pilot in his place. There was not much point super detailing the "office", since it will be mostly obscured from the prying eyes. I added some details to the ejection seat, pilot's helmet, and the instrument-panel cover, which are all very visible.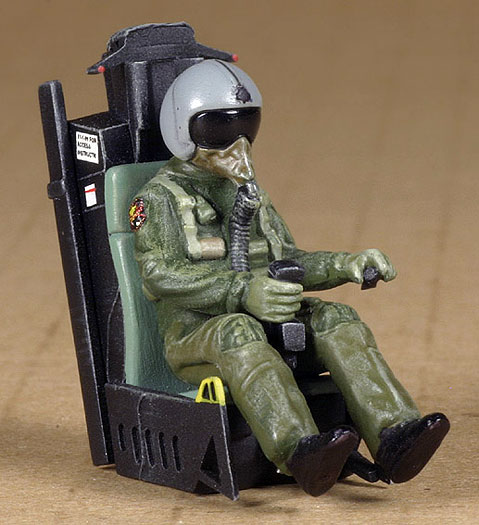 I also enhanced details of all the clutter that hangs from the arc of the canopy frame in front of the pilot. Some of these bits were scratch-built. Hasegawa's Hi-tech edition also includes photo-etched HUD, which, if done right, looks immensely better than the plastic part. The only addition here was to drill a hole in the instrument panel shroud, and insert a clear lens for the HUD. Painting the bottom of the small clear bit transparent yellow and then silver, gives the lens a nice reflection.
Apart from this, I just painted the cockpit carefully, highlighted all the details by dry-brushing, and that was it.
Nothing much happens here, just a lot of time passes. You can imagine sitting in a dark theater listening to annoying music, while you wait for the film reel to be changed.

What has actually happened is that I made another intercontinental jump, from Asheville, North Carolina, home of Biltmore Estate, to Worms, Germany, home of the Nibelungen; there was a period of about 10 months where hobby was pushed aside by some more pressing issues.

After going through couple of these moves across the ocean, I can ascertain that they are bad for hobby. The discontinuity is too great. One feels completely severed from the routine, and finds it really hard to start over. Some types of cactuses don't like when they are transplanted, and I believe I'm becoming one of them…
LaGG & Lavochkin Aces of World War 2


Aircraft of the Aces 56

Author: George Mellinger
Illustrator: Jim Laurier
US Price: $19.95
UK Price: £12.99
Publisher: Osprey Publishing
Publish Date:

November 21, 2003


Details: 96 pages; ISBN: 1841766097
Model, Images and Text Copyright © 2006 by Aleksandar Šekularac
Page Created 01 February, 2006
Last Updated 21 February, 2007
Back to HyperScale Main Page