Academy's 1/72 scale
F-8E Crusader
by Gary Wickham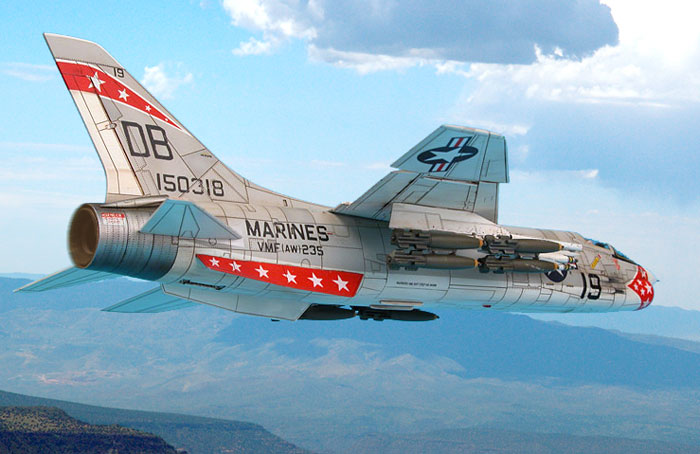 F-8E Crusader
images by Brett Green

Academy's 1/72 scale F-8E Crusader "Marines" is available online from
Squadron
Having received Academy's new tooled 1/72 scale F-8E Crusader direct from HobbyLink Japan, I decided to build it straight away (a rare thing for me).

The first choices I made were to display the model in flight and to use aftermarket decals, Superscale sheet 72-086, which I found out afterwards would be nearly 30 years old. Wow!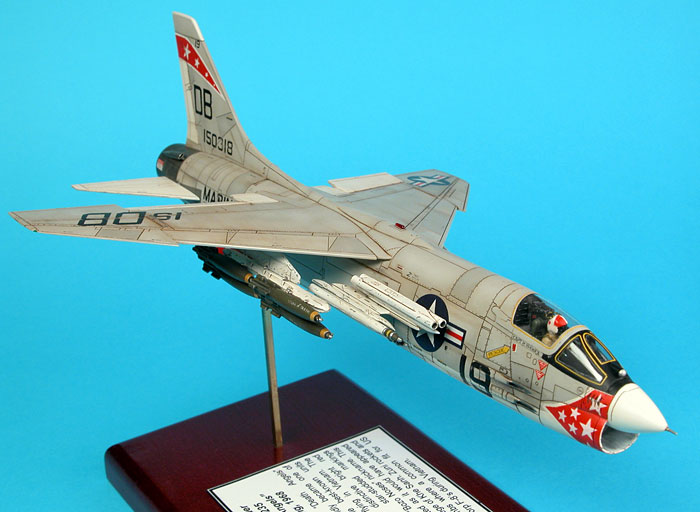 Obviously the decals where not designed for this kit, which led to its share of extra work for me.
The model as you see it here is pretty much out of the box. All the weapons (Mk-82 Snakeye and Zuni Rockets) are provided with the kit. Academy also provide you with suitable AIM-9's if you want to model a gunfighter rather than a mud mover.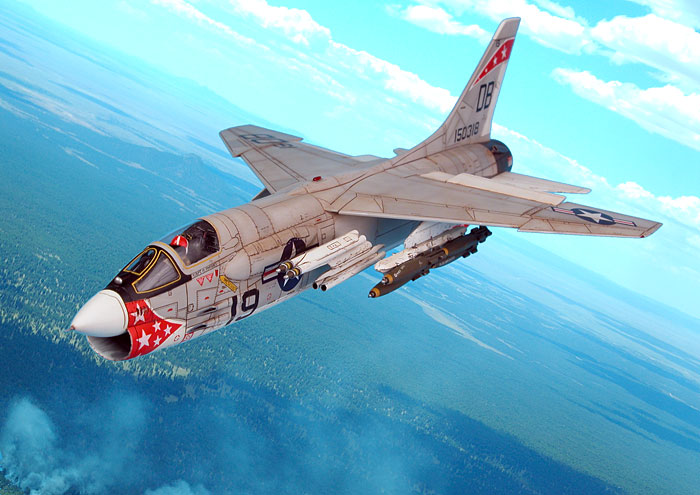 In terms of additional work done to the model here's a list:
Added a pilot figure

Detail added to kit seat.

Made custom decals for the stars on pilots helmet (yes, they are tiny in 1/72)

Separated the aileron control surfaces

Mounted the model on a stand

Drilled out the zuni tubes at front and rear.

Opened up the auxiliary engine intakes.
The model was painted in Humbrol Enamels and Alclads for metalics. Weathering was applied extensively using oil paint washes to depict an aircraft during the Vietnam conflict Random panels across the airframe where painted in a slightly darker shade to represent differential fading and replacements due to battle damage and maintenance.

As mentioned above, the decal sheet for the Death Angels was not designed for this kit (I assume it was for the Hasegawa or Fujumi kit). As a result the large red decals on the nose and ventral fins did not fit. To obtain a satisfactory result I decided to paint the red sections and then use the white stars from the decal sheet individually (after cutting each one from the decal sheet, whew !). The only stars decal that was used intact from the sheet was the flash on the tail.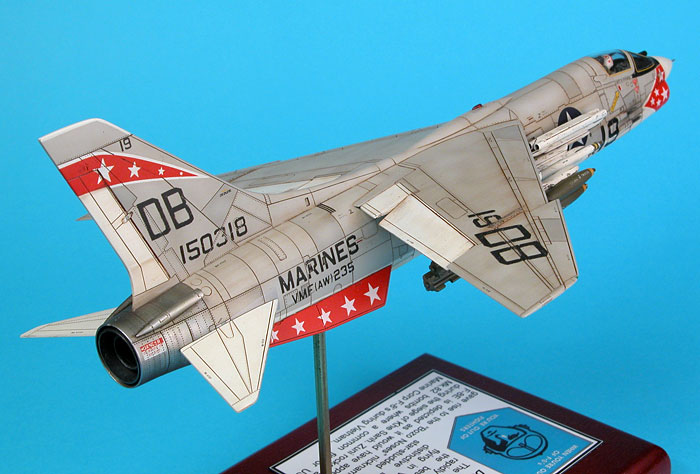 The bomb graffiti was taken from a sheet by Gekko Graphics. They do several sheets (eg Vietnam, Desert Storm, etc) in 1/72, 1/48 and 1/32

To further highlight the weathered look of the model, I lightly distressed the decals once dry by lightly sanding them (to achieve a worn look).

Well I hope you like the result. If you've been wondering about the Academy F-8E kit, I can strongly recommend it.
---

Editor's Note:
This model took Gold at the NSW Scale Model Expo in May 2005 at Koonawarra south of Wollongong. You can see more of Gary's model on his website, the Scale Spot
The "in flight" images were composed in Photoshop by combining the model photos and images of the sky taken over northern Arizona in August, 2004.
Click the thumbnails below to view larger images:
---
Model and Text Copyright © 2005 by Gary Wickham
Images Copyright © 2005 by Brett Green
Page Created 05 May, 2005
Last Updated 05 May, 2005
Back to HyperScale Main Page